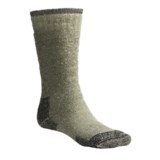 Closeouts. Your quest for cozy comfort and coverage ends here with Goodhew's Expedition socks, featuring moisture-wicking, breathable merino wool in an over-the-calf height.
Average Rating based on
82
reviews
4.548780
0
5
Verified Buyer

Reviewed by Joe S from Maryland on Wednesday, December 28, 2016

These are the best I've ever used. And they last.

Verified Buyer

Reviewed by Miss Radish from Upstate NY on Saturday, December 24, 2016

Good new socks that are like the old Smartwool ones before that company was sold

Verified Buyer

Reviewed by Beachy girl from ca. on Friday, December 9, 2016

They are my slippers around the house, love them

Verified Buyer

Reviewed by Scrantonslim from NJ on Tuesday, August 23, 2016

Just great, after 6yrs of muliti-buys, can't find a better product, especially when on the clearance rack

Verified Buyer

Reviewed by R Outdoors from Montana on Thursday, August 11, 2016

I really like the feel of these socks. They are super soft and comfortable. My concern is whether they will retain enough elasticity to stay up on the leg over time and washings.

Verified Buyer

Reviewed by Robert Lover of snow blizzards from Denver on Tuesday, May 17, 2016

Bought these for wearing around the house on cold days and these are perfect. They feel soft and slightly padded but breath well so they tend.to keep my feet a perfect temperature whether its warm or cold outside as I discovered this spring so they are now going to be worn year round! !

Verified Buyer

Reviewed by Leafybug from Nebraska on Wednesday, March 16, 2016

Hey, sock are socks, and these ones rock! If you're looking for a heavyweight tall sock, these will do the job nicely. Not sure what else to say...Sierra Trading Post never ceases to amaze me. Much thanks to them!

Verified Buyer

Reviewed by Stevie from MN, USA on Thursday, February 25, 2016

Definitely expedition weight, very heavy and warm, great for sub-zero use.

Verified Buyer

Reviewed by Tsterz from North Carolina on Monday, February 22, 2016

I'm planning a trip to Iceland and I needed to get some really thick hiking socks. I tried 7 different companies including Smartwool and Icebreaker and even though I never heard of Goodhew before, these were definitely my favorite. I ended up buying an additional 2 pairs. Great combination of fit, warmth, and elastic to not slide down your calf. It was just an added bonus that they were more affordable than the other merino wool options.

Verified Buyer

Reviewed by Bradfordclimber from Utahrded on Friday, February 19, 2016

Nice value and warm sock. Very cushiony and toasty but as others have stated will slide down the calf.still a good buy if that doesn't really bother you.

Verified Buyer

Reviewed by lynnk from Taos on Tuesday, January 19, 2016

I love Hesse socks. This is the second batch I've ordered over the years. They're warm and they wear amazingly.

Reviewed by Unhappy Camper from North woods WI on Wednesday, December 23, 2015

These are nice socks but all four pair rec'd only come to mid calf - were the ones rec'd picked incorrectly in the warehouse or is this item mixed with other Goodhew products? This is the second order in a row this kind of error has happened since TJM took over. Not a problem with the product - problem with STP operations - better tighten things up if you wish to keep this customer.

Reviewed by Anonymous from Chelmsford, Ma on Thursday, December 17, 2015

I generally buy Tarramar or Smart Wool brands. Saw these and thought I would splurge. They were TWICE the price of the
Terramar socks in the same delivery. Not any longer up the calf. Certainly no better quality. I noted that they have no brand name sewn on the socks like the other two companies. That should tell you a lot, right there. And, when I opened the package, there was a quarter sized whole in one midway up the ankle! Seriously! Buy the two other brands and don't bother with Goodhew. These went back obviously. Thsnks to STP for facilitating the return.

Reviewed by Chriss from colorado on Monday, November 23, 2015

I wasn't paying attention and these aren't smart wool. The outside is pretty scratchy. Hoping the inside is softer. Think I'll be more careful and buy the smart wool Sierra also has. My husband loves those.

Verified Buyer

Reviewed by traveler from UTAH on Thursday, November 12, 2015

My 87 year-old dad loves these. He wears them instead of compression socks

Verified Buyer

Reviewed by 00Riggs from North Dakota on Wednesday, October 28, 2015

I wear shoe size 12 and a bit overweight and have a wide foot. The XL is a bit to tight and to tight reduces circulation which causes you to get cold. Otherwise good quality and nice price just wish they would have been a bit bigger

Verified Buyer

Reviewed by Brad from Georgia on Monday, August 10, 2015

quite thick, but not as long as a Balston mid-calf. I would not consider them to be over-the-calf.

Verified Buyer

Reviewed by Marley from Maryland on Monday, April 6, 2015

These are the best socks I've ever purchased. I bought so many pairs! I don't know if they even have them now, I may have purchased them all as gifts. incredibly just incredibly thick. excellent cushion. wash and dry on cool to avoid shrinkage. wash and dry inside out then turn rightside out so that part can dry. due to the thickness they do take awhile to dry but I take them out when they are almost dry and hand them up. they may feel dry but put your hand inside to make sure.

Verified Buyer

Reviewed by Jed from TN on Sunday, January 25, 2015

I use these for sleeping bag socks. Thick warm and very comfortable. I have smartwool socks but like these just as well.

Verified Buyer

Reviewed by snuggles from Colorado on Friday, January 23, 2015

Sock is soft, comfortable, fits well and absorbs moisture, while fitting very comfortably in a boot. This would be an excellent sock for both men and women. I like the high calf length.

Verified Buyer

Reviewed by chuggers from humboldt county, CA on Monday, January 12, 2015

Not expedition weight socks. Weather in the low thirties, I was shoveling dirt for 3 1/2 hours, had my sorel winter boots on, and my first two toes on each foot were hurting and numb and freezing. Never had that problem in my sorels before. Tried it another cold day with these socks and a mid-weight synthetic pair of socks underneath, and my feet were just fine.

Verified Buyer

Reviewed by whirledpeas64 from Springfield, MO on Friday, January 2, 2015

Like the construction, fit and color however I have not worn them outside of the home. I have no doubt they would be warm and for the money they are great socks.

Verified Buyer

Reviewed by dave the deer hunter from illinois on Saturday, December 27, 2014

Socks are not "over the calf" as represented. These socks hit about mid calf. What a huge dissapointment.

Verified Buyer

Reviewed by JeanValjean from Portland, Oregon on Monday, December 22, 2014

These are awesome - by far the best over-the-calf socks I've bought. Wish I would have bought 3 pairs!

Verified Buyer

Reviewed by David from Michigan on Wednesday, December 3, 2014

Very well constructed. Padding is great. I like the length - over-the-calf.

Verified Buyer

Reviewed by Alden from TX on Wednesday, December 3, 2014

These fit well for me at size 10. The cushioning is excellent, as well as the warmth.

Verified Buyer

Reviewed by Not Sure from Michigan on Friday, November 14, 2014

Great cushioning, only issue is they seem to slip down the calf- but not a big deal considering the comfort.

Verified Buyer

Reviewed by northeast maritime from maritime northeast on Monday, October 6, 2014

Good stretch for high wool content with that cozy wicking terry-like weave inside the foot. Not baggy in toe or heel at all for a unisex sock. I am a woman, shoe size 9 and bought the recommended size. I need very cozy wool socks in the winter of different weights for different purposes and footwear. These will be the ones for hiking boots and clogs.

Verified Buyer

Reviewed by PW Runner from New York on Wednesday, September 24, 2014

Can't wait to try them out in my ski boots or just my boots for getting around the snow. They are thick and warm and fluffy. Happy with this purchase.

Verified Buyer

Reviewed by Iceage. from Indiana on Thursday, April 17, 2014

The size M/L was a little big for me (size 9 F) But they shrunk in dryer and fit well now.