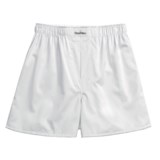 Average Rating based on
67
reviews
4.820895
0
5
Reviewed by STP Regular from California on Thursday, July 11, 2013

These are well constructed, extremely comfortable, and fit to size. One of the most comfortable and well tailored par of boxers I have owned. Hope you are able to offer more of these for sale in the future.

Reviewed by Ben Sahn from New England on Sunday, April 28, 2013

Well made, nice fabric, comfortable, good size.

Verified Buyer

Reviewed by SS from NC on Tuesday, February 12, 2013

Terriffic boxers

Verified Buyer

Reviewed by Jim the walker from Raleigh, n.c. on Monday, February 11, 2013

Great product in every way

Verified Buyer

Reviewed by The One Who Requires Comfortable Boxers from Chattanooga, TN on Thursday, January 17, 2013

Goodhew is based where I live. Years ago, I was lucky enough to receive a few pairs of these boxers for free from the owner. Well, he did some good marketing, because I now purchase several pairs of these finely made underwear when my old ones wear out. They are supremely comfortable in fit and the waistband (a very soft and smooth cotton - I can't stand waistbands that dig into my skin). They also last at least twice as long as other expensive boxers that I have tried in the past.

Verified Buyer

Reviewed by Seahurst from Seattle, WA on Thursday, January 10, 2013

The finish and the quality of the cotton is above average. If I could I would wear these around all day without pants. I don't think my wife or neighbors would appreciate it though. Only bad part was that white was not an option when I ordered these. Hopefully they will have white soon but the two sets of pink are just fantastic!

Verified Buyer

Reviewed by Charmeck from Charlotte, NC on Monday, December 31, 2012

Had previously purchased 2 pair. Had to have more.

Verified Buyer

Reviewed by Egyptians Rule from Toronto, Canada on Monday, December 24, 2012

I also have the Hanro herringbone boxers,which I thought were the most comfortable. The Goodhew are by far the most comfortable by a country mile and usually half the price.

Verified Buyer

Reviewed by Intheknow from Norcal on Wednesday, December 19, 2012

Gigantic. I use them for sleepwear as PJs. Good quality cotton but can not be worn with jeans or anything other than dress pants. Because they are huge, like clown clothes.

Verified Buyer

Reviewed by JB from Hayward Wi. on Saturday, December 15, 2012

I liked these so well I just ordered eight more.