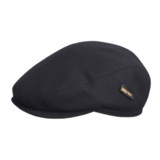 Closeouts. Gottmann's wool driving hat is ready for the road whenever you are. A waterproof breathable Gore-Tex® membrane keeps your head dry, and the convertible top has flip-down ear band to keep your ears warm.
Average Rating based on
234
reviews
4.602564
0
5
Verified Buyer

Reviewed by MacYoda from Dagobah on Monday, April 20, 2015

Nice hat, smooth wool fibers. I have owned Harris Tweed versions of this hat with Goretex, those hats had buttons holding the brim to the front of the hat, unsnap the buttons and the hat gets bigger and warmer, but those hats were thicker and larger over all. I really loved those hats.

This hat has no such buttons, this one is thinner overall and rolls up small enough to put in a side pocket of a jacket, maybe because of this I won't lose it so easily. This hat is very similar to those Harris Tweed hats, it is a warm hat but not super warm or versatile enough for extreme cold. The Harris Tweeds worked well even if ice were caked on the outside of the hat and wind was blowing like crazy, it would be very warm inside the hat. They were great ski hats, this one will probably work well for skiing too but not if it becomes very windy, then I will have to run inside.

This is an excellent hat for medium cold, 30F with no wind, 35F with wind, to a lot warmer,

I notice this type, Gottmann wool Goretex, is more expensive than others of this type, now days very few have Goretex. I suppose it is a little more stylish than others of this type and even other hat styles. I does fit very snuggly and looks very smooth even with the ears out, so it is somewhat cool style wise, it makes me look like Robert Redford in The Sting, but still I won't write home about it.

So I will give it 4 to 4.5 stars.

Reviewed by Mom from Columbus on Thursday, March 27, 2014

This is a great hat. My husband loves it . It is warm and well made. Great hat.

Reviewed by Johnny B Goode from Coastal Delaware on Tuesday, February 25, 2014

This is a highly versatile accessory. I paired this cap with a wool softshell jacket for all around use in Coastal Delaware. I cannot be happier with the cap's performance. The waterproof nature of it allows me to wear it in nearly any weather conditions except a heavy driving rain, in which I would simply opt for a hooded rain parka anyway. The Goretex also increases its wind resistance, making it warmer without bulky insulation. The same is true for the ear flap that simply covers your ears and the back of your head, keeping most wind out and some warmth in. What I particularly like is that it is functional, transformable (with the foldaway ear flap) and generally good looking. It looks good with a tie and blazer or overcoat/peacoat, and it doesn't overdress a fleece. I found the fit to be dead-on, having checked my hat size against a similar cap I already own that fits well. I own a few other hats that have a fold-away ear flap, and none of them do so as effectively as this cap - when it is stowed, you neither see it nor feel it. Perhaps the best endorsement I can bestow upon it is that my father remarked that it was a handsome cap, and when I showed him the ear flap and pointed out the Goretex protection, his jaw dropped in awe, particularly learning it is indeed wool. I know what to give him for Christmas this year.

Reviewed by HB from Virginia on Tuesday, January 21, 2014

I use this hat for trail hiking along the James River in Virginia. It fits very comfortably and is sized correctly. The hat is warm on a cold day, but breathes and does not trap moisture on strenuous walks. It is on the expensive side, but well worth it for a high quality hat.

Reviewed by Windlady from NY on Monday, January 20, 2014

The driving hat keeps my husband's ears and head warm and dry in our snowy, frigid and windy weather. It's a bonus that a hat with ear flaps looks attractive as well as being protective.

Reviewed by Gumshoe.56 from Central Pa. on Sunday, January 19, 2014

This is a great looking hat, warm and comfortable to wear! I've had many complements on it. Is true to size.

Reviewed by Bludeacon from San Francisco on Saturday, January 18, 2014

I ordered the large because my hat size is 7 3/8 and that was the top of the L range. The L was way to big so I returned it for a M which fits a little snug but is OK.
I used the online exchange offered by Sierra and I have to say this system worked great for me and certainly expedited the exchange cap. This is what customer service is all about!

The cap appears to be well made and of quality materials, time will tell. I have other caps similar with fold down ear flaps, but these also cover the back of my neck more than the other caps I have, a feature I really like. A good product at a fair price, I would buy again.

Reviewed by Hickory Doc from Norh Carolina on Friday, January 17, 2014

This is a well-finished cap and quite stylish. The ear flaps are nice.
Beware that it does run a bit large. I chose Large based on the size guide, but it is just a bit loose.

Reviewed by Weekend warrior II from Missouri on Friday, January 3, 2014

Wore it shoveling snow yesterday and the hat wasn't too warm and the ear flaps worked out just fine.

Reviewed by May from nevada on Wednesday, January 1, 2014

My husband usually wears a XXL in hats....and the XL fit perfectly.