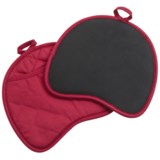 Closeouts. The flexible, insulating neoprene and comfortable bean shape makes for easy and safe handling of hot pans. And the price is right on this set of two Gourmet club pot holders.
Average Rating based on
38
reviews
4.447368
0
5
Verified Buyer

Reviewed by Altavista from Colorado on Thursday, January 1, 2015

Purchased these as a gift, they are very good quality and look good too!

Verified Buyer

Reviewed by hikermom from Michigan on Saturday, December 20, 2014

I only ordered these because the price was good and the pot holders I wanted were sold out. I was surprised how nice they are - I really like being able to put my hand in the pocket to grab hot pans.

Verified Buyer

Reviewed by m from Wisconsin on Wednesday, November 5, 2014

Really thick, reliable, and durable! These are a must have for any baker.

Verified Buyer

Reviewed by Tom likes trains. from Massachusetts on Tuesday, November 4, 2014

I purchased these as Xmas gifts. They look to be in good shape.

Verified Buyer

Reviewed by DCHarper from Connecticut on Tuesday, November 4, 2014

These are better than I expected. They are really a cross between a pot holder and a hot mitt. Like a mitt they protect the back of your hand from steam or heat. But unlike a full size mitt, that I often find bulky or too large for my hand, these fit really well and are so easy to use. Of course the neoprene front completely protects your hand from heat.The more I use them the more I think "where have you been all these years".
If you're thinking about getting a couple of pairs of these don't wait. You will not be disappointed!

Verified Buyer

Reviewed by Brianna from New Mexico on Monday, November 3, 2014

Like the shape and flexibility

Verified Buyer

Reviewed by LHM from PNW on Sunday, October 26, 2014

These have a unique shape that works well for the full range of sizes in my family. And unlike others I've tried, they're usable and useful! Having arthritis I appreciate that these work with me (not against). They are flexible, softer than others, and cover my hands to the wrists. The bean shape lets them double as hot pads on the table, too. I got the red, they're very cheerful hanging from their loops (yes!) in the kitchen. Get them!

Reviewed by John from Massachusetts on Tuesday, October 21, 2014

These feel well made, and the neoprene does a much better job at both insulating and gripping than most pot holders. Easy to use, and worth the money.

Verified Buyer

Reviewed by Anonymous from Atlanta on Thursday, August 21, 2014

Excellent quality and work fine.

Verified Buyer

Reviewed by BandMom from NC on Tuesday, August 12, 2014

Name brand, good quality, can't beat the price.

Verified Buyer

Reviewed by Dee from NC on Friday, August 8, 2014

The pot holders are a good weight. Not too stiff that they won't bend, but not too thin. They are quite large, so no more burns from too small pot holders. I bought three sets. One for me and the others for gifts.

Verified Buyer

Reviewed by Mirandamom from SLC, UT on Monday, July 28, 2014

These potholders pass the crucial test-- they protect my hands from the heat just fine-- but they're rather shallow, making my wrists feel unprotected.

Verified Buyer

Reviewed by Kairos from Pennsylvania on Monday, July 28, 2014

These pot holders are a good size when grabbing onto a hot pan. They have a large opening for small or large hands.
I like the overall width of them. They cover the entire which helps prevent burning yourself.

Verified Buyer

Reviewed by ffine from Middletown,NY on Wednesday, July 23, 2014

The addition of the neoprene puts a completely new twist to conventional fabric potholders. No heat will penetrate not to mention its not cumbersome like the mitten pot holders. Got em' in Red love em'.

Verified Buyer

Reviewed by Marley from Maryland on Tuesday, July 15, 2014

I really like these, they fit my small hands better than any other I've had. They are really lightweight and flexible. I liked them so much I ordered 3 more sets as gifts.

Verified Buyer

Reviewed by PNW gal from Bellingham, WA on Wednesday, June 18, 2014

These are so great I bought a whole bunch in different colors. Good quality and price.

Verified Buyer

Reviewed by lazy hiker from New Mexico on Thursday, June 12, 2014

So far I love these things! No more feeling trapped in giant oven mitts when I need to maneuver. I don't feel any vunerable/hot spots. And Mr. Giant Hands likes them too.

Verified Buyer

Reviewed by Walker from Colorado on Sunday, June 8, 2014

We use our own set so much, we have started giving these as gifts. They're easier to get into than gloves, wash well, comfortable for smaller hands, and the neoprene makes for easy handling of too hot items. We keep ours on a hook next to the oven and microwave.

Verified Buyer

Reviewed by Carrie from Tennessee on Tuesday, May 27, 2014

These pot holders are perfect for setting hot pots on the counters. Trivets aren't flexible to just yank out of a drawer, but these are ready to use when I need them. I purchased a bunch of pot holders from STP and got rid of all my old ones. No more wondering where the hot pot will go once I need to take it off the stove.

Verified Buyer

Reviewed by PeachesnHerb from California on Monday, May 19, 2014

However, I just couldn't get past the smell of the neoprene.

Reviewed by MN Mom from MN on Sunday, December 15, 2013

Nice, no slip potholders for a reasonable price.

Reviewed by Gma from PA on Monday, December 2, 2013

Theses pot holders are great to use. They grip the hot pans and don't slip.

Reviewed by Joanne from California on Tuesday, November 19, 2013

Great product. They are ergonomic and at last a great hot pads

Reviewed by Walker from Colorado on Tuesday, November 19, 2013

We've had these for several months now and like them so well we just purchased two more sets for gifts. In addition to oven use, some of our bowls come out of the microwave a bit on the hot side and these are perfect.

Reviewed by Terry in WA from Medical Lake, WA on Thursday, November 14, 2013

these look nice, I haven't used them, but seem like they will be good, they are flexible so I believe they will be easier to use than my other silicone potholders

Reviewed by ladygardener from VA on Thursday, September 19, 2013

I burnt my hand the first time I used these. Beware!

Reviewed by Trisket from Arkansas on Wednesday, September 4, 2013

I bought a set of these for myself and wouldn't use anything else. They aren't bulky but does keep the heat away from your hand. I use them whenever useing the oven or useing an iron skillet. on top of the stove. I bought 2 more sets as Christmas gifts. If you get something on them just wipe it off.

Reviewed by Bronx Transplant from NYC on Wednesday, August 28, 2013

I've never used this shape before.... and I like it.

Reviewed by Deb from NY on Thursday, August 22, 2013

Disappointed by the product thinness and lack of quality. I bought these to replace a worn set of neoprene pot holders, which I really liked. Gourmet Club brand does not measure up. You get what you pay for.

Reviewed by Buck Saved from Los Angeles on Tuesday, August 13, 2013

Can't complain. The neoprene stops the heat dead. Great grip too. Having the slot to slide my hand into helps a great deal. Definitely a step up from the usual fabric based pot holders. As usual, the STP price was right.