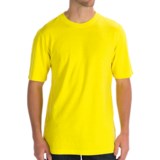 Closeouts. A soft knit blend of hemp and organic cotton, Gramicci's Endurance T-shirt is made for everything from hanging out to working out, and features a little UPF 20 sun protection for good measure.
Average Rating based on
12
reviews
4.583333
0
5
Reviewed by PacNW Mike from PacNW on Friday, November 15, 2013

great t-shirt
pluses:

comfortable
dries quickly
long tails
sturdy

Reviewed by Toganet from Buffalo, NY on Tuesday, July 30, 2013

I love the feel of this shirt! This has got to be one of the softest fabrics I have ever worn, and it looks good too. I'd wear this every day if I could get away with the bright blue color. (Maybe a white sportcoat and some loafers would complete the Miami Vice look).

One minor complain with this shirt -- it's kinda long. Like most of the Gramicci shirts I've purchased, it needs to be tucked in if you don't want to sit on it. If you wear a Tall size, this would be perfect. For me, the amazing fabric and wearability outweigh this nitpick.

Reviewed by Ranger Joshua from California on Tuesday, July 23, 2013

Decided to take a gamble, as I needed some new shirts, so I bought 5 of these in one order. If you are not used to the mixture, it may take a few moments to adjust to the texture. The texture is not "annoying" or "itchy" but it just feels different compared to a pure 100% cotton shirt. That being said, the shirt does a decent job and wicking some moisture away from your body, unlike pure cotton. I have worn them for several months now and would gladly by them again. I have used them for work in the mountains, wrestling with my toddler, housework, everyday wear, and they shirts hold up nicely. They do not seem to fade as fast as other cheaper cotton t-shirts. I tend to hand them on the clothes line to dry and the colors are still rich and vibrant.

Reviewed by Mike from MA from Minnesota on Wednesday, June 19, 2013

Bought this for active wear (climbing, mountain biking), as an alternative to the meshy, stretchy wicking shirts that always seem to retain body odor through the washings. This has a nice, more cotton-like feel, has a pleasing weight, the sleeves are nicely long (to the elbow, as in the picture), and it wicks nicely, drying quickly in the climbing gym.

I'd buy another without hesitation

Reviewed by WZL from Michigan on Tuesday, June 18, 2013

Fabric feels great. Looks great. Doesn't wrinkle much.

Reviewed by Nik from CA on Monday, June 3, 2013

Great shirts if you are really tall, otherwise they look ridiculous.

Reviewed by Dan the bike patrol guy from Orlando on Wednesday, May 29, 2013

These shirts fit well for anyone who is slim and tall, they are long shirts which fit me well . i'm 6'2 170lbs and medium fits me great with plenty of length, the color selection is great and they are extra durable being 55% hemp fiber with 45% organic cotton. Ive owned several of shirts from gramicci in the past and have never been disappointed.

Reviewed by desert sojourn from California on Saturday, May 25, 2013

These shirts are longer in the body ,,well constructed, feel good against the skin -- my only issue is when these first came onto the site they cost between 13-16 dollars.. cant quite recall. I just paid 22 apiece. Worth it only because They will wear well and are a favorite and I dont often pay that much for a T.

Reviewed by Dave in Frederick from Maryland on Saturday, May 4, 2013

The shirt itself is great - the material combines the best of cotton and linen. Fabric is of intermediate weight - not too thin or too heavy. Runs maybe a little long.

I have one in dark earth (color as depicted) I liked so much I ordered a second in canal blue. Unfortunately, the color is nothing like the picture, it's actually more of a pastel sea-foam green. Blech. Will probably return/exchange.

Reviewed by Gone Fishin from FL on Thursday, April 4, 2013

Love these shirts. Gramicci has made this T a bit bigger than past years, but still not like their original sizing from years ago before they moved their manufacturing to China. I always go one size up, and these are still the best T shirts around. Strong, durable, moisture-wicking without synthetics, and perfect for the searing humid Florida heat. I think the best part is no polyester. Guess what? You do not need those synthetic shirts to keep you cool, dry, and odor-free.