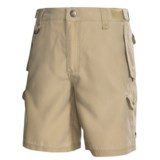 Closeouts. Indulge in some active outdoor pursuits in Gramicci's Inyo Mesa cargo shorts, and discover a new realm of comfort in lightweight Inyo Sand Canvas. Sanded for softness, this durable fabric resists wind and water, as well as shields your skin with UV-busting UPF 50 sun protection.
Average Rating based on
15
reviews
3.000000
0
5
Reviewed by SavageLawyer from New York City on Saturday, December 28, 2013

I REALLY like these shorts (with one objection noted below). Although made of polyester, they feel a bit like velvet ( guess this is the result of their "sanded for softness"), and I found them to be extremely comfortable. I have worn my for an aggregate of about 30 days, and so far they have not displayed any of the qualify concerns others have expressed. The shorts have plenty of pockets, which for me is a major plus. However, I will concur with others' observations that access to the front pockets is strange and a bit disconcerting - while one would generally put your hand in moving forward and down, the entry to the front pockets is cut so that you need to enter from the front towards the back and down. I suspect this :styling" cuts down significantly on the chance of anything falling out of the those pockets (or, as another reviewer has noted, on the chance of any pick-pocket getting into those pockets). I still really like these shorts - they are the most comfortable pair I have. And though I might avoid wearing them on days when I expect to be going into my pockets frequently, on other days they are likely to be my first choice. I don't frequently see reviews on STP products where the reviewers seem to either hate or love the product, but this certainly seems to be one of those. And I can understand why - that "reverse-entry pocket" arrangement could certainly drive some people crazy, but if you can live with that, I suspect you will really like these shorts.

Reviewed by Merc from Calif on Friday, August 23, 2013

Great shorts except for weird front pockets. Also when you sit down their is no room for comfort wayyyyy too tight to wear sitting down.

Reviewed by Bob the outdoor wanabee from Virginia on Wednesday, August 21, 2013

These shorts, while well-constructed, feature some of the strangest design "features" I've ever seen. The main pockets have a flap and zipper but the flap opens backwards from what most people would expect (imagine sticking your hands backwards into your pockets. They have hook-and-loop pull-straps to tighten/adjust the waist, which at first I thought was a nice feature, but turned out that unless precisely attached the hook-and loop digs into skin around your waist. Everyone is different but I find these simply strange and somewhat uncomfortable.

Reviewed by Joe from Chicago on Monday, August 5, 2013

Returned because the front button came off when I tried to unsnap it.

Reviewed by Colchester Al from Vermont on Saturday, August 3, 2013

when I put shorts on the flaps made it very difficult to get into the front pockets. Not good for me. looks like a manufacturing mistake. and flap is sown on very well too. sent back due to that problem.

Reviewed by Jose' from Central on Wednesday, July 24, 2013

I liked the pockets. For sure they are anti pick pocket. Been that route and the pickpocket knew he was caught , I figure he stll has my finger prints on his wrist. None the less the material is pretty poor quality, it did show wear at sewing pressure points just from one trip through the washing machine. The pockets do not have sewn in support tabs at the corners and the material is pretty thin an weak. I figure a 6 month life span so back they go.

Reviewed by Adverb from Concord, OH on Sunday, July 21, 2013

I wear a 29/30 in most pants/short. I couldn't even get these buttoned in a 30. I do have muscular thighs.
I have another pair of Gramicci shorts in a 30 that are some of my favorite. Consistency in sizing please!

Reviewed by Coach from Mass on Saturday, July 13, 2013

Yup, the pockets are odd at first. They zip over the opening and your hands go in the opposite direction you are used to . That being said, nothing will ever fall out of them! The brushed material is great and even though they are not super thin, they are made to stay cool. These will last a LONG time and I hope get evenbetter and better with time. They have a velcro tab in waist to allow for some give/take with the waist size. Good looking shorts!

Verified Buyer

Reviewed by wisguy from Milwaukee on Sunday, January 13, 2013

I like pockets that zip or are protected for forign travel and boating. These are fun shorts.

Verified Buyer

Reviewed by bobbie from delaware, oh on Friday, August 24, 2012

I did not like the way the pockits were designed. Hard to use. The use of velcro and snaps were DISAPPOINTING.