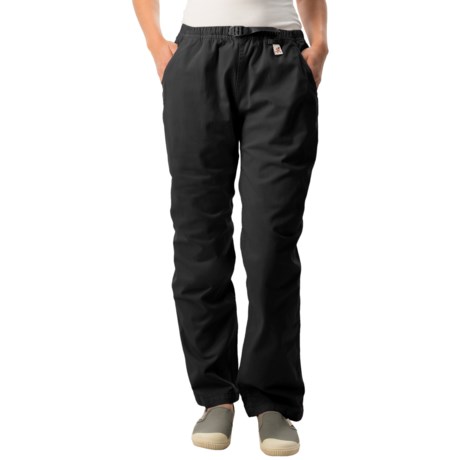 Answer

I would refer to our size chart for specific measurements of the waist to decide which size will fit you best. These do run true to size and are a relaxed fit.|http://www.sierratradingpost.com/lp2/landing2.html

Answer

I have mine on at work now and just checked. I am the same size as you and I got a M

Answer

Get the LARGE. They're not meant to be a tight flattering pant. They're roomy and ever so comfy. I'm an 8-10 and wear a Medium. I've got 5 pair in the twill and 3 in nylon!!|They're the best.

Answer

I had the same problem and chose L.

Answer

They are a loose fit with an adjustable waist - I would go with a Medium.

Answer

I would suggest a M. I am 14/16 and the L fit me well.

Answer

I'd go for the L. I'm anywhere between a 10 and a 14 in pants, depending on the manufacturer, but usually 10-12. The M's fit, but I have to squeeze to get the waist over my hips. Once they're on, they're OK, but I don't dare gain any weight in my hips or butt.

Answer

I wear the same size 12/14...but beware on this pant. If the tags read The Original R82 Gramicci G Pant, you're in luck and they should fit great. If the tags read Vintage G Series, they will be at least a size too small. I've received both versions in the same order, even though they are listed as the same pant. I had to return the Vintage version. Just a heads up.

Answer

You might be most comfortable with a large. I am between a 10 and 12 and I wouldn't be comfortable with the medium fitting any more snugly in the hips.

Answer

You have to try them. I ordered as recommended on website for product, and had to return for smaller size than recommended.

Answer

I used to wear the L's when I was more of a 12/14, I now have bought several M's and wear those. I am 5'10" and weigh about 134. and the M's fit perfectly. When I weighed near 148, the L's were the better fit.