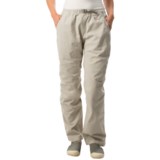 Closeouts. The Gramicci Original G Dourada straight leg pants have been a favorite for over 25 years. Flattering weathered look is achieved with durable, double ring spun stout weave twill that is Raspine Finished and Destine Dyed.
Average Rating based on
686
reviews
4.236151
0
5
Verified Buyer

Reviewed by walker from co on Wednesday, April 12, 2017

Gramiccis are great pants. They wear well and most stains wash out.

Verified Buyer

Reviewed by MomCamper from Minnesota on Sunday, April 9, 2017

Thought I was buying a lighter camp pant (my bad with not reading description) and this is more of a canvas, army style pant. Still love them and plan to wear camping though may not make it backpacking with their weight. Mine seem long but roll up fine and I plan to hem eventually. I'm 5'6, 160# got 8-10 m fits perfect.

Reviewed by LD from Montana on Monday, March 27, 2017

These are great for climbing! Sturdy enough cotton twill that I don't get my knees all bashed up but constructed intelligently so I can still make those ridiculous stretch moves that are my last resort in a game of add-on with the boys. They are pretty flattering too, for their utilitarian build, and comfortable enough that I don't mind wearing them when my sweats are in the wash. I got the army green color and it's held up great with several washes and lots of chalk smeared on it. I'll keep my eye out for another pair!

Verified Buyer

Reviewed by Dog walker from MA on Wednesday, March 22, 2017

I have always loved these pants. These are the same excellent quality as always. Color is exactly as shown

Verified Buyer

Reviewed by Knit&trek from Philadelphia on Monday, March 20, 2017

I have a collection of these pants in different colors now. Bought them for hiking and gardening and find I wear them all the time. Great for traveling, sitting in a car or plane for a long time, and you don't have to take off the belt in airport security. While they are a bit loose in the seat they are still more flattering than most elastic pull on pants. The fabric is very durable (I like that it's all cotton), and the crotch gusset makes them very comfortable for crouching and stretching. The seams tend to pucker up a bit in the wash, so I pull them out of the drier still damp and tug on them to minimize it. The belt on these is wimpier than the webbing used in previous models, so it's been scrunching up instead of laying flat. It still works though, and I love that it cinches the waist securely without the bulk of a belt buckle. I'm not using the little loop to hold the end - I tuck it inside the waist.

Verified Buyer

Reviewed by Bebele from Oregon on Saturday, March 18, 2017

I like these and color is amazing too!

Verified Buyer

Reviewed by Rosie from CT on Tuesday, March 14, 2017

We are still in snow season, so I am saving these for spring. Looks like they wlil be perfect for all sorts of outdoor activities.

Verified Buyer

Reviewed by Cindy in NC from North Carolina on Wednesday, March 1, 2017

I now have three pairs of Gramicci pants that serve me very well for durable, comfortable pants to wear during farm chores. Now that I am 30 weeks pregnant, these are my go to pants for all chores around the house and farm. The elastic waist with the belt allows me to move the pant waist below my belly and cinch the belt for security without discomfort.

Verified Buyer

Reviewed by Casual Krystee from Tennessee on Tuesday, February 28, 2017

These are high quality pants, well made and of good materials. But they are simply not made for women with a big booty. This is the 3rd pair I've tried. I want them to fit so bad, but they just won't do it. There is plenty of room in the hips and legs, but they barely cover my behind. So when I sit, the waist band slips way too low. They also give me a very unattractive "V" in the front, where the material bunches up at the bend of my leg at the hip.

Verified Buyer

Reviewed by maggie may from Omaha on Tuesday, February 14, 2017

I have not had them very long and only washed 1 time so far. So will have to see how well they wear or if these will fray at the waist, hems etc. Even though they do this I continue to get them as they are so comfortable, have roomy pockets which I really like since I do not carry a purse much any more and I can pack in the essentials.