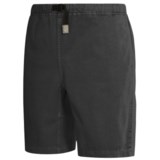 Closeouts. Gramicci Original G shorts have heavy-duty fabric and legendary Gramicci comfort. Rugged, double ring-spun cotton twill allows for extraordinary freedom of movement.
Average Rating based on
248
reviews
4.443548
0
5
Verified Buyer

Reviewed by lazy guy from Oregon on Wednesday, August 3, 2016

no belt required, as it's included. nice durable cotton. no fly to forget to zip. sole shortcoming and a minor one at that is there's only one hip pocket.

Verified Buyer

Reviewed by Bellaluna from Indiana on Friday, July 29, 2016

My husband has always loved Gramicci shorts but hadn't bought a new pair in several years. When it came time to shop for a new pair, we found these Gramicci shorts at Sierra Trading Post at an excellent price. The quality is just what he remembered and the khaki color is really nice (i.e., not too dark and not too light). I highly recommend these shorts. His waist is about 35" and the size Large was perfect.

Verified Buyer

Reviewed by Ketzer from Wisconsin on Tuesday, July 26, 2016

I've been wearing this short (pretty much exclusively) for over 20 years...not sure how many pairs I've gone through. I love their simplicity and the range of movement and freedom they offer. Only negatives I can think of: 1) the seams blow out quicker than those from companies like Patagonia, and; 2) their length varies an inch or so every time I get a new pair (probably because Gramicci utilizes too many manufacturers?).

Verified Buyer

Reviewed by merlin bear from North Carolina on Thursday, June 2, 2016

I love these shorts. Gramicci Original G Shorts are the only shorts I have worn for years. I have other shorts but they do not get worn. Once your "junk" get used to the comfortable accommodation that Gramicci's gusset crotch delivers, one wonders why all pants are not made this way. Imagine a flat panel at the crotch instead of a harsh tight seam at your most tender place!

I like that they are made of very durable cotton also. i do not like synthetics against my body. I am very hard on clothes and these shorts hold up very well. And with these shorts I have let go of the fear of walking around with my zipper down! The belt/buckle system can be adjusted very quickly and easily for even the most urgent bathroom trips.

i am not a rock climber though i do enjoy hiking. But these are my everyday shorts.

Verified Buyer

Reviewed by Walkabout1089 from Arizona on Monday, May 23, 2016

Love the shorts, but wish they had two hip pockets. Very comfortable and durable.

Reviewed by Ronnie the Piper from Virginia on Friday, May 20, 2016

These are without a doubt, the most comfortable pants straight out of the package, I have ever bought. I am very pleased with them. Also, having owned Gramicci pants for many years, I know they'll last.

Verified Buyer

Reviewed by Jeff from Minnesota on Wednesday, May 18, 2016

Have not bought Gramicci shorts for a while , kinda pricey . Got tired of looking for some plain shorts made out of good fabric . Didn't want 10 pockets . Didn't want down to my calves . The original G shorts , just right . 1 small improvement , a little loop to tuck the belt end into . They will last 'till animal skins come back in style .

Verified Buyer

Reviewed by Hiker from Sedona on Monday, May 9, 2016

It's Gramicci, what more can I say. Quality at Sierra Trading post great prices.

Verified Buyer

Reviewed by JW from CA on Monday, April 11, 2016

My husband loves these shorts. I buy them year after year for him in stone/khaki. The only complaint is that over time the elastic wears out in the waist. Otherwise, they are the perfect shorts for CA hiking/ biking/ running around town/ hanging at home.

Verified Buyer

Reviewed by Dublic from New York on Saturday, October 3, 2015

Durable and comfortable, very satisfied with this purchase.