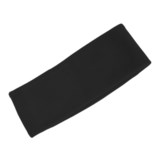 Closeouts. Grand Sierra's Super Soft Fleece headband is known for its buttery softness and luxuriously silky hand, but its double-layer construction and wide-coverage design will keep you toasty, too!
Average Rating based on
44
reviews
4.545454
0
5
Verified Buyer

Reviewed by katie from Utah on Tuesday, March 8, 2016

Nice and thick fleece, keeps ears warm. It seems a bit tight and I dont think I have a huge head.

Verified Buyer

Reviewed by Katie from Wisconsin on Friday, March 4, 2016

It's the right size, though would still fit if my head were bigger. Unlike the non-contoured one, this one actually keeps my ears covered no matter how many times I move my head. It's also soft and definitely warm.

Reviewed by Katie from Wisconsin on Friday, February 26, 2016

I have a small/medium sized head and this fit well, even possibly a bit too loose. The problem was that it rode up in the back of my head and uncovered the bottom 1-2" of my ears. I have the same problem with hats. I'm returning this one for the contoured version.

Verified Buyer

Reviewed by Happy Traveler from CDA on Monday, February 8, 2016

This headband feels very soft and has more give than the Grand Sierra contoured headband I bought. This one is definitely not as constricting. But as with all "one size fits most," if you have a larger head, this one will probably be too tight. It works fine for temps in the 20s, but might be too thin for low windchills.

Verified Buyer

Reviewed by PHogan from Oregon on Saturday, December 26, 2015

I like this. It's warm, very soft and fits snug, but not too snug. Overall, happy with it, especially for the price. Nothing fancy, but does the job.

Verified Buyer

Reviewed by Hiker/Biker from Apple Valley UT on Monday, November 9, 2015

Ordered these in pink and dark pink. I will use them this winter when I hike, or horseback ride. I wanted something to cover my hears over my hat. Works perfect for me.

Verified Buyer

Reviewed by Suzy wintering in Wellington. from New Jersey on Wednesday, November 4, 2015

You can't go wrong with this headband for the price! I bought a few and although not cold enough to wear, you can tell its a good quality and will keep your ears warm! Not too thin or too thick and I can wear it under my riding helmet. Yeah!

Verified Buyer

Reviewed by Frequent Sierra Trading Post shopper. from moravian Falls, N C on Saturday, August 1, 2015

Looking forward to cold weather to try it out.

Verified Buyer

Reviewed by WVGirl from West Virginia on Tuesday, May 12, 2015

Just as expected. Fits as expected.

Verified Buyer

Reviewed by Darci from Wyoming on Sunday, April 19, 2015

I'm sure there are better headbands out there but this one is perfect for the price. I have no problems with either of the two I bought and use frequently.

Verified Buyer

Reviewed by Linda from san jose on Monday, March 30, 2015

Soft, wide functional headband. Pretty.

Verified Buyer

Reviewed by kayakartist from Wisconsin on Wednesday, March 25, 2015

HIgh quality cozy fleece. Not too tight.


Verified Buyer

Reviewed by california dreamin from Illinois on Tuesday, March 24, 2015

super soft and warm

Verified Buyer

Reviewed by Alison from Georgia on Wednesday, March 18, 2015

I bought three for exercising outdoors. Love them. Fit just right, not too tight.

Verified Buyer

Reviewed by JDE from North Carolina on Friday, March 13, 2015

This attractive headband is soft and warm too. The fit is great, not too tight, not too loose.

Verified Buyer

Reviewed by lorraine934 from Marion, MA on Monday, March 9, 2015

These just looked ugly and cheap. Even at this low price, I sent it back.

Verified Buyer

Reviewed by perrynillup from South Jersey on Thursday, March 5, 2015

Sizing is nice, not so tight as to be annoying.
Warm...tucks away in my jacket pocket.

Verified Buyer

Reviewed by lgwmom from ohio on Wednesday, March 4, 2015

Very soft, warm and stays in place. Glad I ordered it and for the price, yay!

Verified Buyer

Reviewed by Mo the mail carrier from Michigan on Sunday, March 1, 2015

This headband is soft, warm and very comfortable to wear.

Reviewed by Steve from Hamburg, New York on Saturday, February 28, 2015

Really, people, it would be pretty hard to say anything negative about a product like this. Keeps your ears from freezing off in subzero temperatures. At STP's silly low prices, buy several and stick them in the pocket of every overcoat you own.

Verified Buyer

Reviewed by ms mary from Colorado on Thursday, February 26, 2015

What can you say about a head band? it works, it is a good warm fabric and keeps my ears warm..great price

Verified Buyer

Reviewed by Planet Ocean from Boston, MA on Wednesday, February 18, 2015

Light, warm, easy to put over your ears without messing up hair, inexpensive. Ordered 2 more.

Verified Buyer

Reviewed by SADC from Texas on Thursday, December 4, 2014

Perfect! Loved the color

Verified Buyer

Reviewed by Runner and Camper from Minnesota on Monday, October 20, 2014

I bought one of these for me last year. I live in MN where we have weeks of -40 with wind chill. I also hate hats so have always been a headband person. These are the warmest headbands I have ever found! They do a great job cutting the wind and staying in place. I bought 5 more to give as gifts and have a back up because it worked so well. I have always used on adult females but my husband said it fit his head too.

Verified Buyer

Reviewed by JR from Illinois on Thursday, October 9, 2014

i ordered 4 of them because they're hard to find sometimes. it's nice that they're made for women, because the one-size-fits-all type are usually too big.

Reviewed by Hidinginthelight from Florida on Tuesday, September 16, 2014

Love it: snug fit that covers my ears. I'll probably get another!

Verified Buyer

Reviewed by Reader Jill from Minnesota on Wednesday, September 10, 2014

It is a lovely soft fabric and fits well. No complaints except that it could have been a little wider.

Reviewed by susan from Texas on Thursday, November 21, 2013

would buy again

Reviewed by StephinPA from Pennsylvania on Tuesday, November 12, 2013

Quality is ok but it seemed to fit too tightly on my head and was uncomfortable. Possibly would be better for girl rather than woman

Reviewed by STPlover from GA on Monday, November 4, 2013

I got two...brown and gray...and both colors are nice rich shades. The band is a nice quality fabric, and it is warm and comfortable. Terrific buy with coupon markdown!