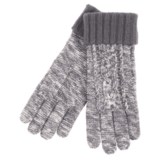 Closeouts. Touchscreen-friendly fingertips on Grandoe's Leto Sensor Touch gloves mean you're free to let your fingers fly across the screen of electronic devices, even all bundled up!
Average Rating based on
27
reviews
3.444444
0
5
Verified Buyer

Reviewed by Deb in Michigan from Michigan on Thursday, December 3, 2015

I thought Grandoe would be a "slam dunk", not so. They were very inexpensive, so I won't return them, but I certainly would not buy them again. Very thin material.

Verified Buyer

Reviewed by jwill13 from Illinois on Tuesday, October 20, 2015

These will be a gift, I've tried them on and they are very nice. Great feature with the touchscreen fingertips.

Verified Buyer

Reviewed by Pchic from PacNW on Wednesday, August 26, 2015

i'd love these gloves-- if i could only fit my hands into them :(

they are marked as large, but would only fit a large child or teen. but for adults they really should be marked as small.
too bad, because they are super cute and the cotton would make them very comfy.

Verified Buyer

Reviewed by dragoneer from Albuquerque, NM on Wednesday, April 1, 2015

I bought these gloves to use with my smart phone. They do.

Verified Buyer

Reviewed by Trixiespeed from Alaska on Wednesday, February 25, 2015

These gloves are stiff, they run small and I don't think they'd keep your hands that warm. I ordered a large and they fit my friends 10 year old daughter, so I gave them to her.

Verified Buyer

Reviewed by Windy City from Chicago on Friday, November 21, 2014

These look attractive, but they are thin which would be fine for Fall. Since winter has kicked in, they're not enough and I sent them back.

Reviewed by PatfromSC from South Carolina on Monday, February 3, 2014

Gloves were nicely made. They fit well except the fingers were short with a size large. They would have been very uncomfortable to wear. Sorry to say they went back.

Reviewed by Liana from CA on Tuesday, January 28, 2014

Ended up buying three pair of these : they are snug but very true to size. Not for freezing cold but ok for above zero temperature. Has not shrank after washing which is good. Overall satisfied

Reviewed by imaginarygrrl from Oregon on Friday, January 3, 2014

Received the gloves and the left hand glove was too large; it had a lumpy area of wool on the little finger. The right hand glove fit okay but poorly. Overall these gloves aren't well made - the difference in size of the right & left glove is just an example of the poor quality work coming out of China. Unfortunately hard to find anything else. Even if they'd fit, I could tell they weren't warm - for spring they'd be fine, but I need winter gloves. Am returning them.

Reviewed by cold-in-mn from Minnesota on Friday, December 20, 2013

I ordered these for my 17 yr old niece for Christmas. She wanted cute wool gloves. However, I returned them because you could see your fingers through the fabric and they did not seem warm enough for Minnesota winters.

Reviewed by jess632 from New York, NY on Tuesday, December 17, 2013

These are just what I wanted -- they're warm and snug and the touchscreen action is pretty decent. I've had other touchscreen friendly gloves and I'd say these are on par -- not as good as your fingers, but they get the job done. They definitely run snug -- I would usually order a medium on gloves and got a large in these, which is perfect.

Reviewed by SFAmie from Santa Fe, NM on Wednesday, November 6, 2013

I bought a medium on my first order and they fit, but the fingers were just a tad long. Just received the small are they perfect! Keeping both pairs because they are just great gloves!! I can finally sit outside throw the ball for my Golden while working on my iPad without my fingers freezing this winter! Fast shipping, great price, fantastic sales - what's not to love about Sierra Trading Co.?! Thank you!!

Reviewed by SFAmie from Santa Fe, NM on Friday, November 1, 2013

Fabulous gloves! They are perfect on a day like today (41 degrees, slight breeze, warm sun - live in Santa Fe, NM) to sit on the patio, work on my iPad while throwing the ball for my Golden!! Gloves are keeping my hands warm and even with the dirt from my dog's tennis ball, the gloves still work on my iPad! I did get a medium after reading reviews that they ran small, they fit, but think I'm going to get another pair in small for a tighter fit and not so much room at the tips. I have super small hands & wear a 6.5 in leather gloves.

Reviewed by Life Elevated from Utah on Thursday, October 17, 2013

i bought these gloves for driving this winter (which is still on it's way). so i haven't had the opportunity to wear these out in the cooold. i have worn them to take the dog for a walk and love them! i'm very glad i ordered the Large as they don't have much give, and i don't have big hands.

Reviewed by Booklady81 from NE PA on Tuesday, January 15, 2013

These are the first pair of "touch gloves" I've ever bought. Because of the reviews, I ordered a L when I usually wear a M. My hand measures a 7 and is somewhat petite. The L fit well. I can use the glove w/my phone (it is a newer smart phone). My right hand gets cold at work sitting at the comnputer w/the mouse and I even wear the right glove while working and can still type on the computer. For the price I am very satisfied, but I can see where people with large hands will have a problem. I wear them almost everday if the temp is 30 or above. They aren't made for really cold weather or clearing snow off your car.

Verified Buyer

Reviewed by Ron from Baltimore, MD USA on Friday, January 11, 2013

I gave these as a Christmas gift. They work used with an iPhone 4S, and are nice as gloves overall. Fit was good and fabric is soft as well.

Verified Buyer

Reviewed by Ashley from Denver, CO on Friday, January 4, 2013

These do run tight as others have noted. I ordered a size Large which fit fine, but I am normally a Medium.
It can be difficult to get the gloves to work properly with my smartphone touchscreen. I'm not sure why...

Verified Buyer

Reviewed by Debi from Portland, Maine on Tuesday, January 1, 2013

Easy fit for driving, warm, and stylish.

Verified Buyer

Reviewed by long fingered from Virginia on Friday, December 28, 2012

I have another pair of sensor touch gloves and these do not work on my phone! they are not true sensor touch. I have worn an X-large for 25 years and these are not X-large, my fingers are not fat just long and they do not go to the joint and feel uncofortable due to being short fingered, you just keep pulling them down trying to get them to feel right. they seem warm enough for 20 degrees and above so far, but slick on the steering wheel. try another kind.

Verified Buyer

Reviewed by P.W. from Boston, MA on Tuesday, December 18, 2012

The gloves look nice, but the fit is small and the touch screen friendly fingertips are far from perfect. But, you can't beat the price.

Verified Buyer

Reviewed by ladyonfheRoad from Phila.pa on Friday, December 14, 2012

Wanted this for use with all the hand-helds I use (techie), but they didn't fit properly. Fingers too tight and too long. So they were both too small and too big at the same time.

Reviewed by Northern Girl from Massachusetts/Maine on Friday, December 14, 2012

Ordered a size medium, my usual size. (Another brand I ordered on this site at the same time, also a Med. too roomy!) Just could not get past how snug they were. Constricting. Order a size up, should be fine. Otherwise nice glove.

Verified Buyer

Reviewed by Mother of Two from Flagstaff, AZ on Sunday, November 18, 2012

They looked adorable, feel great, but did not fit. I thought I was a size small but the size small fit my daughter (age 10) hands. I couldl not even get them on.

Verified Buyer

Reviewed by Queenie from Pullman, WA on Saturday, November 10, 2012

Great for walking through the snow. Fits snugly.

Cons: Fit Tight To Size
Pros: Cute, Great in snow, Warm

Verified Buyer

Reviewed by JonC from Long Island, NY on Thursday, November 1, 2012

These gloves are not bad for the value however they run smaller than advertised. So if you are a large buy a size bigger. We will not be returning the gloves but looking to give them away as it is not worth the cost of returning.

Cons: Size runs small
Pros: Color, Quality

Verified Buyer

Reviewed by Eliza from Chicago, IL on Monday, October 29, 2012

I got a large size, it fits snug but very comfortable. Works perfectly on my smartphone, no more cold fingers for me this winter! The raspberry color is very nice.

Pros: Nice Raspberry Color

Verified Buyer

Reviewed by Sarah from California on Friday, August 10, 2012

Nice enough gloves. Satisfied with this purchase. fit is good but a bit tight (size large).