Granger's

Colors

Prices

Search Within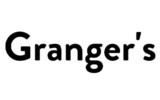 About

the

Granger's

Brand
Since it began producing high-quality waterproofing solutions in 1937, Granger has given countless people the freedom to work and adventure outdoors in the face of inclement weather. From waterproofing tents for England's Military of Defense, to helping adventurers conquer Mt. Everest, to protecting explorers seeking out the North and South Poles, Granger's products have long been an ally for all kinds of adventure. Today, with products like Granger's waterproofing sprays and Granger's down wash, this brand has embraced new technologies in its endless fight to protect you, your clothing and your gear -- whatever the challenge, whatever the adventure.
Compare at $9.00
Closeouts
Compare at $14.00
Closeouts
Compare at $12.00
Closeouts
Reviewed by Bob the hiker from Alaska on Thursday, October 6, 2016

This Granger's Down Wash works great! And is Bluesign Certified environmentally friendly.

The Nikwax Down Wash bottles have a hazardous waste symbol on them.

Can't go wrong with this brand.
Receive email updates for new Granger's items