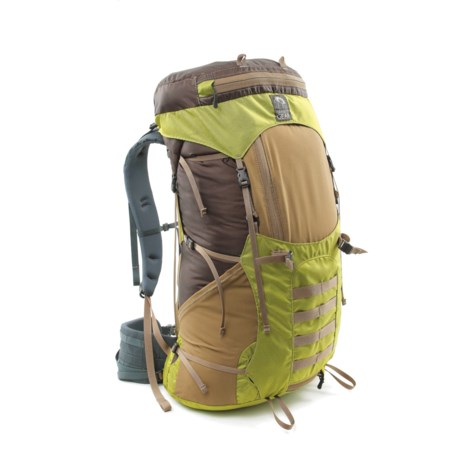 Thoughtfully designed, well executed pack for those wanting to go lighter with little sacrifice
Reviewed by dubyam from Huntsville, AL on Friday, May 13, 2016
I started out with an all-purpose backpack, to use while backpacking with my son's Scout Troop as well as for hauling gear and meat while hunting. The pack I bought (ALPS Outdoorz Commander Freighter) excels as an all-purpose, do anything pack. But it is very large, and weighs about 8lbs empty. One of our Assistant Scoutmasters got me thinking about lightening my load, and I started planning how to transition into lighter gear. The first step was to find a lighter pack. I looked at a number of different ones in the 2-5lb range. While in Denver for work, I was able to go in the evenings to the local REI and Sierra Trading Post stores and try on a variety of packs, load them with 30-40lbs of weight, and wear them around for a little while. The Granite Gear harness system was the most comfortable for me, and I ended up finding a deal on this Leopard AC 58 in the Regular torso length in sulphur/java color scheme. It's a great looking pack, with just enough bright color to be easy to see and look stylish, but not like a beacon in the woods.

I've had opportunity to take a couple of treks with this pack now, and I can say I'm very pleased. The versatility of packing this pack is a great feature. I've been able to keep a weekend's worth of food in the lid, and stow my tent, sleeping bag, inflatable sleeping pad, cooking, and other gear in the main compartment. I keep my toiletries in the larger of the pockets on the beaver-tail flap. The stretch pocket carries a headlamp and miscellaneous gear (small bottle of foot powder, etc.), and the side stretch pockets are great for a Nalgene, water filter, and even a lightweight camp stool. On cooler hikes I've stuffed a fleece pullover in the space between the beaver-tail and the main compartment. I have used this on three-day trips so far, but I could easily get enough gear in it for a solo week afield if I needed to.

Comfort while carrying is first-rate. It took a bit of fiddling on the first day on the trail, but once I got the adjustments fine-tuned, I haven't had any issues. I could easily carry this pack on long days, and the difference between my current 30-32lb load ("wet" weight, all-in) and my old load of 45-50lbs all-in, is amazing. I'm far more comfortable on our treks now. I'm working on replacing other gear (cook system, summer-weight sleeping bag, etc.) to get my total packed weight down below 30lbs for cooler weather and around 25lbs for summer treks. It's not ultralight, by any means, but it's what I've started calling "comfort-light" backpacking. I keep a few conveniences (like my 2lb stool, a few extra pieces of gear, and an extended first aid kit) so I'm not shooting for ultralight/under 20lbs.

The two minor complaints I have about the pack both have to do with the harness. It's tremendously comfortable, which is the primary concern. The first complaint is pretty minor. The lifting handle, while stitched well and not in danger of coming loose from the harness, doesn't really provide the kind of stability in lifting the pack I'd like. Bear in mind my frame of reference is a nylon strap pinned into an aluminum external frame, which was resoundingly secure and stable. This handle is perfectly functional, but when I lift the pack, it throws the shoulder straps all out of alignment with the pack body, so that before I put it on, I have to be sure to align them so it will slip on easily. Since the only time I worry over this is when I'm moving the pack in and out of vehicles or around camp, it's not a big deal. I'm not moving it much. Second complaint is with the attachment of the sternum strap to the shoulder straps. I wish the slide buckles were easier to adjust up or down the strap. This one annoyance was a pretty significant issue while I was trying to get the pack adjusted, but now that everything is fine tuned, the good news is, they're not likely to shift around and that makes it easy in terms of always staying in adjustment.

Overall, this is a great pack. I've considered getting the 46L Leopard VC for my son, who has a ~5lb external frame right now. We'll see. It appears Granite Gear isn't making this line anymore, however, as it does not appear on their website at this time. That's a shame, as it's a great pack system for "comfort-light" backpacking.
Most helpful negative reviews
Similar items and more information in the following areas: