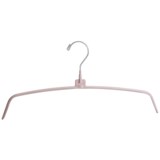 Closeouts. Wave goodbye to hangers that distort, drop and ruin clothes, and say hello to these knitwear hangers from Great American Hanger Co. Rounded shoulders prevent pucker marks in knitwear, and coated metal keeps clothes from slipping.
Great for delicates or hanging wet items
Holds wide-neck items
Set of 25
Dimensions: 16x3/8"
Weight: 3.3 oz. ea.
Material: Vinyl-coated metal with polished chrome stem
Made in China.
Average Rating based on
67
reviews
4.477611
0
5
Reviewed by SJEAN from Iowa on Monday, January 13, 2014

Where the metal hanger meets the "rubber" material, they are not all straight and uniform. They will hang clothing nicely, but not my preferred hangers.

Reviewed by ChicagoWoman from Chicago on Friday, December 27, 2013

I've purchased many of these hangers from STP over the years.
Everytime my kids come over they admired them and I gave few away .
Eventually I needed more for myself....so ordered the SAME product that I've purchased before.
Well - this is not the same product.
The new hangers are about 1/3 thinner, lighter and I can bend them with just my fingers.
While the opriginal werent cheap - at least you could have tell the quality.
The new ones arent worh much ,vinyl coated wire and even packaging was shoddy.
Bunch of tangled up hangers thrown in a box. I'm returning all of them asI feel cheated.
This is not the same product - and the glowing reviews from years ago are of an original item.
They should not be attached to this product as they describe something that STP doesnt carry anymore.


Reviewed by Kelly from Kansas on Friday, December 6, 2013

I finally have something that the shoulders won't slide off of. They are very sturdy and I don't anticipate breaking any of them. I would like to see the "shoulders" sloped just a bit more. I would also like to see these offered with the pant hanger attached for pairing up clothes to put in the closet. I'm very glad I made this purchase.

Reviewed by Discerning Decider from Illinois on Sunday, December 1, 2013

I've now purchased 200 of these hangers as enough to accommodate all of my hanging shirts and jackets. These are the same kind that the store chain Chico's uses because the vinyl coating stops tank tops from slipping off and stops them from getting stretched out around the neck as well.

Reviewed by Jadawoman from WI on Sunday, December 1, 2013

These are wonderful hangers. They are sturdy and nothing slips off them. They seem as if they will last a long time.

Reviewed by merrygold from Vancouver on Saturday, November 9, 2013

These hangers are so awesome. I would buy again.

Reviewed by Tiregal from Northern CALIFORNIA on Wednesday, October 30, 2013

My husband likes to wear knit polo shirts. He also wears a 3XL. These hangers never leave a pucker mark in his shirts and work really well for his larger size garments. I ordered a second set, I like them so well. Sturdy!

Reviewed by EidleonDrexel from GA on Sunday, September 29, 2013

My wife purchased based on the good reviews. They really work for sweaters and knit fabric cloths. The hanger hook attachment looks a little suspect, but after 2 weeks not failures.

Reviewed by luv STP from California on Wednesday, September 18, 2013

I love these hangers--they don't break, have a good shape for clothes, and things don't slip

Reviewed by Margarita's Rent from Boston on Sunday, May 12, 2013

I've purchased 5 boxes of these hangers over the last three months and have been quite pleased to date, BUT I wouldn't rate the hangers as perfect, because they come in at least two different styles/colors--thicker bar with broad, sloping shoulders in white vs. thinner bar with angled shoulders in ivory--and are sold as a single/same product. This can make for uneven, potentially misleading customer feedback and product ratings, since there's no way to distinguish between the two styles when ordering, nor any way for single-box customers to know if they're reviewing the same product as other shoppers. The style discrepancy does not look to be a case of an earlier version being replaced by a later one: I received the different styles over three months, in three separate orders, in no particular sequence (X, O, OXX). Both hangers seem to be of decent quality, but I haven't used them long enough to comment on any potential differences in quality, and the inconsistency still seemed worth a nod, since it could account for certain differences in customer feedback/ratings...