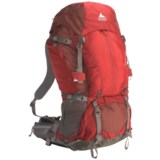 Closeouts. Built for backpackers who aren't afraid of heavy loads, Gregory's Baltoro 75 backpack has an outstanding suspension system, easy access to the main compartment and multiple storage options.
Average Rating based on
14
reviews
4.500000
0
5
Reviewed by Kent from Kuna, Idaho on Saturday, April 11, 2015

So far used three times, super comfortable! Only complaint is the shelf that separates the sleeping bag compartment hook that holds one corner pulled out! Other than that awesome!

Reviewed by Ranger from Georgia on Saturday, October 19, 2013

Pack fits to size. Well padded hip and shoulder straps. Lots of well placed pockets

Reviewed by Make from Hangzhou on Tuesday, July 16, 2013

very functional, comfortable, it will be even better if it's lighter.

Reviewed by Reweiver from Minnesota on Sunday, July 7, 2013

Just finished 10 days traveling around the Costa Rican forests with this pack. Overall, I found it a great pack:

Pros:
- Comfort with heavy loads: I have the Large pack.. which I believe is about 79 L. I had it stuffed, and had three sets of snorkel gear hanging from the sides. The total load was probably about 30 Kg. I used a smaller (35 L) pack for day hikes; so, I never had to walk more than about 3 km with the Baltoro at a time, but had I been hiking all day, I'm pretty sure that my legs would have given out long before my back started hurting.

Neutral:
- Hip pockets: It was very nice to have these, but they were a bit small.
- Water bottle pockets: Pretty good. The collapsible pocket is hard to stow again with a full pack. I also wasn't quite deep enough to hold my 1.5 L bottle securely. I wish the non-collapsible pocket was built from studier material. I was hesitant to use it to hold a pointy hammer that I needed to carry at one point.
- Hip belts: Generally pretty good. They did dig into my right hipbone occasionally.
- Popping sounds: Occasionally, I needed to grab the pack by a single shoulder strap (e.g. when passing it between two boats). When I did this, I would hear a loud "popping" sound, presumably as plastic parts in the suspension system moved past one another. Although nothing broke, I wasn't as confident in the pack's durability as I would have liked to have been.
- Side pockets: These were spacious, but could have used a little more structural support.

Cons:
- Weight: I know, it's a trade-off - a comfortable, feature rich bag is going to be heavy.
- Thin side release buckles - I'm sure these are thin to reduce weight, but this is one place where I'd gladly sacrifice a tiny bit of weight for durability. I want flexibility from a pack, and these lightweight buckles didn't give me the confidence to use them flexibly.
- Attachment loops: There aren't any good loops to hang a carabiner up high on the pack. I would have preferred a very sturdy loop high up on each side. This was, perhaps, the most serious issue I had with the pack, as it made it hard to attach long objects, wider than a trekking pole, to the sides of the pack.
- Lack of PALS webbing: With the diversity of PALS pouches, sheaths, etc. now available, it would have been nice to have a few PALS attachment points. There seems to be a reluctance on the part of serious pack manufactures to include this.. Maybe it is too 'military'?, and it is a bit heavy, but the fact is, that it can be very useful.



Reviewed by Nhargos from Missouri on Tuesday, May 21, 2013

Super comfortable even when undet heavy loads. Straps & waist belt have a lot of padding. The various ways into my pack, numerous pockets and straps & the removable lid gives me the ability to carry gear for any occassion.

Reviewed by wemead from Michigan on Saturday, May 11, 2013

IT is JUST what we expected! We had great recommendations from this product and it met each and every one! Lots of room, pockets and clips. THis will be great to have at Philmont this summer!

Reviewed by Backpackin Bud from Michigan on Thursday, May 2, 2013

Great product. Best price i could find on the internet.

Reviewed by Running Girl from Virginia on Tuesday, April 30, 2013

I have used this pack on several occasions, from the Nevada desert to the Shenandoah valley. It's easy adjustment makes it a great pack for multi-day hikes in all conditions and the design includes some well thought conveniences like the water bottle holder and easy access pouches for a compas or other small items you may want quick access to. i would buy this pack again.



Reviewed by Wide Open World from NJ on Saturday, April 6, 2013

I have searched high and low to find a pack that fit all my needs. This is it!!
Perfect pack for a Europe Backpacking trip, Compresses down for a weekend in the woods, Great frame for wearing while back country skiing.
Love it, Recommend It!!

Reviewed by Off The Beaton Path from Texas on Tuesday, March 19, 2013

Haven't had the opportunity yet to use the bag for an overnighter, but I'm pleased with the construction and loading of the pack. It's not inexpensive, but there are a few things you want to make sure you get right, especially the pack and your shoes. Try 'em on and see what works for you. I decided on Gregory because of the way the strapping rested on my hips and shoulders. I look forward to putting it all to use soon.