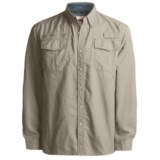 Closeouts. Perfect for fishing, backpacking and camping, the Kenyon shirt from Grizzly features Tech Threads fabric for moisture-wicking, breathable and quick-dry performance.
Average Rating based on
127
reviews
4.267716
0
5
Verified Buyer

Reviewed by 2deuces from Kansas on Tuesday, November 10, 2015

Comfortable and stylish, the Dakota Grizzle Kenyon Quick-Dry Shirt is very different than the travel shirts I bought several years ago. Those shirts remained wrinkled, had too many unusable pockets and screamed "Look at me I'm quick dry!" The Dakota Kenyon shirt is silky, button-down and suitable in any casual setting.

Verified Buyer

Reviewed by Leif from North Carolina on Saturday, August 22, 2015

This is a great warm weather shirt. Does all that it says it will do. Only reason it doesn't get five stars is the fit...a little loose around the hips/tail of the shirt where I would like it to fit a little more close to my body. This doesn't change how much I will wear it, but you have to wow me for the fifth star :)

Verified Buyer

Reviewed by Jan from California on Friday, August 21, 2015

This is the third Dakota Grizzly I've bought for various men in my family. This one won't be given till Christmas, but if it is liked as much as the other two I've given, it'll be worn a lot! The fit and feel on the other two was applauded, and I'm giving it 5 stars in anticipation of similar comments, but will change the review if it doesn't cut muster.

Reviewed by capitall from Cali on Saturday, July 18, 2015

I bought this shirt for my husband and he loves everything about it! The color, "Iguana", is a really nice color. The fabric is a good weight for fall/winter type travel and seems to dry quickly when hung, The shirt appears sturdy and well constructed. He likes the way it fit - he bought a large - he is 6ft 1in and 181 lbs, and is very happy with the fit. He has fairly long arms 35/36" and the arm length was great. He really likes the zip pocket on the right chest and found the other chest pockets roomy without being too bulky. Overall, he found this to be a great quality shirt for travel at a great price.

Verified Buyer

Reviewed by KSSmith from CA on Saturday, July 4, 2015

Great shirt! Fits well

Reviewed by topshot from Maine on Monday, June 22, 2015

I bought this for my husband. Nice fabric, nice neutral color, comfortable, but it was too large, especially in the upper arm (bicep area) which is downright baggy. While it's nice not to have a tight-fitting shirt for hiking, this was way too loose. We will exchange for one size down and hope for the best.

Verified Buyer

Reviewed by Bulldog33 from Minnesota on Friday, June 12, 2015

Wear this out hiking and fishing. Extremely light weight and fits my needs.

Verified Buyer

Reviewed by Keith from Hawaii on Monday, June 1, 2015

High quality shirt, runs true to size, like the color got a baby blue very comfortable, loved all the pockets use it when I travel

Reviewed by Kristin the Skeptic from Arizona on Tuesday, April 28, 2015

The description here and the tag say UV protection, but there is nothing specific. Is it UV 1? UV 75? who knows? The fabric is very tightly woven, so I suspect that provides some sun protection, regardless of whether the fabric was treated for it or not. By the way, I just bought two of these identical shirts at costco for less than $20 each.

Verified Buyer

Reviewed by Ellen, personal shopper from colorado on Thursday, April 16, 2015

great for travel. Dry quickly and look great. roll up sleeves are perfect for sun protection while diwn, then roll up to cool off in tge shade. have one in all colors available!

Verified Buyer

Reviewed by Andrew from California on Thursday, March 26, 2015

One of my new favorites. Wicks sweat well, very soft and comfortable, and no annoying seams under the backpack straps. Big chest pocket for self packing is a bit overkill, but that's just my preference.

Verified Buyer

Reviewed by Newbets from TX on Monday, March 23, 2015

Birthday gift and he just opened it. He loves it. It will be great for travel. Zip pocket for wallet/passport. Gussets under the arms and webbing across the back under the yoke. It will dry quickly and be so easy to wash. I should have bought two. Maybe I will.

Verified Buyer

Reviewed by chefpatrick from Washington on Monday, March 23, 2015

I bought this for an upcoming extended trip to Ireland and Italy and could not be happier. The shirt is extremely light weight, very attractive and fits full and comfortably. I can tell already that this shirt is going to be a "new old favorite."

Verified Buyer

Reviewed by Minkota Kids from North Dakota on Saturday, January 3, 2015

Nice shirt, but was too short in the torso and had to return.

Verified Buyer

Reviewed by Tracy the travler from Buford, Ga on Monday, December 22, 2014

Just love this shirt!! It is the second shirt I purchased for my man!! Light weight, quick dry no fuss. He is taking them to Hawaii this spring!

Reviewed by bear_grease from NC - USA on Monday, December 8, 2014

.. this shirt would appears to be made with obvious quality, however the shirt arrived in the package with unraveled button stitching and one button came off the shirt completely by just looking at it, would like to see this shirt without the usual button flaws as it seems like it would be comfortable and utilitarian - may exchange to see if i got a defective shirt as some sales are seconds.

Verified Buyer

Reviewed by raydesro from Texas on Sunday, November 23, 2014

Ordered 'large', shirt received was labeled 'L' but was actually an extra large (I handle clothes almost daily, so I know).
Still awaiting replacement or refund.

Verified Buyer

Reviewed by Larry from Washington on Monday, October 20, 2014

The construction is comfortably breatable, and it feels good on the skin.. Nylon also cleans easily and well.

Verified Buyer

Reviewed by pdxjoanne from Portland, OR on Tuesday, September 16, 2014

This shirt was a great value. True to size, and the fabric is very soft & comfortable. Haven't washed it yet so can't speak to durability etc, but I'm very pleased with this purchase. Appears to be of very good quality construction.

Verified Buyer

Reviewed by Puffin from Pennsylvania on Wednesday, August 6, 2014

I bought 2 of these shirts for my husband. He usually wears a 15 1/2 neck and 34 sleeve. The medium fit well and the sleeves weren't too short. Haven't washed it so can't comment on it.

Verified Buyer

Reviewed by B from TN on Tuesday, August 5, 2014

Good shirts for the money! Can't beat the price on these in comparison to other brands. I have 3-4 of them thus far. Underarm and back vents are nice. I wear them in 90 deg TN summers and they do fine. Probably not the lightest material on the market but oh well. My only reason for 4 stars is Dakota grizzly's lack of quality control... This most recent one I ordered had nearly ever button hole snag threads unbuttoning it. The stitching around the button holes isn't properly finished out sometimes. But again... I have a few of them now and its still a great shirt!

Verified Buyer

Reviewed by Greenscales from San Gabriel Valley on Wednesday, July 30, 2014

Wore during a rare humid day for LA - loose w/o an undershirt. Well vented and stayed cool. My initial concern was just a single button & hole on the cuff, no adjustment for wrist size or 2nd button for more secure fit. But what became annoying was the lack of form of the cuff due to the fabric softness (good for general shirt comfort), it kept collapsing when rolled up. I started w/clean fold at cuff seem all the way to button closure on upper arm, it would unroll and hang low on the inside of the arm loop closure. I would tighten up the roll for it to come loose again throughout the day, becoming annoying. So not great as long or Short sleeve. It would be fantastic if the cuff had been a little better. I bought 2 - iguana & dolphin - too similar in color & i will send tr unworn 1 back.

Verified Buyer

Reviewed by MT Fotoman from Montana on Friday, July 25, 2014

Bought this shirt to provide sun coverage for photography hikes at altitude and working the course on hot days. Does just that while keeping me cool. Only drawback might be large zipper pocket which appears too big with items sliding down quite low (but I may find the perfect item). I have long arms (34") and the sleeves are long enough in medium size.

Verified Buyer

Reviewed by Giving up the old heavy weight for the new. from Utah on Thursday, July 24, 2014

I bought this shirt with hiking and travelling in the sun. I wear long-sleeve shirts for coolness and sun protection.
If this shirt does what it says it will do, it will accompany me on many trips here and abroad.
It is a nice looking shirt and seems to be well constructed.

Verified Buyer

Reviewed by Chet Ray from Independence, MO on Friday, July 4, 2014

Bought 4 of these prior and recently two more. I am displease with the last two because of an apparent design change from the others. They have remove the vent zippers from the sides along with the vented shoulder areas. Those features were the primary reason I bought these. Still love the quick dry materials, but where's my zippers?

Verified Buyer

Reviewed by Josie from Georgia on Friday, June 27, 2014

Fantastic shirt for the price! Purchased for my husband to take to Montana; fits great!

Verified Buyer

Reviewed by rsgobo from Yardley, PA on Wednesday, June 11, 2014

Started with one shirt for my son who works outside doing hardscaping & landscaping. He was looking for a long sleeve shirt he could be comfortable in during the warm months. His impression after the first wear was excellent. The fit was right, nice features and sized correctly. The venting system and fabric kept him cool as best as a long sleeve shirt can be. Time will tell how well the fabric can hold up in his kind of work, he fully understands that this shirt isn't a heavy canvas work shirt. He likes this shirt so much that we purchased 2 more (perhaps we'll buy more in the near future to always have a clean one on hand)

Verified Buyer

Reviewed by stvnflt from Sequim, WA on Monday, May 26, 2014

My husband loves this shirt. The material is very soft and the shirt hangs nicely on him.


Verified Buyer

Reviewed by bafisher from Alaska on Wednesday, April 23, 2014

This shirt seems good. I like the pockets. The fit seems good. But this particular nylon fabric is too slick for me.

Reviewed by Daniel from North Carolina on Sunday, November 24, 2013

I purchased a medium shirt (5'9, 150 lbs, athletic build). It fits well although I removed the buttons from the cuff and sewed them again; I sewed it so that the cuff would be tighter. There are several pockets and this design has a button on the upper arm to roll up the sleeves and tie it up. The pocket in the upper right chest has a mesh lining. At times this can bunch up when wearing this with no shirt underneath. The only reason for this is the mixture of sweat, shirt movement, and longer length of the pocket (4 inches or so, long for chest pocket). This aside, the shirt breathes well (has upper back breathability flap) and I would purchase again.