GU Lemon Lime Roctane Endurance Drink - 24 Serving
Item #7284M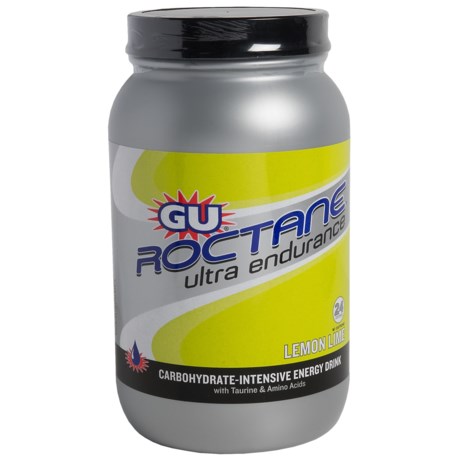 Overview
About GU Lemon Lime Roctane Endurance Drink - 24 Serving
Closeouts. Improve your performance during endurance training and events with GU Roctane endurance drink. The super light-tasting formula contains critical carbs and replenishes electrolytes to stave off muscle fatigue.
Provides easily available energy while also supporting rehydration
Uses an ideal ratio of complex to simple carbs
Contains ample electrolytes
Mix contains enough for 24 servings
Ingredients: Maltodextrin, Fructose, Sodium Citrate, Citric Acid, Taurine, Histidine, Natural Flavors, Leucine, Valine, Carnosyn® Beta-Alanine, Potassium Citrate, White Tea Caffeine, Isoleucine, Turmeric (as color)
Caffeine: 35mg per serving
Made in United States of America
Specs
Specs about GU Lemon Lime Roctane Endurance Drink - 24 Serving
Capacity: 1560g, 24 servings per container
Weight: 3 lb. 6 oz.
Made in United States of America
Reviews
Question & Answer
Calorie = 240
Carbohydrates = 59 grams
About GU
Based in Berkley, California, GU is an innovative sports nutrition company specializing in energy gels, chews, electrolyte tablets and recovery drinks. The original GU Energy Gel was first created in 1991, and GU has continued to perfect their formula for the past two decades, using the latest scientific research and extensive product testing. GU energy gels provide athletes with a special mixture of amino acids to combat muscle fatigue, complex carbohydrates for energy and essential electrolytes. When you need fast, convenient and great-tasting energy on the move, reach for GU gels and chews.