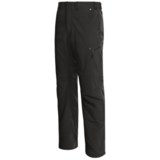 Closeouts. Haglofs' Mid Fjell pants are made from durable, midweight nylon and feature drawcord-adjustable cuffs for worry-free adventuring and exploring.
Average Rating based on
21
reviews
3.809523
0
5
Reviewed by Sixchair from Planet Erth on Thursday, August 28, 2014

I waited a long time to grab these from Sierra. They did not disappoint. The details were top-notch.

I'm 6'3" 182lbs. and wear a 34" waist, and these came in good at the waist but long on the inseam (regular). So the 36-38" waist is misleading. If you fall in that range they will be too small in the waist. The regular was so long that I had them hemmed with the draw cords removed. the draw cords are a great feature, though, for keeping snow out of your boots. Hmm.. maybe another pair for outdoor only..

I'm pretty slender, and I liked the fit. A huskier guy may find them too trim-cut. But me - I'm tired of baggy.

The fabric is a great weight, and while I plan to use these outdoors, their style makes them good for urban hiking, too. Going to NYC next week and will fit right in.

Verified Buyer

Reviewed by Gone Hiking from Southern Climes on Monday, June 2, 2014

Good attention to detail. Everything seems pretty durable based on a weeks worth of hiking experimentation. Looks good & stylish. Only con sans the $$$$ price (even with a mega deal) is the fly zipper protrudes noticeably such as to make the wearer more than a bit self conscious outside of hiking setting (around town for instance).

Verified Buyer

Reviewed by Star from CA on Monday, May 12, 2014

These fit well and surprisingly virtually waterproof. Extremely well made.

Verified Buyer

Reviewed by ATLHiker from Georgia on Monday, April 21, 2014

Terrific pants -- if you are extremely thin.

XXL's are basically 38 waist; 36/37 length.
XL's are basically 36 waist; 34/35 length.

Will work for some, but not most.

Verified Buyer

Reviewed by Zornrah from Ashford, Ct on Friday, April 18, 2014

These pants are nice, they are well made and i have no complaints really, but only because i am familiar with the brand and knew what i was getting into.

Haglofs products except for shoes are all wacky, crazy, loco, and just inconveniently way off on their sizes. These are way long in the leg, i am 6'1'' and the size L is much too long for me, like three or four inches. I REALLY should have ordered the short legs. Also the waist is way smaller than described, an L barely fits me, and if its supposed to be 36 inches it should EASILY fit, but these are a wee bit tight. HOWEVER i knew Haglofs sizing was way off when i ordered these, so i ALMOST got perfect fit, excepting the longer than expected legses.

I find the cell phone pocket excellently executed and very useful.

Reviewed by Outdoors from Washington State on Wednesday, March 19, 2014

After owning a few pair of other performance outdoor pants (some that I have been quite fond of) I have to say these are perfect right from the start. They are extremely well crafted throughout and allow great freedom of movement.

The size is spot on so. I'm 6' and weigh 195 lbs with muscular legs and tend to store my fat in the middle. That being said, the 34 regular fits to perfection.

I feel confident that these pants will not disappoint provided a person maintains a reasonable perspective on body size and is actually buying these for their intended design i.e outdoor performance.

Reviewed by GlyCERin from South Korea on Tuesday, March 18, 2014

Excellent quality over price and very comfortable.
Usually wears in late spring, early summer and early autumn.

Reviewed by Guamie from Guam on Wednesday, September 25, 2013

US sizing good Euro sizing bad! I should have listened to my instints and the reviews on the sizing. Ordering a size up is not enough. Try 3 sizes up, hard to believe? Try for yourself. Until then these pants get the finger.

Reviewed by Bob from MT on Thursday, September 19, 2013

The pants fit well and are very comfortable, however, I typically wear 40X34 pants and in order for to get Haglofs that fit, I had to get xxxl regulars. I'm glad I did, because they wear great.

Reviewed by Mortemadsciuri from Virginia on Wednesday, August 14, 2013

Take the 1- and 2-star reviews with a grain of salt. Those reviewers pooh-poohed this item for its sizing quirks, not for the quality of the garment, which is really top notch. I ordered a size L, which STP said fits a 36-38-inch waist, even though I normally wear a 33-34. I'm glad I did. The L is a little loose in the waist for me, like a true 34, but nothing a belt can't fix. And my gosh, these pants have EIGHT belt loops, while other manufacturers are skimping on construction costs and giving you only four. As to the length, it's true the size R is crazy long (I guess those Swedes are all super tall), but you can cinch the built-in drawcord a bit to prevent them from dragging on the ground. I'm going to shorten mine by about 2 inches, which will be a little more difficult because of the drawcord, but not impossible. The fabric might be a bit heavy for equatorial adventures (nylon doesn't breathe like cotton or wool), but it's fine for temperate climates or cooler. The cargo pockets are nice and roomy, and well placed so the contents don't hit your kneecaps. The right leg cargo pocket has an internal sleeve for a cell phone, but it's relatively narrow. My G**gle Nexus 4 fits, but a wider phone or one with a fat case probably wouldn't. Highly recommended!