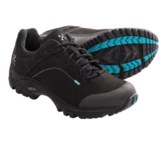 Closeouts. Haglofs Ridge Q trail shoes are designed with help and technology from ASICS to create a comfortable and supportive trail shoe. The IGS® Impact Guidance System encourages a natural stride and reduces fatigue.
Average Rating based on
9
reviews
4.555555
0
5
Verified Buyer

Reviewed by AnnieO from El Paso, TX on Thursday, July 30, 2015

WOW! This is one of the most comfortable shoes I've had! Wore it all day running around town and my feet never got tired! Just the right flexibility and support. The only drawback was that those shoes do get a bit warm in 100 degree weather. Tried to order another pair but they had been sold out :-( Those shoes do look great with jeans or for casual wear. True to size.

Verified Buyer

Reviewed by The buyer from Montana on Wednesday, January 14, 2015

This girl wanted a shoe that was sturdy and acceptable to her fellow colony members But she didn't want to appear old fashioned to the public either.
This shoe is very modern in appearance and quite "in." So she can run around in town on errands and not have to hide her shoes from other teenagers.

Verified Buyer

Reviewed by The buyer from Montana on Wednesday, January 14, 2015

This lady has an ankle held together with pins so she needed a shoe that provided more than just adequate support for her ankle. This shoe gives her great confidence when she walks as she knows the way it is constructed will help prevent any further injury to her ankle.

Verified Buyer

Reviewed by The buyer from Montana on Wednesday, January 14, 2015

The Hutterite Colony ladies love this shoe. Doing chores they walk lots of miles on sometimes uneven ground so this show is great for that. Plus they need a shoe that looks decent when they go to church and this shoe does look very proper, yet stylish. The price was right too so they didn't get flack from the Elders for being extravagant.

Verified Buyer

Reviewed by happy feet from ohio on Sunday, August 24, 2014

I bought these with the thought I could wear them to work. Felt comfy, but not wide enough. My foot swells alot.

Verified Buyer

Reviewed by Teresa from Colorado on Thursday, June 5, 2014

I tried my normal size (6.5 UK - 8.5 US). Too small. Ordered the next 1/2 size up (7.0 UK - 9.0 US). Too small. Like most shoes these days, they are made in China. I'm pretty sure that their quality control just doesn't cut it in terms of sizing. I've noticed this with clothes made in China too.

I'm just plain worn out trying to buy shoes online.

Reviewed by Bay Area babe from SF East Bay, CA on Saturday, May 31, 2014

The sole of these shoes has a great deal of spring to them where my feet feel as if they are supported from toe to heel. Since they feel so good, I read the description and was amazed at all of the technology that has gone into their design. My sizing, in US, is borderline 9-9.5 so, as directed, I tried the 7.5 which is perfect for my feet. If your sizing is borderline, I suggest going with the larger sizing. I purchased another style of Haglofs in a size 7 that I'm having to exchange so between these two styles the sizing is uniform.

Reviewed by Teresa from Colorado on Tuesday, May 13, 2014

Beautifully made shoe but they run short. I wear an 8 1/2 in all my shoes but my toes were right at the end. I had ordered another model of Haglofs and had the same experience. When I exchanged the 8 1/2's for 9's, they were too wide - so returned them.

Let's hope that doesn't happen when I exchange these.

Reviewed by Amberlyn from Michigan on Wednesday, January 22, 2014

I bought these shoes for work. I am on my feet nine hours a day on cement floors and have been experiencing foot pain the last year. I tried a few different shoes and nothing helped. When I read the description for these I decided to give them a try. They are great! No pain since I have switched to them.