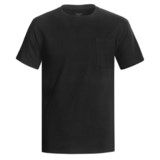 2nds. An easy choice for a day in the shop, Hanes' Professional-Grade work T-shirt is made of heavyweight, breathable cotton jersey with an oversized chest pocket and pencil channel.
Average Rating based on
54
reviews
4.296296
0
5
Verified Buyer

Reviewed by 777 from Indiana on Tuesday, August 12, 2014

The t shirt is nice and heavy duty. The packaging is horrible. The manufacturer wrapped this heavy paper with a ton of glue on it around the shirt. Why ? I thought we were suppose to be saving the planet and all that. Leaves glue residue on the shirt too but again the shirt is great.

Verified Buyer

Reviewed by Bicycle Bill from Canada on Friday, July 25, 2014

I love the pocket, and the shirt is just the right combination of weight, fabric heft, and soft. Glad I stocked up.

Reviewed by Moopero from Minnesota on Tuesday, July 8, 2014

Wow, the fit is spectacular for me. I'm about 5' 11" 185 lb with a long torso and about a 42" chest, and the medium fits me great. My chest is bigger around than my midsection, so I'm usually somewhere between a medium and large, and this shirt hits it dead on with a medium.The extra length covers my whole torso so my belly button isn't showing if I happen to lift up my arms. Will be getting more of these! I have also ordered the gildan pocket tees from this site, and they are much too short (in a medium).

Verified Buyer

Reviewed by vince from alaska on Tuesday, June 24, 2014

great

Verified Buyer

Reviewed by Cabinfever from California on Wednesday, June 18, 2014

The quality and construction make this a phenomenal buy for the price. "2nd" or not, such a deal.

Verified Buyer

Reviewed by Lownoter from Port Vincent, LA on Saturday, June 7, 2014

I am 5'9" and weigh 155 lbs. The Wolverine medium t-shirt is a perfect fit for me. The Hanes pro-grade medium is too small. While the large fits a little better the underarm fit is too large and makes arm movement uncomfortable. The fabric is nice enough but the shirts are cut on a strange pattern. Uncomfortable and not for me at any price.

Verified Buyer

Reviewed by diane mitchell from jefferson oregon on Wednesday, May 28, 2014

The tshirts were good for the price. The oversize pocket looks bigger to me. The pocket has a slot for a pen, so my husband wasn't thought it was kinda a tight pocket to get his can of chew in the other part. I haven't washed it yet.

Reviewed by Lis100176 from Queensland Australia on Saturday, April 26, 2014

Im 5'10" tall and these are the perfect length.

Verified Buyer

Reviewed by Herr bear from SE Georgia on Monday, April 7, 2014

Good fit and very comfortable. Fabric weight feels just right. Clip-on sunglasses fit nicely in chest pocket. No obvious defect.

Reviewed by Tom the disapointed with Sierra Trading Post from California on Wednesday, March 12, 2014

Shirts are ok. What was a surprise was that the shirts were extra long. I went back and looked at the description and it was not noted. When I went to the specifications i did see it there. Very misleading since it was not in the first product description you see.

Reviewed by dave from AK on Monday, February 10, 2014

Size shape and thickness are great, and the price was awesome.

Reviewed by Mitchhiker from Maine on Friday, February 7, 2014

I bought a bunch of these for work shirts, I like the pocket


Reviewed by Smokey from Virginia on Monday, January 27, 2014

It is a t shirt. It is black. It has a pocket. I am happy.

Reviewed by Mike the oilfield worker from North Dakota on Thursday, January 23, 2014

Good shirt

Reviewed by Kairos from Pennsylbania on Tuesday, January 14, 2014

This shirt''s fabric is heavier than the regulas Hanes t-shirts. It seems to be a tad bit larger than the sized stated but not big enough to order a size down. Just enjoy the weight of it on cold days. It has a tendency to wrinkle quicker than the regular shirts, too.

Reviewed by mattjanet from Texas on Monday, January 13, 2014

Good quality. Not see-through like so many t-shirts are today.

Reviewed by lauren from San Francisco on Friday, December 6, 2013

Dense, soft, great cut. Bought 4 more.

Reviewed by not johnny the hiker from Virginia on Wednesday, November 20, 2013

A beast of a t shirt - as soon as you put it on you know it means business. The fit is good, if i can find them without the pocket i would probably buy five - as they are maybe one more, maybe, i can't quite get over the pocket on the chest (it is sturdy and big - which is good if you use it for something but i don't).

Reviewed by FISHN101 from New York on Friday, November 8, 2013

Great T-Shirt. Comfortable and Wears well

Reviewed by sure I'll go, how cold is it out/ from Salt Lake City, Utah on Thursday, October 10, 2013

I am constantly in search of the t-shirts of the past. the ones w/thick clinging necks and thick heavy cotton. I gave this one a try-out but sadly it's not good enough. Happily, STP sells the Wolverine t-shirt which is almost good enough but still not a 5-star.

Reviewed by ChrisAF from Washington DC on Wednesday, October 9, 2013

This is a good solid T. Nothing fancy, medium/heavy material, front pocket, good price. I also saw nothing '2nds' about this. Good solid value.

Reviewed by Ken from South Florida on Saturday, September 14, 2013

Excellent quality at a great price. Delivery in only a few days. Just a great all around online purchase.

Reviewed by Bargain Hunter from Kansas on Wednesday, September 4, 2013

This is a nicely made heavy-weight shirt. 100% cotton so buy sized to allow for shrinkage.

Reviewed by Bill the retiree from Colorado on Wednesday, September 4, 2013

Looks good, washes well. Feels like the shirt is cut a little smaller than a 2X. compared to the Wolverine tee shirt I also purchased.

Reviewed by Chipsah from Maine on Wednesday, August 28, 2013

Ordered 3 - one blue and two white. Blue had a cut in the fabric on upper chest area, whites were just fine. Decent fit, look to be durable as I use my tees for work around the house and running errands in warmer weather. Real cheaper tees loose their shape and wear quickly I find, so hoping these work out and the price sure was right.

Reviewed by Chipsah from Maine on Wednesday, August 28, 2013

Looked to be a good shirt when I received it, but upon inspection it had a 2" gash that looked to be cut with a knife on the right chest area. Returned for refund no problem. Thanks STP for making returns so easy.

Reviewed by 55 shopper from MD on Saturday, August 10, 2013

I bought 2 of these for my 86 year old dad to wear around the house, He liked the price, the fit,they washed and dried well for him, and he could not beleive
they were 2nds

Reviewed by Jeff from Arizona on Saturday, August 10, 2013

Great Value . Hanes quality medium weight tee with pocket . Great for work or casual wear .

Reviewed by CJ from MAYSVILLE, GA on Tuesday, August 6, 2013

Great shirt at an AWESOME PRICE


Reviewed by Steve from Ct. on Thursday, August 1, 2013

I like the weight of this tee. It's beefy. A great value for what I paid. I recommend Sierra T.P., they have great sales.