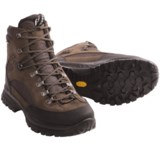 Closeouts. Versatility is the middle name of Hanwag's Dakota Gore-Tex® hiking boots. Supportive, flexible and completely waterproof, they perform like champs whether it's a week-long backpacking trek or a short hike over mild terrain.
Average Rating based on
40
reviews
4.550000
0
5
Reviewed by Justin from Indiana on Tuesday, May 5, 2015

I'm a field biologist and have used these boots the last three years in OR, TX, and IN, with conditions ranging from muck to gravel to sand to dense vegetation to nearly open water. I've not experienced any leaks (although I believe there is one developing now) nor tears, and the sole is still solid with decent treadlife remaining. They are incredibly stiff soled and quite tall for standard hiking boots, which results in exceptional ankle support. The one flaw may be that these are too stiff and not meant for 8+ straight hours of walking on hard surfaces, such as dried clay and stone.

I'd buy another pair any day, especially at the discount prices here.

Verified Buyer

Reviewed by sarge from new york on Tuesday, March 3, 2015

This would have been pair #4 of Hanwag, except I returned them because the maker listed the sizing wrong. They said US 10.5 EUR 44 which makes them a US size 10. My other pair of Dakota, which I wear, says US 10.5 EUR 45, my other Dakota says US 10 EUR 44.5. The Pair I returned were stated as US 10.5.

Reviewed by Stan from Tennessee on Thursday, February 5, 2015

First, the sizes are really off. I had to return the first pair and order another...but the size was still a 1/2 size too large. But i didnt want to go through the hassle of another return so i just wore them. After about 1 month of wear the sole began pulling apart from the leather in the toe area. And it was not from abuse. I have been gentle on these boots. I've also been very patient to do this review wanting to give the boots about a year of use.
Sizing: I ordered a size 10, but the boots are really an 11 (US)

I have always bought the Asolo FSN 95 and will be going back to that boot.

The laces can be difficult to lace up also. The Asolo will lace up quickly, but these are clumsy and difficult to get that one lace holder. These Hanwag boots are comfortable is you can get the right size. They will keep your feet dry, even after months of wear. But because of the short time that the sole separation began and the sizing issues...i'm giving them 1 star.

I'll go back to the Asolo that fits like a glove from day 1 and I usually get about 2 years of wear out of them.

Verified Buyer

Reviewed by Jim from Denver on Tuesday, January 13, 2015

I'm giving these boots a lukewarm 4----they didn't seem like hiking/trekking boots, because they felt "puffy" and large, like snow boots, so I returned them. When I got these, I also ordered AKU Tetons (from Sierra) which I am ecstatic about (see my review of those boots if you want more insight into my hiking style and size requirements).

Reviewed by Blueberry Benjamin from Orange, VT on Monday, December 22, 2014

I was excited to get this pair of boots in the mail. They appeared well made and were plenty heavy. However, after only 3 wears a rivet broke. I tried calling and e-mailing Hanwag to no avail. I finally had to break down and pay for the repairs myself, despite them supposedly offering a 1 year warranty. The catch is that they make it beyond difficult to get in touch with customer service, either by phone or e-mail, so you'll eventually just pay for the repair yourself. These were pretty shoddy and the customer service that I finally did get in touch with refused to make it right and offered me a coupon for their store, which is way overpriced to begin with. I will never buy another product from this company.

Verified Buyer

Reviewed by Dirt Road Living from Pennsylvania on Tuesday, April 29, 2014

I am a forester in Pennsylvania spending 6 to 8 hours daily walking rough terrain. I have tried many brands of boots.
Hanwag craftsmanship was evident right out of the box. So good I ordered a second pair. Some of the reviews recommended
ordering a half size larger so I did. I'm between a US 9.5 and 10, so I ordered the 9 UK. I think I would have been fine with
An 8.5 UK (9.5 US). But with 2 two pairs of socks they feel great. Lightweight and the vibram sole is great for slippery rocks
and logs. I will be looking for a Hanwag winter boot.

Verified Buyer

Reviewed by Lost Hop from Great Plains/Wyoming on Monday, April 28, 2014

I was looking for a lighter alternative to my heavy all-leather backpacking boots for when I'm a carrying a lighter load.
These Hanwag's appear to fill that need.
Very comfortable with reduced weight but good support.
I haven't owned them long enough to evaluate longevity or waterproofness.

Be sure to correctly decipher the sizing chart.

Reviewed by deer shed hunter from wisconsin on Tuesday, April 1, 2014

great hiking shoes for the spring . lots of support and very comfortable right from the start.kept my feet dry as well

Reviewed by rotartiller from Alabama on Wednesday, March 19, 2014

I ordered the 42(US 10) and 43(US 10.5) Euro sizes just to be sure of the fit. I had measured my feet closely and fell somewhere around a US 10 and maybe a little more. The 43 felt good but had excessive heal slippage which would probably get worse the more I wore them. The 42 feels a little snug on the top outside of both feet and the toe box is not as roomy. So, they are running pretty close to true to size. They are loosening up bit by bit and I hope they loosen up some more before I get serious with them. Smartwool PhD socks with thick padding seem to help. I have been walking in them between 2 and 4 miles a a day for a week or two. I put green Superfeet in them and the jury is still out on whether they will stay in or not. The lacing system is very good and the tongue is a full length leather gusset of ample thickness. Anyhow, the overall quality is good and the weight is 1.5 Lb per pair lighter than the beloved 16 yr old Scarpas that came before them. As I get older I find it prudent to shed pounds wherever possible. Scarpa's abysmal customer service steered me away from them on this purchase. I know I won't get 16 yrs out of these but then again I didn't pay 300 bucks for them either. If I get anything over 5 I will be happy with them.

Reviewed by KevinS from Massachusetts on Wednesday, February 19, 2014

These are high quality boots. I was very impressed. I wear a size 8.5 US and based on other reviews here, I ordered the UK size 8. They fit perfectly.
Thanks.

Reviewed by Ft. Ord BLM Rider from CA on Wednesday, February 19, 2014

Well made boot with good torsional rigidity. Comfortable, flexible, sturdy. Insole is lightweight and should be upgraded for long term comfort with heavy pack. Like it better than the Danner Rimtrail because of the sturdy soles. They were less expensive than other boots. 9.5 EU was about a 10.5 US in size.

Reviewed by bobcat_pass from Montana on Monday, February 17, 2014

These boots seem to be very good. I ordered the same size as what would show on a commercial foot size measurement device and they seem to fit fine. I also bought some sole softec thin footbeds. The footbeds were cut to match the existing insoles.

The Hanwag boots have good arch support and my foot can be laced tight to the sole. Also the laces go almost to the toe, allowing for some width adjustment.

I gave away the Asolo boots to a rehab outfit, as they had poor traction on ice/snow. The traction for the Hanwag boot seems much better.

Reviewed by frankie from South Carolina on Friday, February 14, 2014

Bought these boots last year, been on several hikes in the mountains, winter/summer.
They fit great, on size and so lite and comfortable I was elated.
After hiking all day my feet felt like I had just put them on, remarkable.
No sore feet, or ankles, no chaffing, no cold feet, no hot feet, no stink, no brag just fact.
Wow ! What a great boot, I recommend them to everyone I know, thank you Hanwag.

Reviewed by bobcat_pass from Billings, MT on Monday, February 10, 2014

A few years ago, I bought some of the other name brand boots embellished with all kinds of stripes and became concerned about getting mugged for them. A homeless man just stared at the boots and said, "Those are really nice boots." They had no traction on ice. I finally just gave them away.

I have flat feet, narrow heel, and wide instep, had a bad horse accident that messed up one foot, consequently, I need a soiid-shanked boot to offset having no arch support.

As the the foot is effectively lashed to a very solid shank sole, addition of the heat formed molded insole, greatly reduces potential for sprained ankle. The lacing system seems effective, as i heated the insoles in the oven, put the insole in these boots and then laced the boot and walked around, to mold the insole to the bottom of the foot.

So far the use has been for shoveling the sidewalk and walking the dog in the snow.. Sole is fairly wide at instep.

A few years ago, I bought some of the other name brand boots embellished with all kinds of stripes and became concerned about getting mugged for them (a starving man knows nothing). A homeless man just stared at the boots and said, "Those are really nice boots." They had no traction on ice. I finally just gave them away

Reviewed by sarge from new york on Tuesday, February 4, 2014

I recommend ordering 1 to 1.5 U.S, Size larger. These are the best boots and 100% waterproff. Bought this pair for work.

Reviewed by mountain guy from Montana on Tuesday, January 14, 2014

These were a gift for my son who was thrilled with the idea of such a highly reputed brand. These have not tarnished that Rep one iota. Though still fairly new, they are proving to be very high quality, thoughtfully designed and well engineered.
Thus far, he is very pleased with them and he has a good number of high end boots. I should mention we live near the mountains in Montana and spend a great deal of time scouting, bow and rifle hunting, as well as camping/hiking in rugged, unforgiving terrain. His approval is based upon this level of experience.

Reviewed by MTDreams from Bozeman on Sunday, January 12, 2014

NOTE: Product not field tested yet. Know that this is a first impressions review. I will follow up once I have broken them in.

SIZING:

I wear a 10.5 US and use orthotics with aggressive arch support to counter suppination. Boots for me must have the interior room for inserts. This is why I put ORTHOTIC in the review - to help those who are looking for reviews matching their needs.

After spending hours, like I do, reading reviews all over the net I decided to purchase these site unseen. Again I wear a 10.5 USA (9.5 UK per the chart). Per other reviews [saying the UK size did not exactly match the US size - people kept getting boots too short] I ordered these in a 10 UK. The label on the inside (of the boot) says they are UK 10 EUR 44.5. My big toe reaches to just under the rubber toe Rand. Perfect - Thank you reviewers!

NOTE: The reviews were right about the insole. The insole which comes with these is pretty low quality. I don't plan to move my professional orthotics in and out of these constantly so I bought the SUPERFEET GREENS. There is plenty of interior room for "lifts" like these without creating hot spots.

WEIGHT:

These boots are light. I was concerned that the light weight would mean they were not serious boots. Concerned that they would be like a WALMART boot twisting and flexing like loose rubber. To my surprise they are supportive like boots should be. Twisting and flexing by hand doesn't create much movement, if at all. The fact is they are solid boots which don't weight me down. This is a bonus which I was not expecting.

APPEARANCE:

I got these in the Brown. The look is exactly what I like in a boot. Traditional and serviceable. There are makers out there who have gone so Bankok [...] in their styling (Merrel is one) that I can't even consider their boots. When I put the box on the table and pulled them out both my wife and 9- year old said "wow, those are nice looking boots". I agree. Nice, heavy brushed rubber toe and heels hands. Double stitching on all stitches. They look good and solid.

FEEL:

Being an orthotic wearer my feet put pressure on shoes in different ways. I find that I can tell within the first 10 seconds whether a shoe will work for me or not.

These felt great straight from the box. Forming and supportive but comfortable too. I can tell there will be little break in period. Like I said I threw in a pair of SF Greens without finding any detriment to comfort. I have worn them for a few hours running around town with the SF Greens in them. I have found no hot spots. They feel just right.

The North Face, Lowa and Asolo all fit me like a glove. Others manufactures are too tight or become too tight once an orthotic is in. I now have a new manufacturer who I can go to for boots!

TREAD:

Vibram. I have to say my first impression is that the treads are not very deep though. I worry that could lead to early loss of tread (as they wear down on the trail). But we'll see. The lugs appear aggressive enough to provide traction. Again I'll log another review once I have broken these in on the trail. These can be retreaded.

So there is my initial impressions. I'm quite happy with the purchase so far.

If you wear orthotics you should know that the UK sizing may be a little off so look to go up a little. For me they are able to receive the inserts while still fitting comfortably.

Reviewed by Oregon tree farmer from Western oregon on Sunday, January 5, 2014

Great fit out of the box. I work these boots hard as a tree farmer in the Oregon mud. 3 months so far. If they continue to hold up they will be my best boot buy in the last 10 years.


Reviewed by Billygoat42 from California on Wednesday, December 25, 2013

This is my third pair of Hanwag boots. They remind me of the great Sundowner Vasque boots of 20 years ago. They are light but give excellent ankle
and foot support. I wore them for the first time yesterday and I wore them in town, they are so clean it was hard to consider them on the ranch. The toe
box seems to be tighter than the other styles of Hanwag that I have purchased. I will wear a lighter weight sock until they are fully adapted to my feet and
then we will see. It is a horribly warm winter in North State California, but the boots did not seem hot, nor did I sweat in them and there was no chaffing
at the heel or ankle. Another good aspect is they are not overly stiff or klunkish. I am 72 years old but my legs did not weary from wearing them. Great pair of boots

Reviewed by PAI from ZHEJIANG on Tuesday, December 17, 2013

it's doing well in a lonely village in southern china,supportive, flexible and completely waterproof. Hiking isn't popular in china ,but it have a very good prospect .

Reviewed by Paul the Detectorist from East coast Va. on Tuesday, November 5, 2013

I look forward at the end of the day to take off my work shoes and put these shoes on. A little stiff at first , but what shoe isn't? I wear size 10.5 and after reading other peoples reviews I ordered size 11. A perfect fit. I haven't put them to the waterproof test but, they are well made and if they don't pass I will be surprised. I am often in the field or woods,and no problems with durability.

Reviewed by Wildjuan from Loleta, CA on Sunday, October 20, 2013

These boots seem to be all that they are cracked up to be. Great support, very sturdy and so far very comfortable. Tired of all of the cheap junk from China? Germany knows how to make a better boot!

Reviewed by gukamuk from usa on Monday, September 23, 2013

I purchased these for Geology field camp in the spring. Then practically lived in them for 6 weeks. Could not be happier. Much roomier than Asolo and other yellow label boots. Feel great all day long and in the morning couldn't wait to put them back on. GREAT product.

Reviewed by sarge from new york on Sunday, September 8, 2013

I am glad I read the reviews and I order an half size large. The do fit and they appear to be well worth the money. And most importantly-Not Made In China.

Reviewed by Sierra Roadrunner from High Sierra's on Sunday, July 21, 2013

I was looking for a comfortable boot with a wide toe box and the Hanwag Dakota is right on the mark. I have been wearing the first pair I bought almost daily for the last six months, and just recently ordered another pair while they were still available. The lacings are easy and solid, and the boots are wearable without any issues right out of the box.

Reviewed by Fishcane4 from Michigan on Wednesday, July 17, 2013

These are nice boots. I have a fairly narrow heel, and wider toe area, and Hanwag's allways fit great. I have about a 100 miles on the boots, took about 15 miles to break in. Fit great, good support, I really like the extra hieght of the boot, and the traction is very good.

Reviewed by KY Hunt Guy from Kentucky on Wednesday, April 17, 2013

Great fit. Very supportive at the ankle. Just walking around, very comfortable, but have not had a chance to put them to a real test.

Reviewed by Casual hiker from Madison, WI on Wednesday, April 17, 2013

Boots appear to be well-made but have had problems with the fit. I ordered my size, a 10, but both boots fit uncomfortably tight at first, especially the left one; which is peculiar as my right foot is slightly larger than my left. I crammed a smooth, fist-sized, oval-shaped rock into each boot for a week and the fit was much improved. However, after the first full day of wearing the boots after the rock stretching there were abrasions on the top left side of my right foot. However, I did not notice any chafing while wearing them. Have placed the rocks back into the boots in the hope I might actually be able to comfortably wear them again some day. Had hoped to wear them on my trip next week to Sedona, AZ but can't trust them now. I also find the boots to be quite stiff with no flex in the footbed and somewhat clunky.

After I bought the boots, I did find a review of them on another website that mentioned that these boots run small and they suggested ordering one-half size larger than your normal size. Had I know this beforehand, I would not have ordered the boots. Wish footwear sellers would check the actual size of the boots before they send them out to ensure they are the size they claim to be. Would save a lot of time, money, and disappointment. Have a feeling I will be looking for a new pair of boots but it won't be from an online seller.

Reviewed by Jonny Runner from Colorado Springs- Pikes Peak Hike on Thursday, March 21, 2013

Did not take long to break this boot in. Took it on a mountain hike and it fared well. The sold is very firm and will hold up to the pounding this boot can take. Gore-Tex is a pleasant bonus.

Reviewed by Outdoor Gary from WI on Monday, March 18, 2013

They seem to be a good booot. I wear a US size 11, I ordered a =Us size 11 1/2 and glad I did. Could almost go to a 12.
Will follow up after I wear for some time in the woods.