With a rich history dating back over 100 years, few American brands have garnered the respect and prestige of Harley-Davidson. As one of the original American motorcycle manufacturers, Harley-Davidson has evolved into a diverse company with retail clothing and boot stores throughout the United Sates, Canada and Europe. From motorcycle jackets and helmets to motorcycle boots and unique accessories, the Harley-Davidson brand is synonymous with superior quality and outstanding style. Harley-Davidson not only offer motorcycle boots and clothing specifically designed for riding, but also now create
... Learn more about Harley-Davidson
s casual leather shoes with the company's unique attitude and style. To the devoted rider, motorcycle enthusiast and anyone who simply appreciates quality, Harley-Davidson will always be an American icon. ... Less
About the Harley-Davidson Brand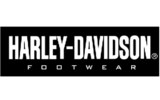 Verified Buyer

Reviewed by Elaine44 from Gurnee, IL on Thursday, June 23, 2016

Great boots! Awesome price! :-)

Verified Buyer

Reviewed by me from Northern NY on Wednesday, June 8, 2016

Generally not a big HD product fan, but the deal was too good to pass up! These seem to fit great according to size...appear to be pretty light and comfortable. I have not worn them extensively yet, as I am going to replace an old pair that is on it's last leg. But I am very pleased and the clearance price gave me the opportunity to try a product I ordinarily would not have considered. Thanks!

Verified Buyer

Reviewed by Carol Lady Rider from Upstate NY on Sunday, June 5, 2016

This boot is very nicely made and very solid. It is comfortable as well, and it is not as high as it looks because there's a slight platform in the front. I'd say it feels like wearing a 3.5" heel. When I ride my Harley I do so in flat HD boots (the Sharon,...also a fantastic boot), but will wear these as a passenger to Americade and to Laconia this June. I've been wearing them around the house to break them in without any problem. They are true to size, or just slightly big, but not so much as to slide when I walk. I wear them with medium weight socks. And you can't ignore the fact that they are very sexy. Sexy indeed. Great price from STP.

Verified Buyer

Reviewed by suem from PA on Tuesday, May 10, 2016

love these boots! they are a little dressier than the average biker boots, but yet still comfortable. I haven't worn them riding yet, but I'm looking forward to it!!

Verified Buyer

Reviewed by Mrs R from Mississippi on Wednesday, May 4, 2016

True to size, comfortable.

Verified Buyer

Reviewed by DoubleM from Ventura County, CA on Tuesday, February 9, 2016

The full description says they're lined. They're not lined. Besides that, they were too snug, and my husband is an 11.5 in Harley boots, so they're going back.



Verified Buyer

Reviewed by coffeelvr from va on Monday, February 8, 2016

Nice boot with just a little attitude. Everyone that saw them wanted a pair. True to size.

Verified Buyer

Reviewed by Mountain Punk Girl from Colorado on Friday, February 5, 2016

There's just something about these boots! i did my research, read a hundred reviews (very mixed), and jumped at the opportunity to purchase the Harley-Davidson Darice Motorcycle Boots from Sierra Trading Post!
i chose to order a half size down, based on customer reviews of this boot--glad i did. When they arrived, i put them on, and didn't want to ever take them off. i'm a girl who loves her boots. It seems i only wear boots year round. i usually go for taller boots, but could not get these out of my head from the first time i saw them. Very well constructed. Comfortable walking in them from the beginning. Will be glad when the snow isn't so deep here in the Colorado Rocky Mountains--i will be able to wear them more! Now, i am seeking these boots in the awesome brown color. Hard to find--impossible in my size. But will keep looking...

Verified Buyer

Reviewed by ScoobsMa from Farmington MN on Friday, February 5, 2016

I have not really put to many miles on these yet. The insole feels a little weak and bends a bit when you walk in them. That gives them a bit of a squeek. :)

Verified Buyer

Reviewed by Cat Rancher from Saint Paul MN on Tuesday, January 26, 2016

The boots are beautiful and well-made. I'm working up my nerve to wear them - haven't worn a stacked heel for years - hoping I don't kill myself. If you wear "real heels", you'll love these.