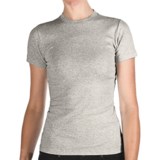 2nds. The perfect everything shirt, this heathered tee features a classic crew neck design and tons of dress-up or dress-down layering potential.
Average Rating based on
43
reviews
3.837209
0
5
Reviewed by Canzo from Arizona on Wednesday, July 29, 2015

Nice shirt but sizing is not accurate. These run very small. I have been buying shirts for my wife for many years and in this style she always takes an X-Small, but this one is more of an XX-Small. Way too tight.

Reviewed by Laura (hiker/yogi) from Seattle, WA on Tuesday, May 26, 2015

I love this shirt. The cotton feels great, well made, fits true to size. I especially like how the sleeves are long enough so that they actually fit nicely around my upper arms and don't get stretched out to flare out at the bottom. Great price! Can't complain.

Reviewed by LA Mom from mbbishop@me.com on Tuesday, May 12, 2015

This is a Gap t-shirt, likely on STP because they are sized so small. How small? The XS was quite tight on my 4'10", 75 lb 11 year old daughter. I am a petite woman who normally wears and XS and this shirt was the size of my thigh. The quality is Gap quality for sure. But it's a shirt for pre-pubescent girls only!

Verified Buyer

Reviewed by childsize from Lancaster, PA on Wednesday, March 11, 2015

I wear extra small and have rarely found something too tight or small for me. This is tight. I will use it for a base or around the house. For the price, just order a size or two up.

Reviewed by Strawberry Red from Empire, Colorado on Wednesday, February 18, 2015

Absolutely love the fit and look of this shirt and you can't beat the price :o) Fits perfect and so soft!

Reviewed by Roz from Florida on Friday, September 19, 2014

I normally wear an xs but ordered small because from the model photo it appeared these are close fitting tops but a medium or even large would have been a better fit. The fabric does stretch nicely but still a tight fit.

Verified Buyer

Reviewed by WriteReviseEdit from New York on Tuesday, August 26, 2014

These Ts are typical Gap low-end shirts. They're not bad. The heathering is quite cute in the (3) I bought: Grey, Lt. Blue and Mid Blue. Those are MY color descriptors, not STPs. Anyway, for the price? I like them. But I won't wear them anywhere but at home. They're a little short. Belly-grazing short. And I'm only 5'2" tall. They look, to my eye, much lighter-weight and of a finer/softer/silkier knit here on the website. Maybe if you size up they'll hit longer in the torso? Also, I don't feel much if any stretch in them. And I like that light, clingy effect - it just looks sleeker and feels better to my skin. OK product. Good for the money.

Verified Buyer

Reviewed by Strapurple from California on Tuesday, August 26, 2014

"GAP Store" quality. Soft and comfortable.

Reviewed by Deborah from Virginia on Wednesday, August 20, 2014

Truly the softest, most comfortable and most flattering tee shirt I have ever put on!!

Verified Buyer

Reviewed by ric from Philadelphia on Saturday, July 26, 2014

got it for my wife with a very low price. It fits very well.

Verified Buyer

Reviewed by Bright eyes from ca on Friday, June 27, 2014

This tee is really great! True to size with stretch. It goes with so many things I wear, specificly for casual. Quality merchandise, super price and extremely low shipping charge which always has fast shipping.

Verified Buyer

Reviewed by almost happy from Tacoma on Monday, June 2, 2014

I bought several of these as undershirts but they are certainly cute enough, and nice enough to wear as primary shirts or under even a suit but they do run just a wee bit small. I'm a size 6, maybe a little smaller and I needed mediums and that was for a close fit, for a looser fit I would have needed a large. The cotton is soft, the heathered colors are lovely and I wish I'd bought them while more colors were available. This shirt also runs just the right length, long enough to comfortably tuck in but not so long that it looks like tunic worn out. Great little shirt, just beware the sizing.

Reviewed by AnnaJoy from PA on Tuesday, April 1, 2014

Excellant quality but runs at least 2-3 sizes small.

Reviewed by Casual Dresser from Montana on Monday, March 17, 2014

This is my second of these t-shirts, and they are just perfect for under another shirt or v-neck sweater; soft, comfy, and a close fit. Note that based on previous reviews, I ordered mediums and in a typical size iI would wear an 8 or a small, so these do run on the small side.

Reviewed by Peter from Kansas on Monday, February 17, 2014

The balance between price and quality is very favorable, the product was very cheap but with high quality.

Reviewed by jw123 from chicago on Thursday, February 6, 2014

order at least one size up, if not two. these shirts are tiny.

Reviewed by Erin from Indianapolis on Thursday, January 30, 2014

Soft fabric and we'll made. Fits snug.

Reviewed by Always Prepared from Melbourne on Thursday, January 30, 2014

OK 'Sales' are on and its time to update the wardrobe and toss out all the old and misshapen tees. What a disappointment Melbourne summer retail sales have been! So online I go to my ever faithful STP.

Having read the reviews I ordered 2 of the XLs. I normally would order a M or for a looser fit a L. Thank you previous reviewers. The XL fits perfectly! The colour (heather light blue) is a beautiful marle and the fabric is excellent quality. I would order these again in a heartbeat...

Delivery was very quick across the seas too! Thank you!

Reviewed by Rich from CA on Thursday, January 16, 2014

The shirt was supposed to be a medium. Maybe a child's medium, but not adult size. Too bad cause seemed to be a nice shirt. We considered giving it to the 5-year-old next door, but ended up returning it.

Reviewed by Wonderwoman from Michigan on Saturday, January 4, 2014

I have several favorite tees from Gap, but the two I got from STP ran small and they were also shorter in length than the tees I bought from Gap. Since they are a good deal, I'll exchange them for the next size up and hope for the best.

Reviewed by KateGoesHiking from Massachusett on Tuesday, November 26, 2013

This fits beautifully--shows off my curves just enough without being tight or clingy.

Reviewed by Wears casual clothes to work. from Baltimore on Sunday, October 27, 2013

Soft, comfortable high quality cotton, but way too small. Sizes very random.

Reviewed by sierra-girl from Sunshine state on Friday, September 20, 2013

I love Gap Favorite tees and these tees are the Favorites from Gap. The neck line is a bit higher than the current Favorite tee, but for the $4 I spent I have no complaints. The reviews stated that these run small, but they don't. I own many Favorite tees and these are pretty true to size. I normally wear a large and bought these in an xl. They fit, but so would have the large. They are a thicker ribbed knit cotton and a nice longer length. I bought 6 of them and am so pleased with them! There is no sign of these tees being 2nds. Buy with confidence...you can't beat the price!

Reviewed by Missy from Washington on Saturday, September 14, 2013

This shirt is nice if you happen to get a quality shipment. It fits true to size (notice sizing marked on the letters, M is 6-8, so runs smaller than M 8-10). The first one I got was defective (had a hole and someone had used a marker on it), exchanged it, got a good one. Ordered another color, again defective (this one looked like a dress with a trapezoid shape). Made for Gap.

Reviewed by Con Brio from TX on Tuesday, August 27, 2013

Nice fitting, comfortable and not too tight to the degree of [...]

Reviewed by Debbie D. from Maryland on Sunday, July 7, 2013

these are wonderful, form fitting but not tight, comfortable fabric, after wash I hang dry so they don't shrink too much, very nice look.

Reviewed by Arcticpalm from Alaska on Saturday, July 6, 2013

This is a wonderfully soft, form fitted, good quality fabric, nicely made T-shirt. I do have fairly broad shoulders so I ordered up to a large. The large fits like a medium everywhere, even in the shoulders. So, it runs small for sure. I gave it a four because I think it is a great shirt if your shoulders are not too broad and you order up one size.

Reviewed by heather from VA on Friday, July 5, 2013

Shirt was well made, but it was too short for me to wear. I am 5'10", so it would probably be okay for smaller women. GAP is the brand on these.

Reviewed by Zoe Davis from North Carolina on Tuesday, July 2, 2013

Ordered for my medium sized daughter; would take a XX Large to not make her look like a street walker. Yes it is a second and at a great price, but not when it comes with paying for shipping and wasting my time to return the 3 I ordered. Yes, should have read the Comments section. Tee is from a national brand and fabric feels nice. But unless you are a size 0 to 4, forget ordering, unless you like your garments to cling like under garments.

Reviewed by Semi-green in the suburbs from East Brunswick NJ on Monday, June 3, 2013

Because the other reviews had warned that it was small, I ordered the X-Large (I'm about a size 12--usually a large, sometimes a medium.) It fits well--snug, but not TOO tight. The heathered color is lovely and the material is very soft. I like it a lot.