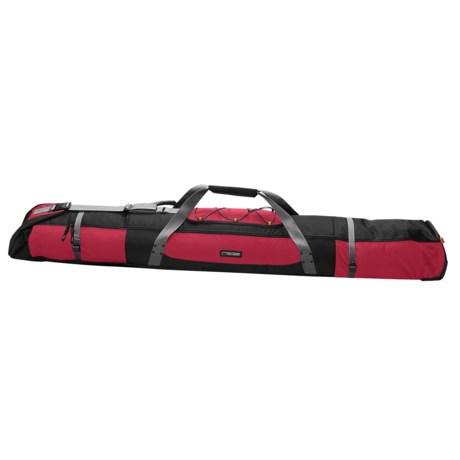 Great Price, but not very durable or well designed
Reviewed by Sherri from St. Charles, MO on Wednesday, March 13, 2013
We picked up these bags because we were tired of the hassle with our hard ski tube carrier. The bags do fit two full size set of skis, and the wheels work fine, but it is a very basic bag.

After one trip the bag that we used for the two adult skis already has small rips in the polyester, which I expect will get worse pretty quickly.

The two adult skis have somewhat larger bindings, and they fit very snug. It is hard to stagger the bindings, because if we don't have the tails all the way down to the bottom of the bag, we cannot use the roll feature. Additionally, with the tails all the way to the bottom of the bag, the padded divider is not in the proper place to separate the two sets of bindings and protect them. The divider is sewn in place, and cannot be positioned as needed. I may choose to stagger the ski bindings or pack tip to tail and not use the roll feature.

With the two sets of children's skis it is difficult to shorten the bag with the existing clip system. Again the padded divider is not in the right place if you want to use the rolling feature. I'd have to pack the skis in the center of the bag, but then the bottom of the bag is loose and floppy. I may consider packing one pair of kids and one pair of adult skis in each bag in the future to avoid the problems and reduce the stress on the bags.

There are two internal stabilizing straps, but they secure both skis together at top and tail. Again, not adjustable, the top one is unavailable for the short skis. There are not individual straps for each pair of skis in the bag.

A lot of extra storage space and compartments for extra gear, tuning supplies, etc. if you need it. The bags are functional, and were very inexpensive, but I am not expecting them to last for multiple trips which is disappointing. Living where we do, we fly to ski - these bags may be better if you are driving to your destination. We travel twice a year to ski, so our bags get a bit of use.
Most helpful positive reviews
Similar items and more information in the following areas: