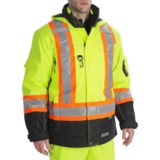 2nds. When work keeps you outside in cold temps, stay warm with this high visibility 7-in-1 parka. Extremely versatile, it has an outer shell that can be worn alone as well as an insulated liner with zip-off sleeves.
Average Rating based on
12
reviews
4.750000
0
5
Reviewed by Donna Rae from MN on Tuesday, December 10, 2013

I bought 2 to see what size I needed. My friend bought the one that wasn't my size... THEN pretty much everyone I knew wanted IT. They were still under

100 bucks so I bought about 10 more in different sizes;, and sold them AT COST. ALL of them. I could have made a bunch or money , but now all my

friends wear them all around my hood. Plus: it is NOT 7 in 1: it's more: the sleeves from the inner parka can be worn as hats OR leg warmers too!

Seriously the MOST rock solid 9 pound jacket set I have EVER had! And what if suddenly you need to direct traffic? You can be right on it!

Reviewed by cazdresser from SW ONtario Canada on Saturday, November 2, 2013

Well made, a little on the heavy side, but that's because of it's quality. Bought it for my wife who walks at night in winter. There was a little discoloration on one sleeve, ( it's 2nd's quality..I get that) but barely noticeable. For our use, it doesn't matter, & I would assume for it's intended work purpose this jacket would soon get soiled anyway.
I got this coat for $67.00, very happy, a little later it was on for $47.00...wow. As avid customers of ST know, you take a chance waiting for the price to bottom, the item you are targeting may not be in this 'group' and/or it may be sold out.

Reviewed by Landcruiser from Utah on Thursday, October 24, 2013

We buy High Visibility coats every year for our Traffic and Infrastructure crews. They are amazed at the quality and comfort of these coats and overalls. If they had zippers on the legs, they would be perfect. The best we have ever purchased.

Reviewed by John The Inspector from New Jersey on Thursday, October 17, 2013

As other reviews have said "HEAVY" coat and that is the first thing you noticed when taking it out of the box. Has all the bells and whistles I was looking for at a price I liked. I just ordered the pants to go with it, I hope they are like the coat.

Reviewed by Noah from Michigan on Friday, October 4, 2013

Standing outside today in 50 degree weather with no sun and 10-20mph winds, this jacket wasn't warm enough. It is warmer than my extreme arctic carhartt though. With some layering it should do fine throughout the winter.
I also can't figure out the 7th configuration. There is the complete parka, the shell, the liner (also hi-viz) as a jacket, the liner as a vest, and the liner is reversible, so two more options there, for a total of 6. Maybe 7 since the hood is removable?
Overall a solid jacket. The cuffs of the liner are a bit tight, and the zipper on mine is lefthanded. Ideally it could use more exterior pockets too, there are no pencil slots either.

Verified Buyer

Reviewed by jumanji from keweenaw county on Monday, February 18, 2013

Its wonderful to have a jacket and vest in an integrated system that provides another level of safety!

Verified Buyer

Reviewed by jabpl5 from ashburn, Va on Wednesday, January 30, 2013

n/a

Verified Buyer

Reviewed by Randy B. from Black Hawk, SD on Sunday, January 27, 2013

This is a very warm jacket, I don't even wear the liner for it, due to how warm it is.

Verified Buyer

Reviewed by boz from Everett WA on Saturday, January 26, 2013

good work jacket

Verified Buyer

Reviewed by Capt.. Bob from Medina, OH on Friday, January 11, 2013

This jacket is physically HEAVY! The zip out vest/liner is also fully fit with reflective striping in the same pattern as the back of the jacket. It is warm and as waterproof as expected. Design details include zipper lockers outside lashing points and a lined hood. The bottom cuff of the jacket body and sleeves are black material. This configuration puts a wear resistant and dirt masking material in the areas where most high visibility jackets become stained and will not clean.