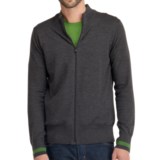 Discontinued. Soft, breathable and temperature-regulating merino wool makes wearing Icebreaker's Aries cardigan sweater a luxury, and the versatile zip-up design ensures you get to enjoy that luxury often.
Average Rating based on
10
reviews
4.500000
0
5
Verified Buyer

Reviewed by 5ailor from South Carolina on Wednesday, February 18, 2015

Great Icebreaker quality, doesn't feel fragile, made for use and activity.

Limited use as a fashion item. This sweater fits close, good when hiking, bad when you want to wear anything other than a t-shirt under it. Even unzipped, the arms are not built for layering under. Would consider going a size up if you want a more versatile everyday layer.

Verified Buyer

Reviewed by jcmoe from New Jersey on Wednesday, December 10, 2014

delighted w this sweater, purchased as gift for a fairly conservative fellow. good quality & design, just a bit of fashion w thumb holes &red trim, nice to touch

Verified Buyer

Reviewed by AE from NC on Tuesday, December 9, 2014

This sweater is exactly what I wanted. A sweater that is light that I can put on take off real quick as I heat up. The wool is incredibly soft. One should note the wool is light and what some would consider thin. However, if you haven't worn Icebreaker before you shouldn't let that deter you as even thin and light keeps you mysteriously warm as does this sweater.

Verified Buyer

Reviewed by Jeff from SE Alaska on Wednesday, August 20, 2014

This is the best sweater I've ever owned. I'm ordering two more today. It's perfect for slightly cool summer evenings, indoors...when the A/C is set too high, and layered under a rain coat.

Verified Buyer

Reviewed by Christy from Oregon on Wednesday, April 16, 2014

My husband loves it. It is the perfect weight for spring. As he loves Icebreaker, I suspected as much. He is a 6 foot 6 inch tall person who generally requires "tall" sizing. The extra large has sleeves that will accommodate his arms, and the length of the sweater if perfect. A great choice!

Reviewed by Denver Transplants from Colorado on Tuesday, March 25, 2014

Ordered this for my husband and he loves it! Nice fit and looks great on him! Good quality and warm for winter.

Reviewed by Dadius Rex from Indiana on Saturday, January 25, 2014

I really like Icebreaker products. This is the first one that recommends dry clean only. Not going to happen, see how it holds up washed in a bag on delicate. After one wash and flat dry it is doing well. Washed inside out and in a bag, for the record. I love the thumb holes, and the fit is great.

Reviewed by Icenreaker guy from Kitchener, Ontario on Monday, January 20, 2014

I'm a tremendous IceBreaker fan, and have leggings & tops in all weights as well as underwear, hoodie, socks & gloves (no coats or jackets, though). I love their slim cut clothes for the snug, warming fit. That's what I was expecting here - something in the style of their bodyfit line but with a full zipper.

But this item doesn't fit that IceBreaker mold. Instead it's a very straightforward cardigan - slightly frumpy (borderline baggy, even), quite a long cut, and with an open neck that sits very wide and doesn't keep me very warm at all. In other words, a perfectly normal cardigan.

So if a straightforward cardigan is what you're after and $100++ isn't too much to pay for it, this is an excellent choice. It's very well made and would surely last many years, but I think if I wanted a plain merino cardigan I'd make do with a cheaper less stylish model at far less expense.

Four stars for being what it claims to be, even though I'd expected something different. For me, though, this IceBreaker goes back.


Reviewed by bd from long island on Wednesday, November 27, 2013

Another fine Ice Breaker product. Well made hangs nicely and sizing works for me. Ordered a L - 5' 10" 170. Originally bought the brown, then ordered the green.

Reviewed by N from Wisconsin on Saturday, November 9, 2013

The fabric on this cardigan is really amazing. The fit is good too. It's a bit longer than I would prefer (I have a short torso, so that's probably a good thing for most people), but it doesn't bunch up around the stomach like many sweaters, especially ones with zippers, do. The only problem with the sweater is that, on one hand, the fabric feels luxurious and dressy, and not necessarily bulletproof for everyday activities like Icebreaker Bodyfit shirts, but on the other hand, the colors (at least in the Jet/Grass version) and styling do not feel especially dressy. Here, I am referring to (1) the zipper (which is really nice - feels exceptionally high quality - but not dressy), and (2) the green stripes on the shoulders and cuffs. So, I returned it ... but very reluctantly ... because I wasn't sure when I would wear it.