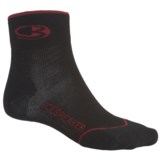 Discontinued. Icebreaker's Bike Lite Mini socks work well for casual bike touring or cool weather off-road riding. They're made of a moisture-wicking merino wool blend with light cushioning and an anatomical toe box aids to help prevent blisters.
Average Rating based on
10
reviews
4.800000
0
5
Reviewed by David from Vancouver, BC on Monday, November 4, 2013

Great fit, great feel. I didn't have problems that some have had with 2nds. Couldn't find a flaw.

Reviewed by SilverEagle from Washington on Monday, July 29, 2013

I really like these as they do keep the feet fairly dry and also work well with wearing casual shoes and shorts.

Reviewed by Gear Guy from Texas on Thursday, April 18, 2013

Love the merino wool.

Reviewed by The_Falko from Alcatraz on Saturday, March 23, 2013

Dichotomy? I road bike in the SF Bay area where micro climates abound. Wore these on a Rt.1 ride, foggy/misty low 50's with a fair amount of wind under Pearl Pro Road II carbon shoes (like a s 2nd skin snug fit) and I stayed toasty warm. Next day in Santa Cruz, 85, sunny, and these unwashed, not smelly socks were pressed back into service for 100+ miles of hills back to Silicon Valley and beyond and my feet never felt hot or overly sweaty. Buy'em! They're thin, they don't smell once you air them out, and work great in the mid 50's to mid 70's. One caveat: the socks are foot specific meaning there is an "L" and an "R" on each respective sock. If you buy 2 pair match up the "L's" and head to your nearest Velodrome ("R's" if you live in the Southern hemisphere)

Reviewed by officerdare from Marysville, WA on Tuesday, March 12, 2013

Just the right combination of merino wool and lightweight. Perfect for all season cycling.

Reviewed by coyotte from Cambridge, MA. on Monday, March 4, 2013

These are sweet socks. I use them for running and bike commuting and about anything. They are warm enough for me even in negative celcius temperatures as long as I am moving. They manage moisture well (although as any other merino sock you should not expect them to try at blazing speed). They work well with gore-tex shoes retaining excess moisture but still allowing the membrane to evacuate vapours. Not smelly even after 2-3days (not tested for longer). I bought a second pair as a testimony of my enthusiasm and will probably keep on buying a few other pairs as my older and crappy socks die.

Reviewed by tbay from thunder bay on Saturday, March 2, 2013

icebreaker quality and fit
they looked small- but actually fit like a glove- or like a sock should
I bought based on shoe size

greay color seemed odd instead of white- but I like now they are more sublte color than bright white

Verified Buyer

Reviewed by Thighmaster from Ward, CO on Wednesday, February 20, 2013

Most Icebreaker products are high qilauty and comfrtable. I use this sock for road cycling and it's soft and comfy - not too hot.

Verified Buyer

Reviewed by Gary T from Irvine, CA on Monday, February 11, 2013

These socks are the best socks I have and my go to socks for long rides. These socks are superior to my smartwool cycling socks. They have a lot of cushion where you need it most and your feet do not heat up. Extremely comfortable socks. I wish they made these in a version that is a little longer for those really cold days.

Verified Buyer

Reviewed by blue1 from Salt Lake City, UT on Thursday, January 17, 2013

Trying these after many SW socks have worn through on the bottom rather quickly. I like that they have a double layer of wool in the forfoot and heel.