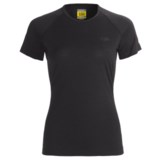 Discontinued. Crack your atlas, choose your destination, and don't forget to pack your Icebreaker Bodyfit 150 Atlas T-shirt. Ultrafine merino wool construction is ideal for warm temps, with high levels of breathability, odor management and next-to-skin comfort
Average Rating based on
19
reviews
4.315789
0
5
Verified Buyer

Reviewed by thekatrin from Russia on Tuesday, October 21, 2014

Perfect t-shirt, size is as claimed, very fine and pleasant to the body, dries quickly after physical activity.

Reviewed by lizzieb from Sakhalin, Russia on Friday, May 30, 2014

Normally I've been nothing short of thrilled with Icebreaker.... until I got this shirt. It's the only Icebreaker product I have that shrank when I washed it (cold wash, lay flat to dry). That, and the crew neck on it rides quite high up on the neck, making it a bit uncomfortable (possibly due to the shrinkage?).

Reviewed by teacup from California on Thursday, March 13, 2014

Horrible, itchy, .. it feels like polyester and does NOT wash well. The fit is not so great either. I am 5.5 and 120 lbs small frame.. Icebreaker fits too tight and cheap feeling. From now on I will focus on my favorite brand;Smart Wool. SmartWool always delivers the best fabric and the best fit. I can toss any of my 100% washable Merino Wool items by SmartWool into the washing machine, even using hot water, and they turn out very well. I hang dry. Neve is beautiful too but safest washed in cold water so only good for neat activities. No rolling in the mud with the dogs wearing Neve LOL

Reviewed by Cntrygirl from California on Wednesday, January 1, 2014

I bought this shirt to work-out in. Wool is awesome for keeping me from stinking terribly at the gym as I sweat profusely when I exercise. I machine was it in warm and hang to dry, DAILY for the past 6 mo, and it has held up wonderfully. I ordered 2 more, they are that awesome! I have a 39" bust and an XL fits perfect. It is a form fitting shirt, but not tight.

Reviewed by Kiwikid from Burbank on Sunday, December 8, 2013

Very well made as are all Icebreaker products. Runs small so order up. I am 14/16 and an XL fits snugly. I purchased this as a baselayer for spring and fall early morning hikes. In winter I wear a 260 Icebreaker. Merino wool is fantastic for outdoor activities. It keeps you warm even when wet with sweat. My husband wears it for cycling and between us we have about a dozen items.

Reviewed by Exhausted Mama from Midwest on Friday, December 6, 2013

I ordered several Icebreaker tops to try, all XL (6'0", 175, super long torso) and this one was a much tighter fit than the others. I know it's a "skin" layer, but I guess I haven't lost enough baby weight yet to feel comfortable with that. The color (pink, cherise?) wasn't see through, though, so that was a plus. I would also need a much longer torso length. I did love how long the sleeves were, though, without looking like big baggy t-shirt sleeves. Love that they aren't little "cap" sleeves!

Reviewed by Trulyb from Asheville, NC on Tuesday, December 3, 2013

This is another great Icebreaker piece, adding just enough warmth without showing under shirts in cold weather. I might also hike in it in moderate temps since it would likely keep me from chilling down too much when I break a sweat. The sun shines here a lot in Arizona in the winter, so you can warm up too much even on a cooler day. A versatile top.

Reviewed by Planet Ocean from Boston, MA on Thursday, November 7, 2013

It's a very nice shirt with the size issue: runs at least a full size too small.

Reviewed by Nancy from Leadville, Colorado on Saturday, October 26, 2013

I use this shirt to wear under other shirts for work. It's pretty darn good. The texture is different than other wool shirts which I like.

Reviewed by Rabbot from Maine on Monday, October 21, 2013

Once I finally got the right size I love this shirt! It's soft, wicking, and comfortable even for days at a time. I especially like how all of the seams are placed. The way the shoulders are constructed is really nice for under pack straps and the side seams didn't bother me under the hipbelt for 3 days either. It doesn't seem like that should be unusual but it is and this one is perfect. And it also doesn't look so technical or like workout clothing that I would feel weird just wearing it around town, it just looks like a t shirt.

The sizing is really weird though and it runs very small. The body of the shirt is very shaped with the waist much smaller than the hips or chest, like for an hourglass figure. I have another Icebreaker shirt in XS and my normal size in most things is small, but I ended up with a medium in this because the small was so tight around the waist! And just for reference, even though I don't have the hourglass figure to match the shirt I am far from overweight, just more of an athletic shape and still the waist was way too small for me. But once I had the right size I love it! I think the "bodyfit" icebreaker shirts run a lot smaller in general than the "tech" ones.