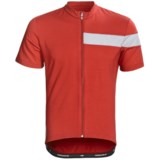 Discontinued. Road-tested and ready to ride, Icebreaker's Circuit cycling jersey offers the natural moisture-wicking, temperature-regulating and breathable performance of merino wool with the added mobility and stretch of spandex.
Average Rating based on
11
reviews
4.363636
0
5
Reviewed by Brandon from Utah on Wednesday, November 13, 2013

I am not sure about some other reviews here, but this is a perfect fit. I am 5'11 165 and got size small and the pockets hold my arm warmers and head warmer and energy bar and iphone. This Jersey has been my go to Jersey this fall for Utah Mtn Biking. I like it so much I bought another in another color. These are great for 50-70 degree days. A Must for spring and fall. The Jersey has gone through the wash a few times with no problems.

Reviewed by DanceFaery from SF Bay Area - California on Friday, October 11, 2013

THis jersey was too tight in the chest and too long in the torso. Not right for my husband's body, so it was returned. The wool fabric is soft and lighter in weight, making it a good quality jersey.

Reviewed by Mashoff from MD on Thursday, August 8, 2013

Excellent quality materials and construction. I have several icebreaker pieces and find that they generally run true to size.

- I am 6', 175lb, 40" chest 34" waist - and usually wear size large in the big euro brands such as Castelli and Assos, which gives a good, snug fit - no flapping while on the bike. In other icebreaker pieces - base layers and more casual items, I wear a medium...and the fit is perfect.

I tried a medium size in this jersey and it was too big by my standard - it flapped around some was and too long when in riding position. I ended up with the size SMALL, and it fits "right", in my opinion, to have the snug fit I prefer. To me that means no flapping, no sagging pockets, no excess material in the chest or belly when on the bike...

Center pocket is a little narrow but not unusable. Color is nice ("monsoon" = "grey"). The stripe looks yellow in the pics but it more of a neon green (which is a trendy color right now in cycling fashion, fwiw).



Reviewed by mainely a cyclist from Maine on Wednesday, August 7, 2013

I'm a wool fan, so this is a bit biased. It fits true to size: I'm 5'10" and about 155 and it is form fitting but not tight. I don't think icebreakers are as well fitted as some of the standard designers (e.g., Castelli or the like), but it is ok for me since I'm not planning on walking the fashion runway. Pockets are well placed, length is spot on and the zipper is solid. There is a little bit of undulations in the fabric along one section of the zipper, but it doesn't affect performance.

Reviewed by Gweler from The hills of PA on Sunday, July 28, 2013

Awesome Jersey! I've owned other high end wool jerseys and this is on par if not exceeding them all. I love the pocket configuration and the longer back hem. I'm 5"6 168lbs and a medium fit me fine with a little room. This is far classier looking in person than in the picture. I've gotten more compliments on it than any other jersey I own. I've over 750 miles in it and durability is way above par. So darn comfortable I forget I'm wearing it till it gets warm out. Super enviro-friendly company. There's a tag in the jersey to locate the sheep that donated his wool. Big bonus is wool doesn't hold odor at all. No more smelly laundry basket waiting for enough stuff to wash in one shot.

Reviewed by Momof4greatkids from NE Ohoi on Tuesday, May 21, 2013

I bought this for my husband. We are both in LOVE with merino. This jersey looks great on him, he is 6'1" 165 pounds. According to the size charts that put him in a medium which is what he got. He's pretty tall and it fits great, it might be a tad bit short but not enough to detract from the overall stellar quality of this jersey. Merino works in warm or cool weather, and it never stinks, and it is supremely comfortable. Very well crafted, he loves it and it looks great!

Reviewed by Chris from Chicago on Friday, May 3, 2013

Warm when the temperature is in the 50's, cool when it is in the 70's; probably in the mid-80's as well once it gets that warm where I live.

Reviewed by onmybike from Olympia, WA on Wednesday, May 1, 2013

Fits well, breathes well, top quality for the sale price advertised here. I deducted one star for the heaviness of the zipper pull. Overall though, excellent value for what you get.

Reviewed by david from California on Thursday, April 25, 2013

Im a big fan of wool and Icebreaker products but this jersey is not up to par. I always hang dry them, but they got pilly and stretched out. The fabric has no structure so the back pockets are pretty much useless except for a pair of sunglasses. I also got a rapha jersey as a gift so I might be a bit spoiled.

Reviewed by Gweler from The hills of Central Pa on Thursday, April 18, 2013

I'm an experienced cyclist. 7th year riding 4-5k mi. a year. Used and/or seen all the major(expensive) brands. Great fit! Im a medium in every other jersey on the planet and this medium fits well slightly on the big size, but that may be me being used to race cut jerseys. Just looking at it you can see the quality in the stiching. Great pocket config (interior mp3 pocket with reenforced headphone wire hole is awesome.) excellent zipper, really long back hem. Only concern is the temp range this will become to warm of a jersey to wear but heck it's wool you can sweat in it like a stuck pig and it won't smell.