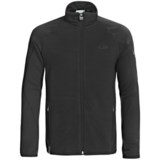 Discontinued. Icebreaker's RealFleece 260 Sierra jacket is a midweight base layer that amazes with its versatility. Moisture-wicking merino wool with a brushed interior is soft enough to wear against bare skin and also ideal for layering under a shell in cold temps.
Average Rating based on
64
reviews
4.718750
0
5
Reviewed by Brown County Bob from Indiana on Thursday, April 23, 2015

I purchased the Real Fleece Jacket one year ago, but have had limited opportunities to use this. I just returned from a trip to Montana. I received complements on my jacket from my brother and his fishing friend - both asked me to send the item information since each of them wants the same jacket. I drove from Indiana to Billings and back, camping in a tent at State Parks during the drive there and back. Most evenings the outside temp was in the low 30s (one night reached 27 degrees), accompanied by wind. At night I used the Icebreaker Real Fleece as a layer and it kept me quite warm. My wife and I are planning to walk the Camino de Santiago in the fall and both of us will bring our Icebreaker Real Fleece as our primary layer during the 500 mile hike.

Verified Buyer

Reviewed by Lighter load from NY on Sunday, January 4, 2015

I got this for the office as we constantly have the AC (even in the winter!) and this warms me up right away. Keep in mind it's not a sweater and looks better on outdoor treks but it definitely does the job.

Verified Buyer

Reviewed by Tahoesteve from Ca on Wednesday, December 3, 2014

This is a great sweatshirt or mid layer, however it has a lady's zipper on it, which though slightly irritating, is overlookable for the cost savings.

Reviewed by John Colter from Bellingham, Washington on Friday, November 14, 2014

Reading the other reviews, I bought this jacket one size larger to fit my height and weight: 6'2" and 195 pounds. XL fits me a little loosely in the shoulders, but I think an L would have been too snug and short.

Cargo is actually a greenish-gray, pleasant, even sharp, but not outstanding.

The zipper is on the wrong side, and there is a chunk cut in the tag, so I'm sure this jacket is a second. Somehow the Vietnamese manufacturer got ahold of women's zippers. No worries, it works just as well, but I think Sierra Trading Post should have noted that in the description.

Overall, though, I'm satisfied enough to keep the jacket.

Verified Buyer

Reviewed by Hobo Cyclist from Wisco! on Monday, October 13, 2014

Nice fit. Great to find something thats not size 42-44 chest.
Wear alone or seems good as a layer when winter comes. - Curse you polar vortex!

Verified Buyer

Reviewed by Doug West from New Mexico on Monday, October 6, 2014

A rating written after months of use in conditions that demand that a garment works well means a lot more than a first impression. But since most first impressions tend to stick, they are worth sharing. First impression on this 260 Sierra "jacket" is very positive. Design is really nice--the lower pockets are large enough for serious use in addition to warming hands and are very comfortable. Sleeves are a tiny bit longer than usual, great for keeping upper hands and wrists warmer especially when your arms are in moderate motion--but not so long that they get in the way. The moderately high collar has the promise of being nice in windy or cooler weather, but I can't vouch for that yet. Perhaps the best point is that the way the jacket is designed, they get the most out of the relatively light 260 gram/sq meter fabric. I have another Icebreaker jacket of similar design and weight that I've used for about three years and have really enjoyed. The new one is likely to be even better than the older one.

Verified Buyer

Reviewed by Gator from Darien, CT on Tuesday, August 12, 2014

I own 3 of these. They are extremely comfortable, warm, dressy, and can be worn almost anywhere - formal affairs excluded, maybe. I keep one in my office, one in the car and another at the cabin. You never know if a guest needs something!

Verified Buyer

Reviewed by 2pdl from Vermont on Saturday, June 14, 2014

The jacket goes well beyond what I expected. From long experience with Icebreaker I expected, and received, a well made, handsomely tailored product. But it went beyond that: the fleece interior is positively cuddly. As a result, I wear it as a base layer under other jerseys for cool morning bike rides. I also wear it over T-shirts for cool mornings; it is just the right weight for that. So, what I thought would be something hanging in my sports closet is now in my main one. Finally, it can be used as the name implies, as a jacket to throw on when going outside.

Verified Buyer

Reviewed by Donkey from So cal on Tuesday, June 3, 2014

I've had hundreds of fleece jackets over the years and all of them seem to be the same type of design, bulky and heavy however this icebreaker product is so different.

It is extremely lightweight and incredibly warm. I hit the trail a few weeks ago and the guys I were with had loaded up with several layers of various base and mid layers with windbreakers to complete their set up whereas I had a short sleeve icebreaker base and the fleece and it was all I needed for the trip and didn't have to deal with the excess weight from pulling off layers and carrying them.

I would highly recommend this product and will be doing some more icebreaker shopping soon.

Verified Buyer

Reviewed by zbillybadd from Land of 10,000 Lakes on Thursday, May 8, 2014

Wearing my Icebreaker Realfleece full zip jacket today in New York. Headed to Alaska next week and plan on using the realfleece as a midlayer for warmth.

Verified Buyer

Reviewed by klkks from Montana on Monday, May 5, 2014

I purchased an Icebreaker sweater in 2008 and loved it. I finally wore it out. Recently, I purchased the IB Realfleece 260 in Nova color (a deep forest green). It is better than my original IB sweater. It is warmer, softer (love the fleece inside), and more stylish. I use my IB sweaters for trekking, backpacking, camping, sitting around the house, motorcycling, skiing, just about everything and everywhere I go. The only drawback is I really miss the thumb holes to hold the sleeves under my gloves, but I knew that feature was missing when I bought it. It still gets a 5 rating. IceBreaker has great products - expensive - but great. That's why I try to get my IB clothes from SierraTradingPost.

Verified Buyer

Reviewed by TO from MT on Monday, April 21, 2014

Purchased for my husband. He is very pleased with the jacket so far. Looks good, warm and well constructed. I will add that generally my husband is a solid size L. In this case it took a couple of exchanges to get the correct size for him. In this IB product I ordered an XL that finally worked. In IB base layers he wears a size L. Once we did get the size we needed all is good. STP has good customer service and exchanges were not difficult.

Reviewed by tim from Georgia on Monday, March 31, 2014

I'm around 6 feet 1.5 inches and 190# - at first the L felt a little tight in the armpit area and I wished I'd ordered an XL (even though the length and sizing generally seemed to be spot on otherwise). that said, I knew it was supposed to be slim fit, so I continued to wear and give it a chance. After about 4-5 wears I have decided it is about the most comfortable lightweight jacket, sweatshirt, mid-layer I have ever owned. spring is here, so the days of wearing are numbered, but I have a feeling that next year I will be spending a lot of time with this on. with the wicking and temp adjusting qualities of wool, it can be worn inside comfortably and will be just as comfortable outside at 25 degrees cooler.

Reviewed by ColdRunner from Nebraska on Friday, March 28, 2014

I bought this primarily as a midlayer when running in cold temps. I just got back from a run in about 25F weather, light wind. Over a short sleeve base layer, it was excellent. It lets a little wind through but offers just the right amount of insulation. I plan to use it when it's colder under a windproof shell.

The jacket is very high quality. I really like the smooth merino wool. Even though the outside is smooth, the inside has a small amount of loft that feels rather like the inside of a cotton sweatshirt. It's really nice. The zippers are fantastic...very durable and well-made feel to them...substantial without being huge.

As for the fit, it is a little on the smallish side. Not terribly so, but I wear large/xl about 75%/25% and for me the large was too small in this jacket. I'm 5'9", 185 with 35 waist. My arms have some meat on them and that's where this jacket was a little too snug for me. I was on the cusp of keeping the large, but just didn't feel like I had any room left underneath. It fit well, and wasn't like a compression fit but the sleeves stretched over my arms a bit too much. Maybe some folks will like that. The sleeve length on the large was perfect, though. Concerned that if I ever washed it and it shrank, I went with the XL and I'm glad I did. It provides the perfect fit...room for a layer or two without being bulky. I like to have it move around just a bit and not cling to me too much...not for a midlayer. The arms and neck also fit perfect on the XL and I'm about a 16.5 neck. The arms are longer than the XL but still fit well.

Overall, I'm extremely please with this purchase...great price on a terrific product. The return of the large couldn't have been easier.

Reviewed by crackerguy from Austin, TX on Wednesday, March 19, 2014

I bought this to wear under a shell for alpine skiing and it is great. Nice looking, super warm for weight and breathable. With mid weight long john top and this fleece under my shell I was plenty warm in low 20s/ high teens weather while skiing. With a light base layer I wear it casually on cool (30s-40s) days. Over about 50 degrees it is too warm for me. It is very smooth for wool, but if you have super sensitive skin like I do, it feels a little scratchy, that's why I wear synthetic base layers.
For reference, 6 feet, 42 chest, 32 waist, 175ish lbs and the large is a snug but comfortable fit, maybe slightly short in the sleeves so order up if you have long arms or want a looser fit.

Reviewed by stevenv from earth on Tuesday, March 18, 2014

This is a very nice jacket, made in China of New Zealand Merino, good quality and fit, very warm for it's weight.

Reviewed by renevague3 from Florida on Friday, March 14, 2014

Fits smooth and sleek, reduces bulk under outer shell compared to fleece. Toasty warm.

Reviewed by The Merino Marauder from Brooklyn on Wednesday, March 12, 2014

quality stuff. true to size. i normally wear a large, and the large fits just right.

Reviewed by CoMom from Colorado on Monday, March 3, 2014

This men's jacket is actually more of a sweater or second layer, because it's pretty form fitting. Definitely order one size up. My husband is 200#, 6'3" tall, and the XL fit him like a glove. The color is a deep teal/blue/green, which is hard to distinguish in the online photo. There are two zip hand pockets, and one pocket that zips on sleeve, for phone, credit card, etc. The inside is fleecy and warm; the outside is smooth. I have the same jacket in women's size, and I also ordered up one size, because my previous identical jacket with hood fit similarly. I have washed and worn mine for several years and had no shrinkage, the inside is still fleecy and zippers still work. These are warmer than they look. I live in Colorado and except on the coldest days, a wool layer underneath plus this jacket is enough.

Reviewed by Cameron N. from Washington state on Wednesday, February 26, 2014

This, along with an undershirt, and sometimes an outer jacket, has kept me plenty warm on 45°f degree days (and thereabouts) with little wind. I also took it on a jog and it does regulate temperature and wick moisture quite well. However, I'm 6'5" and 187 lbs and ordered the L. This fleece isn't really designed for tall men. The sleeves looks fine when my arms are at my sides, but if I raise my arms, or use em in any way, the sleeves ride up and expose a couple inches of my wrist. It's not a huge problem for me though. Also the torso area could be a bit slimmer, but I didn't want to go with a M because the shoulders would probably be too thin. I'm also very tall and thin, so keep that in mind. All in all I'm pleased with the purchase. I ordered the Nova color thinking it was black, but it's a dark forest-green FYI. I quite like it.

Reviewed by NWMama from Bellingham on Monday, February 24, 2014

I purchased this product for my husband and was very impressed...so much so, that I purchased one for myself. A great alternative to a synthetic fleece mid-layer. Works well under a vest or shell for most of the weather we have in the pac northwest. This is a trim fit and size small was perfect for my husband's smaller frame (5'6" / 140 lbs).

Reviewed by Paul from W. Michigan on Thursday, February 20, 2014

I'm a huge fan of merino wool for its anti-stink, warm when wet, wicking, properties. However, icebreakers soft hand and excellent construction make this a must have piece for three season use. The fabric is one of the softest merino wool pieces I've ever owned (I have about 5 different brands of merino wool to compare to). The face fabric is smooth with a fuzzy moisture wicking interior texture. If I didn't know it was merino wool, I would think it was fleece sweatshirt material from the 90's. The fit is athletic and meant to be snug as this can be used as a heavy base layer or light mid layer under your shell. However, as a stand alone piece, it has enough room to lay comfortably when knocking around town. I wear a men's small in all my shirts and jackets and this piece is true to size. The torso length falls right below my belt line. Though the arms are a perfect length for me, but I have shorter arms based on other shirts and sweaters I buy. 4 stars instead of 5 because the neck when zipped up is a little high and tight for me, but it may be just right for others. Zipper is on the left side too (European?) which is no big deal, but odd when zipping up. If I could, I'd give it 4.5 stars. Near perfect.

Reviewed by Icenreaker guy from Kitchener, Ontario on Monday, February 17, 2014

I can't speak highly enough about icebreaker gear... great styling, practical designs, top quality manufacture (I've NEVER seen nicer zippers than on this 'jacket' anywhere else), and an incredible material: amazingly warm, amazingly non-stinky, long-lasting, light, and comfortable.

This jacket is about identical to their hoodie but without the hood - super warm & cozy in winter. Another icebreaker win.

The 'red' version is quite dark... a neutral (earthy) maroon colur.

Reviewed by Waterboy from Tacoma, WA on Tuesday, February 11, 2014

a very nice cut and extremely stylish, in line with Icebreaker's high quality standard.
Warm to wear and extremely soft to the the touch.
I feels it runs a tiny bit small- although the large would swamp me.
An unusual color for me- I usually choose black, but this looks stunning and I've had many compliments.
At this stage- I have NOT washed it (I'm usually very careful with my Marino wool garments, but have never had an issue with Icebreaker products)

Reviewed by lee from Truckee on Monday, February 10, 2014

At 150lbs and 5'10 and some what long torso this Med. fits well. For those of a more typical "American Sizing"it might be advisable to order your size. I am happy with Icebreakers choice to offer athletic clothing sized to fit athletic shapes. If I happen to have a different shape this might seem wrong. The left hand zipper seems to be easy enough to adapt to.

Reviewed by year-round biker from Michigan on Sunday, February 9, 2014

This is right up there with my favorite Icebreaker and Smartwool clothes. I am 6' tall, 160 lbs, chest 40". I went with a large, as I prefer to have a somewhat relaxed fit, but the large was like a sack on me. Exchanged it for a medium. The fit is not relaxed, but it is an excellent fit as long as you don't want more than a couple thin layers bellow and don't mind people noticing your pecs or whether you have a little bit of a gut.

Reviewed by greydog from Spokane, WA on Thursday, February 6, 2014

I wore this yesterday over a merino T and under a robust windproof shell for a 5 mile hike in 10 degree weather with a brisk wind.
The fleecy interior wicked sweat nicely and I did not have any chills on the windy bits. Of the several synthetic mid layers that I own, this is better than all but one. And it will require far fewer washings. I have not washed it yet, but if it does as well as the merino T's, I'll be delighted.

Reviewed by Matt from Madison, WI on Friday, January 31, 2014

I had been struggling with frost gut this winter on several occasions. Once I put this puppy on, my problems were solved!

Reviewed by Catdr from WA on Wednesday, January 29, 2014

Similar to Ibex products. I wear L in Ibex, and a L fit me in this (5'7", 170). Ordered Nova color which is a deep, dark green. I had to get it into the light to see that it was not black. Have not washed it yet, so that may affect review.

Reviewed by Blueeyeddevil from Virginia on Friday, January 17, 2014

First up, this wool fleece fits me perfectly (your mileage may vary)--the fit is more slim than standard, though it is by no means tight (I'm 5'10", 160 lbs, lean and ripped, with a 39"-40" chest, and the Medium is spot-on). Ok, that said, this is a very nice looking, super-stylish, soft-against-skin midweight jacket that is very warm and functional, to boot. I purchased the sepia color and it is the bomb! The color pattern is very flattering. It's actually too nice to wear for performance endeavors, even though it shines with a soft shell in the appropriate weather. Moves with your body and is not restrictive. Great quality. Small zip-pocket on the left sleeve lays nice and flat against the upper arm but is there if you need to stash a CC or ID or some cold, hard cash. Bottom line: for a midweight wool zip-up, this is the cat's a** AND the dog's b*ll*cks. Wouldn't change a thing. Git you one!