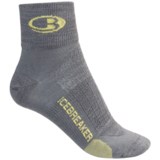 2nds. Icebreaker broke the mold when they made the Run Ultralite mini socks, made with temperature-regulating, moisture-wicking merino wool and an anatomically designed fit for your left and right feet.
Average Rating based on
20
reviews
4.550000
0
5
Verified Buyer

Reviewed by Trail runner from Ohio on Saturday, August 15, 2015

I love these socks. Thin so toes aren't cramped but enough cushioning for comfort. The higher ankle keeps out trail debris

Verified Buyer

Reviewed by Opal from Denver on Tuesday, August 11, 2015

I didn't give them 5 stars because I'm not sure that I think the anatomically designed fit is anything more than a marketing gimmick. There is a splotch of orange that is supposed to go below the big toe. That's about it.

Verified Buyer

Reviewed by Susie from New York on Sunday, August 9, 2015

Great for cycling or running in warm weather. This is very comfortable and wears well.

Reviewed by nkb from ma on Monday, February 2, 2015

These are my new favorite workout socks. I like that the height because they don't slip down on the heels, a problem I have with the tiny ankle shocks. They have just enough compression to feel firm but not constricting. I've noted many wear these for winter running and they are terrific. I am a wimp and use the treadmill in the winter and I think these are great even in a warmer environment. Very light cushioning, just the right amount to bit of stress from a foot strike but not so much that they feel big in your running shoes. Big, big fan.

p.s. I'm a size 9 women's, and I decided to take a risk on the size Large even though it's listed for 9 1/2 - 11. The fit great even though my shoe size if half a size smaller.

Verified Buyer

Reviewed by T from IN on Saturday, May 24, 2014

very nice cozy socks perfect for about anything

Verified Buyer

Reviewed by Sierrafan from Pa on Monday, May 19, 2014

Love 'em and run in nothing on my feet but wool. For the life of me, can't match up a left and a right. Not that I notice.

Verified Buyer

Reviewed by Venice runner from Southern California on Wednesday, May 14, 2014

I've started running in minimal shoes and prefer a thin sock with them. These socks provide just the right amount of fit and protection without feeling bulky or hot. The crew top is a little longer than I'd like, but that's a minor quibble. Great socks.

Verified Buyer

Reviewed by Krissy from Ohio on Sunday, May 4, 2014

Very comfy, breathable and versatile! Great price too!

Verified Buyer

Reviewed by Prati from NJ on Monday, April 14, 2014

The socks are very good and fits my leg very well. They are warm as well.

Reviewed by Stan the Man from Colorado on Tuesday, April 1, 2014

I always buy my socks from Sierra Trading - great deals and great quality. Icebreakers are a great durable sock and the description was accurate.

Reviewed by Picky Pam from Ohio on Wednesday, February 12, 2014

I was very please with the comfort of these socks, but the best thing about them is the way they keep your feet warm.

Reviewed by Zumba lover from NW PA on Thursday, February 6, 2014

I always have cold feet, so I'm on a constant quest to find the perfect sock. My favorites are Polartec fleece, but they're TOO warm for those occasions when I want to do cardio indoors. These socks are a great compromise whenever I need to go from walking around in the winter to sweating through a high-intensity workout at the gym.

Reviewed by Mizcriz from Michigan on Saturday, February 1, 2014

Love the length & the weight of these. To a previous reviewer complaining that they are too thin & suggesting a thickness scale from STP - exactly what did you think "Ultralite" meant? It's why I bought them.

Reviewed by dotcie from harrisburg, pa on Saturday, January 25, 2014

Since buying socks from Sierra Trading a couple of years ago I've become very spoiled about what I expect. These did not disappoint. Superb fit to my foot make them very comfortable as does the merino knit. I like the ankle height for everyday wear.

Reviewed by jess from new york on Monday, January 6, 2014

the seams at the heel and toes are weird and pointy, sock material is scratchy

Reviewed by Love Spring from NJ on Friday, October 25, 2013

I am very disappointed. cause it's very thin. information about thickness is needed.

Reviewed by retired homemaker from OH on Monday, September 23, 2013

I really liked the feel of these socks and wished I would have ordered at least one more pair.
Very comfortable and keeps my feet cool in summer and warm in winter.

Reviewed by Annie from Utah on Monday, July 1, 2013

Great for the trail

Verified Buyer

Reviewed by eperce from New Jersey on Friday, December 14, 2012

My feet are always cold to point of turning numb as soon as the temperature is below 30.I bought a bunch of socks at the same time I bought this pair back in early November when it was still warm.So when I reached in my drawer this morning, I had no idea which socks I bought that were for cold winter running. I saw these said "icebreaker" down the side of it and thought these must be good, but they're so thin and kinda scratchy, I said no way are these going to be good.Well my feet never got cold, it was comfortable running in them and when I did my cool down, it was like walking on warm soft pillows, not a joke. Will give an update when it's below 20 degrees. :)

Verified Buyer

Reviewed by BarbarainOjai from Ventura County, CA on Thursday, November 15, 2012

I like my socks to fit very snugly. The Icebreaker socks are just wonderful, however, eventhough I take a size 10 shoe, I think the ladies medium are too small for me. Oddly, in the future I will purchase a ladies small (size 5 foot). Luckily, my husband loves these and has taken over custody.