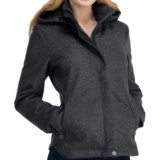 Discontinued. Icebreaker's Skyline jacket from the brand's Pure Plus collection of wind-resistant jackets delivers unbeatable protection and top-quality fashion. The adjustable shaped hood stays put in windy weather and the inner membrane blocks gusts to keep you comfortable.
Average Rating based on
15
reviews
4.333333
0
5
Verified Buyer

Reviewed by Jenny Bee from Tennessee on Friday, March 20, 2015

Have you ever tried something on and known it was perfect even before you looked in the mirror? That's what happened with me and this jacket. I ordered it on a whim. I have many Icebreaker items and have been generally satisfied with the quality and fit so I was intrigued by the wool jacket. Especially since my 12 year old black softshell has been washed so many times it now looks brown. So I ordered this in M and L. I've been consistently an M in Icebreaker shirts and skirts, but my one hoodie is an L for layering reasons. The L in this jacket was huge, but the M fits like a dream. The hood is deep and it's lined with the same material as the body so my hair doesn't stick to it as it would with a fleece lining. The curved hem adds flair. The pockets are the right size and nicely placed. There is a subtle "square cross" design at the wrist. Also, it's warm! My only complaint is that the collar is pretty stiff and high, but I only notice it when I turn my head a certain way. It might soften with age but it's not even annoying as it is, just noticeable. One thing that I think is fun but that others might not like is that the lining is a gray-on-black topo design with orange "x"'s on it. Since this lining is in the hood as well as the body, it's noticeable when the hood is down.

Verified Buyer

Reviewed by marchettigirl from Oregon on Sunday, December 28, 2014

This jacket is so warm! It has a beautiful lining, keeps the wind out. I have it here in Oregon where it has been 0 and 12 degrees, snowing, windy, cold. I am toasty warm. I ordered a medium, I am 5'6" and 135, it fits me perfect. It is very nice over the Icebreaker base layer. This jacket is dressy enough to wear to dinner, grocery store etc. I love it! It's perfect!

Reviewed by pltk from Michigan on Friday, December 26, 2014

Really want to keep this jacket--it is beautiful and stylish. However, as several other reviewers mentioned, it is tight across the shoulders. I do not have extraordinarily broad shoulders. There is a bit of stretch and I am debating keeping it even with this drawback.

at 5'7" and 160 pounds. 36B, the large fit well otherwise.

Verified Buyer

Reviewed by IreneH from Boston, MA on Monday, December 22, 2014

This is a very nicely made jacket, but didn't fit me. I normally wear a small, and every part of this jacket fit except for the shoulder, which was too narrow for me. A medium would fit at the shoulders, but would have been too big at the body with very long arms. Regrettably I had to send it back.

Reviewed by Olga from Vancouver, Canada on Monday, July 28, 2014

I got this jacket in Oxide color, and it is beautiful. Great quality, inside and out! goes great with my red Icebreaker Cascase hoodie (M size) ! it is +30 here now, and i cant wait to try wear it when it gets colder! I got size S in Skyline jacket and it fits great! I tried M in the store the other day and it is was too big. I am usually size 8 in H&M jackets (for comparing). I love my new Skyline jacket!

Verified Buyer

Reviewed by ef from MA on Saturday, May 3, 2014

This is a really nice jacket, which is why when the dye came off on my hands in the pockets on the first day I was really torn about possibly sending it back. However, wiping them with a damp towel seems to have done the trick, so I kept it for all of the reasons that have already been mentioned. 5'2" 120lbs small was a good fit with room for layers

Reviewed by Precocious Belle from Alaska on Sunday, March 9, 2014

I was nervous about purchasing this jacket based on the description and reviews, but I am so glad I clicked the order button! I have never been more pleased with a coat than I am with this one. It is flattering regardless of what I am wearing. I can pair it with jeans or dress it up with slacks. Living in AK, it gets cold, and this jacket has kept me toasty warm. It has great range of motion for different activities and isn't bulky. It repels snow and water nicely and is wind resistant. The hood is fully adjustable and the most comfortable I've found. It doesn't block range of vision like some of my other jackets, but moves with me when I turn my head. I am most pleased with the length of the sleeves. It is the first woman's jacket I have found that the sleeves are long enough even when I stretch out my arms (I'm 5'11", so this is a big deal for me). It's also a great jacket if you are larger in the bust area. I ordered a M and have room to wear layers underneath, but I don't feel like I lose my feminine shape.

If you are looking for a quality jacket, grab this one and it will quickly become your favorite.

Reviewed by Blossom from Maryland on Tuesday, January 21, 2014

I am loving this jacket this winter and get disappointed if the temperature is too low to wear it (below 40F). That being said, I never get too warm in it, which is nice on overheated public transportation. It is flattering for my short waisted curvy build and not too tight in the bust (I am 5'8", 165lbs, and ordered a large). The arms are a good length, the wool is very nice, and I love the large hood. It is sporty but also looks good with my work slacks. I am pretty sure Elizabeth Moss wears this jacket in Top of the Lake, Episode 3 or 4 (I can't remember which) if you want to see it properly modeled.

Reviewed by hikeep from PA on Thursday, October 17, 2013

Fabulous casual coat. The wool is very nice and the lining does have some give and stretch to match your movements. The hood is generous, as is the sleeve length as other reviewers have mentioned - aspects I rather enjoy! The zipper is very strong and solid and the pockets are positioned perfectly. I'm so glad I nabbed this coat with a coupon code to boot! Dry clean only, so I'll have to be careful. I'm 5'4" - 125 lbs, and the small fit well with room to even layer a light sweater or sweatshirt. I've had nothing but great quality items from Icebreaker. Thanks STP!

Reviewed by Love2Shop from Wyoming on Friday, August 30, 2013

Love this jacket even though the arms are quite long on me. Because of the design of the sleeve, alterations will be difficult but I like it enough to live with it. Size medium is my usual size in coats (5'4" - 140ish lbs) and this works but went up one size so I can layer. It is a bit boxy going up a size though. If they had a size between medium and large it would be perfect!! I suggest ordering your usual size and going one up and then returning one.