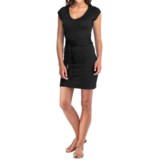 Discontinued. Soft, temperature-regulating and breathable merino wool construction makes Icebreaker's Superfine 200 Villa dress the ultimate traveler's companion. The flattering belted design is only the cherry on top of this go-anywhere, do-anything treat.
Average Rating based on
65
reviews
4.323076
0
5
Verified Buyer

Reviewed by Wool Obsessed from Rockies on Monday, June 20, 2016

I have two of these--black and gray feather--in large (I'm 5'2 and 160) and they are great. I just happily wore one in 95-degree weather in Austin and people could not believe it was wool.

Reviewed by Outdoors Gal from Washington State on Thursday, June 2, 2016

I wanted a black dress, and I got more then I could ask for. This dress is so comfortable, fits well, and the material is fabulous! A great buy!

Verified Buyer

Reviewed by MCO from Colorado on Wednesday, May 18, 2016

This is a really cute dress. I have several Icebreaker dresses and really love most all things Icebreaker. The fabric is lightweight but I don't find it to be see through. The fit is true to size. I did return this dress as I didn't feel it flattered my particular figure - I've never had much of a waist and now that I'm older I felt this dress didn't help create the "illusion" of some subtle curves. It's such a cute dress and well made so it was a tough call but, alas, it went back.

Verified Buyer

Reviewed by JK from Alabama on Sunday, April 10, 2016

This is an adorable, comfortable, and flattering dress made of merino wool. I have worn this dress in many environments. It looks great. I highly recommend it. I would probably use Woolite or another wool-specific laundry detergent for it. The grey feather print is pretty, but I'd also wear this in black. It's pricey, but I feel it's worth the price. Haven't traveled with it yet, but I am sure I will in the future.

Verified Buyer

Reviewed by Darla from raleigh, nc on Tuesday, April 5, 2016

This dress is much nicer than what's pictured. i bought the one with the print. since this dress is pretty much straight up and down, there is a belt to cinch the waist to give the wearer shape. I didn't find it scratchy and it won't show undergarments thru the dress - that is if you go with underwear similar to your skin tone and nothing outrageously bright or printed. I'm 5'6', medium build, 34B, and wear a size 4-6 pants. I ordered a medium because there isn't much stretch to this dress. I could have gotten away with a small, but the medium still looks good.

Verified Buyer

Reviewed by Abi from California on Tuesday, March 15, 2016

I purchased my first Villa dress several years ago, and still have it. It's incredibly flattering, feminine and versatile, and is virtually wrinkle free even after packing. Layer it with tights, boots and a jacket in cool weather; throw on a necklace and flats for warm weather. There were a few design decisions that I wished I could change, however. First, all of the hems had raw edges, which made it look a little more casual than I would have appreciated. Secondly, there was a large embroidered logo between the shoulder blades. Third, finding the right position for the belt was always just a little tricky and you had to adjust it frequently while wearing. When I saw the black on sale, I couldn't resist snatching another one of these, and I am so pleased to see that Icebreaker has addressed all of the issues above! The hems now have a neatly satin stitched finish, there are double belt loops to keep the wraparound belt perfectly positioned, and the logo has been done away with in favor of a tasteful leather tag stitched onto one end of the belt. The black is a nice, rich color and will be easy to dress up while still being remarkably comfortable. I will say that the one thing unchanged about the dress is it seems to run about a size too small. I consistently wear an extra small in Icebreaker tops, but take a small in this dress so that it lays nicely with some slight gathering around the hips and a slight blousyness above the belt. The extra small would be like Saran Wrap, and since this is a fine wool, it would tend to be more transparent and show more bumps. For reference, I'm 5'7".

Verified Buyer

Reviewed by Travel lady from Oregon on Monday, February 1, 2016

I tried it on and I can't wait to travel around in this dress this summer! I am especially excited about the wool fabric. I'm 5'2" and 125 lbs and the small fits great.

Reviewed by A from NY on Sunday, December 27, 2015

I really want to like this dress, but there are several issues with it. The top is loose and the bottom too tight, for one, the belt has a gray logo sewn at one end for no reason, and it's a few inches too short for my 5'6" frame. Any amount of gut will make it look unflattering. It's a great concept with a great material, but shoddily executed.

Verified Buyer

Reviewed by Bicichica from Iowa on Friday, December 11, 2015

This dress works as a dress or a tunic. It is warm but not too warm, thin but strong fabric, like a shapely long t-shirt. I have it in five colors, in size medium. I am 150 lbs athletic build 5'6". If you are tall you might want a large to get a better length. Like I mentioned, I use this as a tunic for cold weather for skiing and biking. My favorite dress simple but sexy too.

Reviewed by person from upstate Ny on Sunday, December 6, 2015

It seems like this dress is actually a petite cut. I see a lot of great reviews from those 5'2"-5'3". I am 5'8", only 2 inches above average height, and the dress in XL ends 2-3 inches below my crotch. It works for what I want it for, a tunic to wear over leggings, post gym, etc., but I would not wear it alone as a dress. I would love a longer version for travel.