Icebreaker

Sizes

Special sizes (Big)

Features

Gender

Style

Sleeves

Length

Base layer weight

Sock weight

Sock height

Colors

Reviews

Events

Prices

Made in USA

Popular Icebreaker Products

Search Within
Icebreaker clothing is crafted using merino wool grown in New Zealand's Southern Alps, where weather can be extreme. Unlike synthetic fabrics, Icebreaker merino wool is grown and field-tested in the mountains, rather than created in a lab. Engineered to perform in a variety of outdoor activities, Icebreaker clothing naturally regulates temperature, breathes to prevent clamminess, resists odor for weeks, and protects skin from the sun. Superfine merino wool is also much softer than traditional wool, so you're never itchy or uncomfortable. Icebreaker Bodyfit base layers come in a range of weight
... Learn more about Icebreaker
s and thicknesses for unbeatable temperature regulation, and Icebreaker socks naturally resist odors. Try Icebreaker today and test the benefits of all-natural merino wool for yourself; you won't be disappointed. ... Less
About the Icebreaker Brand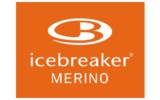 Reviewed by Chipwap from North Florida on Saturday, July 23, 2016

I love Icebreaker clothing. They are always good quality, good construction, durable and very comfortable. This shirt is no exception. The fabric is very soft. I have washed it twice now and it comes out of the dryer ready to wear. I also live in Florida and it's summer and this shirt is great in our heat and humidity.

Verified Buyer

Reviewed by Trish from Montana on Friday, July 22, 2016

Thin and comfy

Verified Buyer

Reviewed by KEPASA from Oklahoma & Colorado on Friday, July 22, 2016

Icebreaker boxer briefs are the best. The reason is the New Zealand merino wool that lives up to all the claims and more.Stay dry, stay cool no stink and I have tested the briefs, 150 weight base layer shirts and long Johns to the proverbial limit
Want a better product look no further than ICEBREAKER; nothing even comes close.
Receive email updates for new Icebreaker items