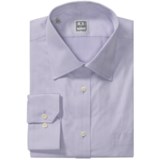 Closeouts. A gorgeous textured weave in colors that appeal to the cool side of your palette, this Ike Behar shirt is tailored to perfection with a smooth spread collar and mitered cuffs.
Average Rating based on
7
reviews
4.142857
0
5
Verified Buyer

Reviewed by Fletcher from Hollywood, California on Tuesday, November 3, 2015

great products. I love Ike Behar and have several shirts. A very good deal and a great shirt. thanks Sierra for giving us such great opportunities and terrific deals!

Verified Buyer

Reviewed by Wolfpack Jay from Atlanta on Tuesday, August 4, 2015

Like all the Ike Behar dress shirts I have purchased off STP, this one is also extremely well made. The fit and finish are first class.

Reviewed by Skip Bogard from Roanoke, Va on Friday, November 28, 2014

I cannot recommend this shirt--I have owned over 15 Behar 100% cotton shirts, and this shirt shrank like there was no tomorrow.

I wash all of my shirts in cold water and then tumble dry for 5 minutes to get the major wrinkles out. Then, I finish drying my shirts in the bathroom by (1) hanging them on a wide plastic hanger, (2) placing them on the shower curtain rod about 8"-12" apart, (3) placing a big box fan in the doorway of my bathroom and blowing air from the hallway into my bath. The shirts dance to-and-frow, the wrinkles fall out, and I never have to iron my 100% cotton shirts.

I don't know where they purchased the cotton for these shirts, but it is not the high quality cotton I expect from Ike Behar.



Reviewed by Rob from Great Neck on Saturday, June 8, 2013

This was a steal at STP sale price. Shirt is typical Ike Behar quality and the texturing makes it stand out in a crowd. Fits true to size and looks great. Great deal...you will not be disappointed

Reviewed by Solcher from Texas on Monday, June 3, 2013

All of the Behar shirts that I have bought are a cut above most of the shirts you can buy at mall stores. Much better than even Brooks Bros. nicer material, nicer buttons and a better fit.

Reviewed by JLW from Pittsburgh on Wednesday, May 29, 2013

bought shirt for my husband and he really is picky about fit and fabric. He loves it and wishes that more were available.

Reviewed by Bjornsson from Texas on Wednesday, May 1, 2013

I got this in both blue ice and white colors. The only things I dislike about these shirts are that they have point collars instead of spread collars, and that they lack a French front. However, these do not affect my rating as they are personal style preferences and not indicators of quality. The shirts are well-made, and the fabric is quite a bit thicker than you might imagine; I wouldn't wear it in the Texas summer, but other than that it should be fine year-round. Note that I am not saying the fabric is exceptionally thick; just a bit thicker than common in dress shirts. The weave is very cool; I'm keeping the blue one because I like my blue dress shirts to have a bit of subtle texture. It's a little like a royal oxford weave, but in a diamond-quilt pattern. You can't actually see the quilting effect until it's only a couple of inches from your eyes, so it doesn't look tacky at all. Very nice shirts!