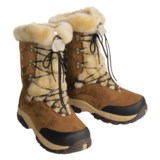 2nds. Whether you're trekking the Yukon or the slick city streets, Itasca's Anastasia snow boot will be your worthy companion. Your feet will feel next-to-the-fire warm and cozy with the furry insulation and over-the-ankle height.
Average Rating based on
249
reviews
3.566265
0
5
Verified Buyer

Reviewed by Suzy the Skier from Virginia on Saturday, April 30, 2016

I love these boots! My feet, as it turns out, are a bit smaller than the size 5 the boots are.I am sending them back by MONDAY the 1st of.May. I will be trying a half-size smaller, or a size 2 and one-half in girls size. That seems to be the story of my life. Look for my order to follow real soon! Thank you again.

Verified Buyer

Reviewed by Celia from New York on Wednesday, February 10, 2016

Not the worst I've ever seen but definitely not the best. Paid 12$ for these plus shipping. For the money I can't complain. So far so good. Worn 3x so far

Verified Buyer

Reviewed by Liz from North Caroline on Sunday, March 8, 2015

Cute to look at but way too big in every way.

Reviewed by Jade from New Hampshire on Saturday, February 28, 2015

These boots are not warm (unless you have foot warmers inside with them) and they tear easily. Three days after I received them as a gift, I tripped over one of the laces and the whole front tore. I wouldn't waste your money or time on these boots, they're more for show than for actual use and warmth.

Verified Buyer

Reviewed by Rachel P from Chicago, IL on Wednesday, February 18, 2015

Very warm, very comfortable, and stylish!

Verified Buyer

Reviewed by Cece from North Carolina on Saturday, January 3, 2015

The boots have excellent weatherproofed soles that extend several inches up and around the boot and unlike many rubber waterproofings, it manages to be attractive. They are also good-looking boots overall and don't look overly large. The sizing is correct. The only reason I gave it a 3 star is that they are flat feeling and not cushioned. However, with the purchase of inexpensive insoles, that took care of the problem. I really like the boots.

Verified Buyer

Reviewed by TwistedMaples from Adirondacks on Friday, December 26, 2014

Daughter #1 liked Daughter #2's so much that we ordered a pair for her too! Not waterproof but will be perfect for walking around campus and around town.

Verified Buyer

Reviewed by mama bird from Oregon on Wednesday, November 19, 2014

I have a pair of hi tec boots that look exactly like these but are so much better quality. These are thin and not waterproof and not comfortable. On sale these were less than $30 and not even worth that.

Verified Buyer

Reviewed by Killit&dragithome from michigan on Tuesday, November 18, 2014

have never seen such a poorly made 'boot'. do not waste your time. the body is made of a brushed twill. no way these will keep you warm or dry.
definatly shipping these back!

Verified Buyer

Reviewed by Shauna from Baltimore, MD on Tuesday, November 11, 2014

the first pair that was received were too big...but that is because according to reviews...half sizes should order up to the next size. that was not true in my case and i actually needed to order down.
other than that...they are great so far...havent had a snow storm to wear them in yet though.

Reviewed by Maxines Mom from Chicago on Thursday, October 30, 2014

First of all, I wear 8.5 and ordered 9 as instructed. They are huge. I am not a 'returner' and can make them work with
an extra insole.
They are really cute with a bohemian look that I have seen in a pricey catalog that rhymes with Fundance.
That being said, I bought them for snow wear and dog walking and doubt they will make it thru the season.
For the couponed price, I am not complaining.

Verified Buyer

Reviewed by Maxfactor from New York on Friday, October 17, 2014

I brought this boot because of the price but disappointed when it arrived and read t he label that this some material that made this boot may cause cancer. Now I have to return the boot. So disappointed. The rating is base on its cancer material

Verified Buyer

Reviewed by Robin from Indy on Wednesday, September 24, 2014

Kinda funky but goes with a lot of different looks.

Reviewed by NDmom from Minot, ND on Wednesday, September 3, 2014

I bought these last winter for my oldest daughter. She treks 2 blocks in the snow to catch the city bus to school. after a month the entire bottom ripped off. i got a call from her before she reached the bus stop to pick her up from there because her feet were wet and cold. I'm definitely going with a different brand this year.

Verified Buyer

Reviewed by Me from Texas on Friday, June 20, 2014

The boots are wonderful! Shipping was fast. The size is slightly smaller due to the fur lining inside, so get them a little larger than needed.

Reviewed by jre from New Jersey on Thursday, March 6, 2014

Good boots for the money.
These are a wide toe area with room for layers of socks or insoles if you need to add them. The top is canvas so they are more water resistant than waterproof however they are warm and flexible if you have wide calves.

Good boot for the money to keep your feet warm and dry in ankle height snow.

Reviewed by snow bound from Oklahoma on Tuesday, February 4, 2014

These boots don't fit the same. The left boot is smaller than the right boot. And the right boot turns in when you walk. VERY UNHAPPY with these boots and I have to keep them because I'm leaving for Colorado and have no other boots.

Reviewed by Gamcat from Boston on Sunday, January 19, 2014

Even after reading the negative reviews, I decided to order these because the price was right! They do the trick for me - cozy and warm - fit well, I'll be careful not to pull the laces too tight (after reading previous reviews). Happy I have these.

Reviewed by Rev Kev from Oklahoma on Thursday, January 9, 2014

I have been buying gear from Sierra trading post for years and never had any problems. These boots were a Christmas gift for my wife and when she went to lace them up the eyelet for the laces ripped the first time she pulled them tight :( I plan to return them, but was disappointed that they were so poorly made that they broke without ever even leaving the house!

Reviewed by Julie from Minnesota on Wednesday, January 8, 2014

I ignored the negative reviews for what I thought was a good deal on some snow boots for Ice fishing. BIG MISTAKE! The boots that came were extremely thin, nothing that I could wear out on the ice. There is probably as much insulation in my running shoes. I will be sending these back immediately. I knew right when I opened them that they were a low quality product.

Reviewed by Marigold from Massachusetts on Monday, December 30, 2013

I ordered a size 7 for my daughter. They said 7 on the bottom of the boot. However, when she tried them on; they were really big. They fit me and I am a size 8. I ended up giving them to someone else. Other than that, they are cute.


Reviewed by Sammy Jo from New Hampshire on Monday, December 23, 2013

Well I got them in, in a heavily damaged box and after I wore them for the first time some of the stitching came off but they are comfterbull but I am some what dissipointed when I ordered I intended to get the other tan ones but the way the ordering page is it's easy to mix up and I relied I had picked the wrong one when it came but the decorative stitching on the back sides have come loose and un raveled the first time I wore them.

Reviewed by Bridget from CT on Monday, December 23, 2013

The boots are very cute, but run very large. I've returned 2 sizes and they still don't fit.

Reviewed by alistarr from VA on Saturday, December 21, 2013

The toe box is very large for women's shoes. Even with winter thick socks on the toe box will be extra roomy. I wish it had been smaller to fit the thin foot of my teenager.

Reviewed by Tanya from New York on Wednesday, December 18, 2013

I am happy with the purchase and the sale cost I took advantage of. They are a little too big however. Alsoy pants don't stay tucked in so the height I wanted taller.

Reviewed by jessica18426 from Pennsylvania on Monday, December 16, 2013

The boots were way too big for my foot and even if I got a size smaller there would be too much space. The boot in general felt like Styrofoam, not a well made boot. Also when I went to tie them to make them a little tighter the hook that you wrap the shoelace around popped off. This boot is not a good choice if you are looking for something waterproof and/or insulated. It's a very cute looking boot but just a weird fit and feel. Definitely not a good snow boot at all.

Reviewed by Ali of Los Angeles from Los Angeles on Tuesday, October 8, 2013

I always read all the reviews, and was worried since there were so many negative ones. But two issues made me take a chance. Most people said the toe box was large, and I needed that due to broken toe problems. I also liked the lacing, since I have a high arch, and closed tops are often difficult to put on and take off. These boots are quite cute, and I wanted to keep them. However, someone commented that there is almost no difference between the left and right boot, and that was the problem. My big toes hit the end of the toe-box, and this became uncomfortable with any walking at all. If you have feet where the middle toes are longer, this might be a great fit. But for my feet, not comfortable after two minutes. Also, some of the lacing holders were beginning to come loose. I guess these are seconds because there are some irregularities. I thought I would be one of the lucky ones who would receive the great boots. You take your chances with these.

Reviewed by Ali of Los Angeles from California on Friday, September 27, 2013

Cute boots. I wish I could use them . Others noted there is hardly any difference between left and right boots, so there is no room for a longer big toe. If you are one of those people with a second toe longer than the first, these might be comfortable. As soon as I put these on, they pinched. Also, the latch for the top tie was already broken. Only needed for a one week ski trip, but knew they wouldn't work.

Verified Buyer

Reviewed by Holly Takemoto from Zimmerman, MN on Tuesday, February 12, 2013

Sent the boots back didn't fir right.

Reviewed by Erin from Colorado on Wednesday, February 6, 2013

Wanted these boots to be awesome but the toe box is humongous and the materials are shoddy. Was so sad because they're really cute. Bummed.