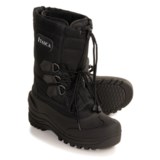 Closeouts. Designed to perform in extreme cold and snow, Itasca's Mountaineer pac boots offer complete waterproof protection and the fantastic warmth of Thermolite® insulation.
Average Rating based on
105
reviews
3.923809
0
5
Verified Buyer

Reviewed by Mountain Man from Vermont on Wednesday, October 21, 2015

Bought for my son. Great price for the size 12 boots. Will have to see how they hold up this winter.

Verified Buyer

Reviewed by MrsMMO from Boston on Wednesday, April 22, 2015

It has been a long winter in New England! My sons spent most of February out in the snow. If next Winter is even close to this, they will be warm and dry in these awesome boots.

Verified Buyer

Reviewed by Working Mother from NoVA on Tuesday, March 10, 2015

Bought these all black boots in a size 8 for my 12 year old son to play in the snow. They did a great job of keeping his feet warm and dry. His only complaint was they are heavy. Overall he really likes them -- especially since they aren't a "weird" color.

Verified Buyer

Reviewed by Granny Fran from Virginia on Tuesday, March 3, 2015

Ordered these for my grandson whom we have found out is out of big kids and into men's sizes. They came perfectly in time for our 8" snow, and because they were perfect for the snow, and kept his feet cozy warm so he took advantage and was able to play outside with his friends for a long time. Very very satisfied with my purchase.

Reviewed by not for wet from Virginia on Sunday, March 1, 2015

The Itasca Mountaineer Winter Pac Boots are NOT waterproof. The sole and bottom few inches are waterproof as they are encased in rubber. However, the rest of the boot is not waterproof at all. If the rubber extended higher up, then I might have kept the boots. However, as designed, wearing these in rain or wet slush for long enough will mean wet feet, because rain paints will not extend low enough to cover the non-waterproof areas. Certainly, any sort of actual immersion in water deeper than the rubber will result in wet feet. I tested both boots in the kitchen sink before wearing them and they both leaked immediately as soon as the water was deeper than the rubber. Otherwise, they seemed like decent boots just to kick around in cold weather. Unfortunately, I need something that will also keep my feet dry.

Reviewed by Andriy-100ProSport from Kyiv, Ukraine on Wednesday, February 18, 2015

Warm, comfortable, great value, but outsole is thin. I would recommend this winter boots model for winter fishing and deep snow hunting.
Removable liner's inner lenght: size US 10- 280 mm, US 11- 290 mm.

Reviewed by wayne from idaho on Wednesday, January 22, 2014

At first glance they look nice but inside is a different story, under the inner liner was a wafer thin piece of cardboard sitting on top of what could only be described as the inside of a waffle iron, the wafer was rubbed raw, so that is how we new the boots had been worn by someone else. When we tried them on you could feel the waffle squares with every step, not comfortable at all the whole heel support either they forgot to assembly them correctly or fill the waffle holes with rubber when they are in assembly....anyone bad pair of boots

Reviewed by JTB from Ohio on Saturday, December 7, 2013

Contrary to other reviews the boots I received ran small.

Reviewed by Lawn bliss from Tennessee on Monday, December 2, 2013

Warm, comfortable, great value!

Reviewed by Allen Ricahrdson from Cheyenne on Thursday, November 21, 2013

I picked them up in the spring of 2013 when I needed a good pair of boots and the saving was well worth it and they are comfortable and light. The lining comes out to get washed, so they don't smell. I can brake trails and shovel walks with dry feet.