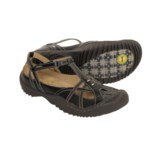 Closeouts. A distinctive melding of sporty, casual and stylish, Jambu's Dune sandals feature a strappy, foot-securing upper with protective rubber heel and toe bumpers and a grippy, all-terrain rubber outsole.
Leather upper and lining
Touch-fasten instep strap
Contoured memory-foam insole
Rubber heel and toe bumpers
Partially recycled rubber outsole
Medium width
Closeouts. China.
Average Rating based on
59
reviews
4.288135
0
5
Verified Buyer

Reviewed by Lee from Melbourne, Australia. on Friday, October 28, 2011

Good sturdy sandal for walking in. Looks good too.

Best Uses: Barbecues, Beach, Everyday, Going Out, Outdoors, Travel, Walking
Describe Yourself: Casual, Stylish
Pros: Breathable, Comfortable, Cute, Durable, Stylish
Sizing: Feels true to size
Width: Feels true to width

Verified Buyer

Reviewed by AdkCeltic from Adirondack Mountains, Upstate NY on Monday, October 24, 2011

My first pair of Jambu's, and I love them! The price was awesome, delivery was within time stated, as always, and they were packaged with care.

They were a bit stiff at the heel, but after a few hours of wearing them at work, they were fine.

Best Uses: Everyday, Going Out, Travel, Walking
Describe Yourself: Casual
Pros: Breathable, Comfortable, Cute, Durable, Stylish
Sizing: Feels true to size
Width: Feels true to width

Reviewed by eswope from Oahu, Hawaii on Wednesday, September 28, 2011

Great looking shoes. Well made, comfortable. terrific walking shoes! I am not a brand shopper, but I love this particular brand. The shoes (almost) always fit like they were made for you. It is always the first thing I look for when I visit the site.

Best Uses: Barbecues, Beach, Everyday, Going Out, Outdoors, Travel, Walking
Describe Yourself: Alternative, Casual
Pros: Breathable, Comfortable, Cute, Durable, Good Arch Support, Stylish
Sizing: Feels true to size
Width: Feels true to width

Verified Buyer

Reviewed by Colorado casual from Denver, CO on Thursday, September 15, 2011

These are really cute shoes. I guess they call them sandals because of the cut-outs around the heel area. My problem is that I have a slightly wider right foot. At first, the shoes were comfortable but after wearing them for about an hour the right side of my right foot was really sore. If only they could be stretched or broken in but not an option since the rubber sole material comes up high on the side of the shoe - no stretching there. Had to send them back. Would buy them again if they came in wide.

Best Uses: Barbecues, Beach, Everyday, Going Out, Outdoors, Travel, Walking
Cons: Chafes, Uncomfortable
Describe Yourself: Casual
Pros: Breathable, Cute, Durable, Stylish
Sizing: Feels true to size
Width: Feels too narrow

Verified Buyer

Reviewed by The Deacon from Manhattan, New York on Tuesday, September 13, 2011

Low cut in back is uncomfortable for me.

Best Uses: Everyday, Outdoors, Walking
Cons: Needs Break-in
Describe Yourself: Casual, Trendy
Pros: Breathable, Loved them on my daughter
Sizing: Feels true to size
Width: Feels true to width

Verified Buyer

Reviewed by Lone Star from suburb of Dallas, Tx on Sunday, September 11, 2011

Looks good with long pants, jeans, and capries. Have worn them on casual Friday at work and received compliements on them. Noticed at end of day the left strap rubbed alittle too much at back of my foot. Eventually this should cease as I've had this happen before with other shoes. Leather tends to "give" and so I anticipate the chafing will stop the more I wear them. Otherwise, these are great sandals and am glad I got them on sale.

Best Uses: Everyday, Going Out, Outdoors, Travel, Walking
Cons: Left strap chafes alittle
Describe Yourself: Casual, Conservative, Stylish
Pros: Breathable, Comfortable, Cute, Durable, Stylish
Sizing: Feels true to size
Width: Feels true to width

Verified Buyer

Reviewed by Nan the traveler from Haskell, TX on Wednesday, September 7, 2011

Love this shoe! Only thing it's a little shorter than most size 8's, but not too short that I can't wear it. Can't wait for cooler weather so I can show them off!

Best Uses: Everyday, Outdoors, Travel, Walking
Describe Yourself: Casual, Conservative, Stylish
Pros: Breathable, Comfortable, Cute, Durable, Stylish
Sizing: Feels true to size
Width: Feels true to width

Verified Buyer

Reviewed by Cincygrl1962 from Cincinnati, oh on Monday, September 5, 2011

Jambi has made a rugged, comfortable, stylish shoe that i get many compliments on. I wear them with shorts, jeans, capris and almost everywhere. I recently wore them right out of the boYx to do miles of walking. I wore no socks and did experience rubbing on both sides of the widest part of my foot. Had I had socks on, that wouldn't have happened. They fit true to size on my wide size 9.5 foot. Also have plantar fascia tis and this shoe provides the cushion and arch support so needed and often not found that is stylish. Thank you Jambu!

Best Uses: Barbecues, Beach, Everyday, Outdoors, Travel, Walking
Cons: Chafes
Describe Yourself: Alternative, Casual
Pros: Breathable, Comfortable, Cute, Durable, Stylish
Sizing: Feels true to size
Width: Feels true to width

Verified Buyer

Reviewed by Raven from Fort Collins, CO on Thursday, September 1, 2011

I loved the way these looked, but the stitching was coming out when I got them and got worse the first time I wore them. I thought maybe it was a fluke so I ordered a second pair and sent the first pair back, but same problem. Won't be buying this brand again, sent second pair back. Too bad since they were so darn cute.

Best Uses: Everyday
Cons: Poor Quality
Describe Yourself: Alternative
Pros: Cute
Sizing: Feels true to size
Width: Feels true to width

Verified Buyer

Reviewed by hollerusc from Monterey, CA on Wednesday, August 31, 2011

I wish they had these in black when I ordered them, but they were so cute online I decided to get them in brown and hope for the best. I have to say, I'm not crazy about the shade of brown...it's too reddish for my wardrobe. They are comfy and otherwise I like the style.

Best Uses: Everyday, Travel
Pros: Comfortable
Sizing: Feels half size too small
Width: Feels true to width