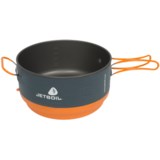 Closeouts. A lightweight, high-capacity choice for large groups, the Jetboil FluxRing Helios cooking pot is made of durable anodized aluminum and features an insulating plastic lid that doubles as a serving plate.
Average Rating based on
11
reviews
4.818181
0
5
Verified Buyer

Reviewed by Boska from Orlando on Thursday, September 10, 2015

Super!!!!!!!!!

Verified Buyer

Reviewed by JJCA from Louisiana on Tuesday, July 28, 2015

Great for our Jetboil stove

Verified Buyer

Reviewed by Becky from washington state on Wednesday, July 15, 2015

Lightweight and packable..love the lid

Verified Buyer

Reviewed by Becky from washington state on Wednesday, July 15, 2015

Lightweight and packable..love the lid

Verified Buyer

Reviewed by S-Works from Durango on Tuesday, March 3, 2015

The Jetboil Helios cooking system has, of course been discontinued and even Jetboil representatives will tell you that they cannot recommend using this large pot with their other compact cooking sytems (questions of stability?) I still feel iit has value as a way to improve efficiency (and thereby reduce fuel consumption) with other cooking systems. I would not consider it a backpacking item and certainly not something a minimalist or ultralight packer would carry, but for car camping or a larger group outing it does a good job of filling the need. Another specialty niche that it fits well would be melting snow for water.

Verified Buyer

Reviewed by Old Scouter from New Mexico on Monday, February 23, 2015

Just what I wanted for larger meals.

Verified Buyer

Reviewed by Katie in Montana from Montana on Wednesday, February 18, 2015

Perfect for oatmeal, soup, and coffee wherever I am!

Verified Buyer

Reviewed by Centexan from west of austin on Thursday, October 2, 2014

I seldom give a 5 star rating. This is a very good product. I think that it is too big to backpack with for most situations. I'd probably take it on a short motorcycle camping trip. Ill definitely take it on car camping trips. It boils water faster and looks sturdy enough and I don't think a dent or two would effect its efficiency. I'm not worried whether it may be a little fragile -- Ill find out soon enough.

Reviewed by David in Kenai from Alaska on Tuesday, August 26, 2014

I'm a big fan of pots with heat exchangers on them because: 1) you save fuel, 2) dinner is ready sooner, 3) snow-melting for drinking water takes a lot of time and fuel and a HX pot almost halves your fuel consumption. I've had this 3-liter Jetboil "Fluxring" pot for 2+ years now and have used it a lot on family and group camping trips.

Yes, this pot is heavier than a 1-liter or 1.5 liter pot that I'd take on a 1 to 2-person trip, but the added volume is very convenient because you avoid doing two rounds of pasta for everyone on the trip and using a larger pot with more "freeboard" means you spill less pasta onto the ground.

For backpacking I always leave the orange plastic HX protector at home and haven't had any problems with the HX getting bent or banged (I bring it along for car camping and canoeing). I often leave the black plastic lid at home, using a piece of aluminum foil or a plate (which also serves as a plate) as a lid.

This pot lets you boil water noticeably faster than a standard pot to the point where I have, at times, gotten it from the garage to bring water to a boil faster on my kitchen stove. That side-by-side comparison of boiling 2 liters in a HX pot and a standard pot really reinforces how much faster it is. When I calculated the fuel savings the added weight of the heat exchanger is balanced by the fuel savings in about 4- to 8-person days and gets even more significant on larger or longer trips. I ALWAYS bring a HX pot if I'll be melting snow on a winter camping trip. You buy the HX pot once, but you save fuel weight and cost on every trip you use it.

Verified Buyer

Reviewed by Big Al from COS, Co. on Monday, April 7, 2014

Needed an efficient pot to boil larger volumes of water in for spaghetti; this is the win. +++ for the fins on the outside; so efficient; and yes; the surrounding greenery probably digs the water when it cools also.

THX.