JKL

Sizes

Style

Gender

Sleeves

Colors

Reviews

Events

Prices

Search Within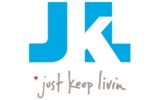 About

the

JKL

Brand
Founded by actor and philanthropist Matthew McConaughey, JKL (Just Keep Living) is a brand geared toward active, adventurous people who try to live to the fullest every day. Aside from making great-looking casual apparel for men, JKL clothing is also an important part of the JKL Foundation, which supports after-school fitness and wellness programs for inner-city children. Whether you're looking for a comfortable pair of utility shorts, an easy-wearing polo shirt or a sporty zip hoodie, chances are JKL clothing has something you'll love. Stay comfortable, look good and Just Keep Living.
Compare at $60.00
Closeouts
Compare at $50.00
Closeouts
Regular $24.99
Compare at $69.00
Closeouts
Reviewed by Joe C from New Rochelle, NY on Sunday, December 4, 2016

This is a nice shirt but the XL is not very XL. I gave it to my son who is a medium and except for the arms it fits him just fine. Depending on what time of year it is, and whether I'm indoors doing free weights or outdoors doing cardio, I fluctuate between a 48 - 46 shoulder with a broad chest. XL has always been my go to size and a safe bet depending on the brand. For a period there the XL size was a little too roomy but I guess the times are changing in fit again so if I'll have to read the ratings and product descriptions a little closer to figure out what to order. Nice shirt it just runs small.

Verified Buyer

Reviewed by Colin from Oregon on Saturday, December 3, 2016

This is a modern take on a classic flannel. Mid weight flannel with a modern slim fit and quality construction. Fit is slim and long so if you like to tuck this is a great choice or is great untucked if you are tall. I'm 6'1, 180lbs, athletic build and the large fits nicely.

Verified Buyer

Reviewed by KJ in SD from San Diego on Wednesday, November 23, 2016

I like the weight (light) and style of these pants. Seems like they'll be nice and comfortable.
Receive email updates for new JKL items