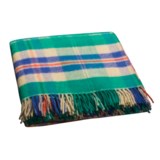 Closeouts. Take your Johnstons of Elgin throw blanket of supersoft lambswool anywhere -- a football game, a fall picnic in the park or on road trips.
Average Rating based on
266
reviews
4.770676
0
5
Verified Buyer

Reviewed by Raymond C from PA on Thursday, August 21, 2014

Perhaps not the densest wool, but functional.

Verified Buyer

Reviewed by Driver1 from PA on Monday, August 11, 2014

I bought a few of these same throws a few years back. I recently bought one more as a gift. They are the same size, but half as thick and the fringes on the edges are skinny and look like they will not wear well. Disappointed.

Verified Buyer

Reviewed by Melu from Dallas on Monday, July 21, 2014

I have bought several Johnstons of Elgin lambswool throws over the years, and while this one is pretty and soft, it is also noticeable thinner and lighter than most of the others ones I have. Whether this is just one blanket or whether the quality is declining in general I don't know but knowing the thickness of my other throws I cannot give this a full 5 stars.

Verified Buyer

Reviewed by Bargain Shopper from Knoxville, TN on Tuesday, April 15, 2014

This is the third "throw" blanket that I have ordered from Johnston's of Elgin. These are extremely warm and versatile. The wool is very thick weave, almost thick enough for a rug and yet soft and cozy.

The colors are very vibrant. With the horrible winter that we have experienced in the south this year, I have used it daily while watching T. V. or just reclining. I have the brown and orange combination for my den. I also ordered the green, black, and red plaid for my living room. The latest addition is the pink, yellow, and mint.

After almost two years of use, my first one still looks quite new, even after daily use.


Reviewed by small town Mom from Pennsylvania on Tuesday, March 25, 2014

This blanket is much prettier than picture . Soft and the warmest blanket I have ever purchased while being feather light !

Reviewed by xf from china on Monday, March 10, 2014

Very good blanket, it is very soft, I like it very much.



Reviewed by TIMMNJ from NJ on Wednesday, March 5, 2014

Perfect for sitting in a slightly chilled room. Bought one for each of my sisters as well.

Reviewed by The Demo Guys from Hartford, CT on Tuesday, March 4, 2014

Soft, smooth and comfortable. The colors are brilliant and on the mark. A wonderful product. We are using it as a house warming present, for a young woman's first home.

Reviewed by Shorty from Los Angeles on Friday, February 21, 2014

Although this blanket is not very thick, but it is very warm, and feel so soft to touch.
I have one on my couch and one in my car. It keep me warm all the time. I like them.
Also they are hard to find in store.

Reviewed by Bananas from Wa/ca on Sunday, February 16, 2014

Bought second one for sister

Reviewed by flew the coop from ky on Sunday, February 16, 2014

This blanket is very warm and light weight at the same time. If you can get it at a low sale price buy several. They are quite expensive elsewhere.

Reviewed by frankie from Murrieta, Ca on Friday, February 14, 2014

Gorgeous colors, soft, and large enough for my tall husband to snuggle up to.

Reviewed by Indi from Indiana on Monday, February 10, 2014

this throw/blanket is generously sized, a bautiful plaid (pink and gold, not the color shown) and a very nice quality wool. lightweight but perfect for cozy reading or an evening of home entertainment. also makes a nice light toss over bedding for very cold nights.

Reviewed by Tom from Memphis on Friday, February 7, 2014

I first ordered this blanket around a year or so ago, and it has worn well, is quite warm, beautiful, and distinctive. In fact, I liked it so much that I ordered several more as gifts this past month or so. This is a quality blanket (the Scots label it a "Rug"), and the quality yarn is soft and the colors vibrant yet muted at the same time. It is warm, and barely covers one large person (but two could snuggle closely under it up to a point). I would highly recommend this blanket, but wish they offered it in a larger size.

However, I must state I'm a bit disappointed on my latest blanket order from Sierra (order # E18852129). As I mentioned, I have ordered several of these blankets in the past month (I have presented them as gifts to friends). In this latest order, one of the blankets (the Navy one) had no plastic covering (like the others) and it appears to have been refolded and it appeared ruffled (and possibly soiled) with the tags just lying loose in the box. I suspect it was a return that was sold or something happened at the warehouse. I communicated the problem with one of the blankets via an email to Sierra Customer Service (in response to their email to me about the order being delivered), and never received a response. In any event, I cleaned it up, wrapped and presented it as a gift that was much appreciated. But I was both surprised and disappointed that Sierra didn't at least respond to my email, as I have been a good customer of theirs for several years.


Reviewed by VanessaM from Colorado on Thursday, February 6, 2014

Ordered this and loved it so much that I ordered more and now have purchased four total for myself and gifts! All four purchases were the pink/hot pink color and they are stunning. The colors are exactly as they appeared in the photo - fabulous in person.

Reviewed by Janice Amelia from New jersey on Monday, January 27, 2014

My daughter had bought two of these & I loved hers so much I ordered two myself. These are so soft, they actually FEEL LIKE CASHMERE. They are also a good weight. With good quality wool you don't need a heavy weight to keep warm. I ordered the hot pink one. It is gorgeous. It doesn't go with my colors but it goes with my "Girly side". It makes me feel happy every time I use it. Definitely recommend these, you will not be disappointed!

Reviewed by sam from Maryland on Friday, January 17, 2014

Very nice at any price. Thick and soft, larger than expected. A real bargain on sale.

Reviewed by salray from washington on Saturday, January 11, 2014

We really like this colorful throw blanket. It is soft and the colors are wonderful.

Reviewed by Rochesterkitty from Texas on Friday, January 10, 2014

I loved these so much I bought a few for gifts. Great colors and the quality is fab. Absolutely a must buy if you need a throw....they are a little pricey even on sale,but worth every penny

Reviewed by Earthwoman from Chicago surburb on Monday, January 6, 2014

I've bought these utility rug blankets before (5 of them!) and have given them the highest rating, so I thought a 100% lambswool utility rug would be a great gift. However, the latest version is noticeably thinner and lighter than the same blankets I bought just a couple of years ago. These are still nice blankets, but it doesn't seem right to use the same rave reviews for what is clearly a lesser product. The colors are also now brighter and more "contrasty" than they used to be. Muted was better. Heavier was better.

P.S. I agree that these utility rugs are washable. Just hand wash or use the delicate setting on your machine, in cold water, and air dry (no heat).

Reviewed by Dorothy-from-Oz from Kansas on Friday, January 3, 2014

The temperature is in the teens and with the 35 miph winds the windchill it is in the single digits here. I have been chilled to the bone until...my new lambswool throw arrived an hour ago! I am wrapped up in as I type and I am warm for the first time in hours! The blanket is soft and only going to get softer with use. The colors are more beautiful than the picture shows. I could not, not, not be happier with the blanket.. After only one hour of use, I highly recommend!

Reviewed by madcaphorse from NYC on Thursday, January 2, 2014

I got three as gifts and I am returning two. The label says "rug" so it is misleading. My husband said he wanted one for picnics (very romantic-lucky me)...but don't think you can wrap your self up and snuggle in these...too itchy.

Reviewed by Coastal Artist from New Hampshire on Thursday, January 2, 2014

I had previously purchased 3 Elgin Blankets from Sierra Trading Post over the last couple years, and my family loves to curl up under them. This Christmas I bought three more for gifts, and immediately noticed a difference in thickness and weight of these new ones. They have the exact same labeling as our heavier Elgin blanket (The Utility Rug). My prior purchased blankets weigh 2 lb 10 oz. each and these newer blankets weigh 1 lb. 13 oz. each. Had I known about this difference, I would not have bought them, but they were gifts and those that received them were delighted.

Reviewed by Bargain Hunter from Virginia on Thursday, January 2, 2014

I purchased two of these at a deep discount for Christmas presents. They were different colors and each was beautifully designed with clear lovely shades that created stunning throws. The texture was pretty thick although not like older wool blankets of long ago. Nevertheless, I was pleased with the wool, thickness, colors and texture. The recipients of these throws loved them and wanted to order more! So I am giving these 5 stars.

Reviewed by CAD from Bluegrass country on Monday, December 30, 2013

This throw replaces nice soft fleece blankets that are less stylish in the context of a new leather couch. Pleased that the fabric is not considered "too itchy" by picky other family members, and color choices available made it possible to add a splash of color to the room. next test - washing at home... Good quality, great price, thanks STP!

Reviewed by big guy from Washington State on Friday, December 27, 2013

It's a great throw!

Reviewed by Hiking Harry from Lewiston, ME on Wednesday, December 25, 2013

I read the enthusiastic reviews and bought two of these "rugs" as gifts. I assumed they would make nice throws on the couch or chair. My wife did not care for the colors or the material. I would not want this perceived as a negative review. The quality seems very good and the price certainly seemed fair. My wife commented that she would prefer a softer material and a more neutral color. These are all very bold plaid style. So back they go to STP. You cannot beat the STP return policy, and I am sure someone will love these throws, but my lovely wife did not.

Reviewed by Thunder Chicken from San Diego CA on Wednesday, December 25, 2013

Phenomenal. Beautiful colors, soft, and keeps you snuggly warm. It has taken me 40 years living on this earth to figure out the finer things in life and this is definitely one of them.

Reviewed by Munch from New Jersey on Monday, December 23, 2013

Love, love, love this blanket. Johnstons of Elgin is known for their fine wool, and this blanket did not disapoint. The one I got is pink/purple, perfect for the room it is in. Perfect for wrapping around you when you are reading or watching tv. It is extremely soft and very well made. I highly recommend any of their products, but most specifically this one.

Reviewed by Nicole from Seattle on Thursday, December 19, 2013

For wool, it's VERY soft. I don't think it's itchy at all, but I can see how someone might think it's a little. I think with a little bit of use that tiny bit of itch with disappear. I bought it because it's been very cold lately and I just wanted something that would add a little weight to my down comforter, and it does this very nicely without making it feel overly hot. Just remember that it is a 'throw' blanket, so it is a little lighter and smaller. Perfect for what I needed, though.