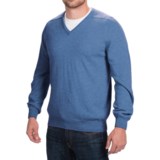 Closeouts. As the mercury drops, enjoy the tasteful pleasures of superior Scottish cashmere found in this touchably soft V-Neck sweater. Johnstons of Elgin uses only the finest hair of Himalayan goats and spins it into timeless apparel.
Average Rating based on
92
reviews
4.619565
0
5
Verified Buyer

Reviewed by Avid shopper from Illinois on Tuesday, February 9, 2016

This would have been a great addition to his wardrobe if it had only fit. The x-large fit, but not as loose as it should have been. The cashmere felt wonderful and was of a good weight

Verified Buyer

Reviewed by Cashmere Lover from California on Wednesday, December 30, 2015

A really well made traditional sweater. A great winter treat!

Verified Buyer

Reviewed by Wayne the fisher from northern ohio on Wednesday, December 2, 2015

this is an addition to my other johnston sweaters. they are all great

Verified Buyer

Reviewed by jacob from New york on Saturday, February 28, 2015

I've bought 5 sweaters. The first is the real Johnston cashmere. The rest are not the same label and definitely not the same fit and quality. I returned them.
Very disappointing ;)

Verified Buyer

Reviewed by From the Nation's Capital from Virginia on Tuesday, January 6, 2015

The Johnstons of Elgin V-Neck Sweater is a beautifully crafted sweater from Scottish cashmere. It had been awhile since I had invested in such a piece. I will enjoy it immensely in the coming months as winter descends upon the Lower Forty-Eight.

Verified Buyer

Reviewed by CincyNE from Ohio on Tuesday, December 2, 2014

Excellent fit, nice feel, very good weight and warm.

Verified Buyer

Reviewed by Dimako from Upstate, NY on Sunday, November 2, 2014

Liked everything about it before I put it on. It was humongous in all directions. The other one I got in the same size fits perfectly.
It went back

Verified Buyer

Reviewed by BuyerJohn from Michigan on Tuesday, September 30, 2014

I recommend that you go to the Johnston's website to find your correct size. I did and the fit is perfect for me. The color of this and similar seem to be darker than shown online. The cashmere is a quality mid-weight compared to the 2-ply and other very thin luxe cashmeres. The hand is outstanding and no noticeable pilling after several brief wearings. The classic shoulder style seems uncommon but I like it as a hint of traditional.

Verified Buyer

Reviewed by Doc David from Missouri on Monday, June 30, 2014

Excellent sweater. Color is rich and material is a top quality cashmere, supply and thick.

Verified Buyer

Reviewed by Palm springs golfer from Jackson, WY on Monday, May 19, 2014

Great quality, fits medium size well, my favorite sweaters.

Reviewed by Rose from California on Friday, March 21, 2014

This sweater was a big disappointment. My husband owns several cashmere sweaters and none of them have ever pilled up the way this one does. After removing the pilling twice it still looks terrible and I'm afraid it is going to have to go in to the charity bin as it just looks so awful. I was very disappointed in the quality since it shows a retail value of over $400. it looks like a cheap poor quality sweater. I paid close to $200. for this.

Reviewed by NH Sailor from Central NH on Friday, January 3, 2014

This sweater is excellent. The cashmere is much softer and more plush than the products coming from China. It is a quality item

Reviewed by anonymous coward from la area on Monday, December 16, 2013

this is a very well made sweater. the two-ply cashmere is perfect for socal winters. the M sizing was accurate, so no unpleasant surprises there. i am curious to see how this piece wears over time.

Reviewed by Outback adventurer from New South Wales, Australia on Wednesday, June 26, 2013

I have recently purchased a Johnstons of Elgin V-Neck Sweater (Scottish Cashmere - for men). This item represents my first purchase from Sierra Trading Post and would have no hesitation in recommending the company to my family and friends, similarly I will place further orders with the company. The sweater is as described, however I thought it may have been a little darker in colour. The quality is outstanding when comparing it to wool but this is my first cashmere garment.

My decision to order this item was influenced by other product reviews and the only negative I would mention would be the international shipping cost of $61.

In summary the item was as described, the communication, packaging and shipping were first class with the item having been received within 3 days of purchase.

Reviewed by Colorado Skier from Manitou Springs, CO on Thursday, March 21, 2013

Great sweater for a great price! I normally am an extra large, but ordered a 2X this time and the fit was a bit more relaxed -- fit perfectly.

Reviewed by Dave from China on Tuesday, March 19, 2013

The quality is good, but what really annoying is I received a wrong item.

Verified Buyer

Reviewed by Colo Skier from Manitou Springs on Tuesday, February 26, 2013

I've bought several Johnstons of Elgin sweaters for myself and my wife over the years. They do not disappoint !!

Verified Buyer

Reviewed by jenn5810 from Eden, nc on Wednesday, February 20, 2013

Good product

Verified Buyer

Reviewed by Two Rock from Baltimore Maryland on Monday, February 11, 2013

Great sweater for the cost. High quality and the colors are of nice shades.

Verified Buyer

Reviewed by sadie's mom from Chapel Hill on Saturday, February 2, 2013

The quality of the sweater was very nice, but it was the wrong item. When I contacted customer service, they told me that the sweater I wanted was sold out, but that I could send the vest back.

Verified Buyer

Reviewed by Mommerukaluko from Los angeles on Monday, January 28, 2013

This was a gift to my husband. It is a lovely color and multiple layer cashmere. The sweater is very high quality and I would definitely buy more.

Reviewed by kawhona from Scottsdale on Monday, January 28, 2013

Great medium weight sweater. I am a portly guy ex football player that doesn't exercise much anymore so I am a heavily built character. I ordered one chest size up because of the reports of this item running small and it fits perfectly. A bit heavier than I was used to most of my cashmeres are from Land End. Will buy more. The purple is a bit on the grape side but, I like it anyway.

Verified Buyer

Reviewed by bob the fisherman from ohio on Monday, January 21, 2013

daily wear both office and after hours

Verified Buyer

Reviewed by FROG from MICHIGAN ON AN ISLAND on Wednesday, January 16, 2013

CANT BEAT THE QUALTY OR THE PRICE

Reviewed by T.L. from LEAWOOD KANSAS on Friday, January 11, 2013

These are fantastic sweaters and they are a tremendous value. The product is wonderfully designed and is classic but with a modern flare. I've bought three of them in the last month. They are made in Scotland and becasue of that they DO NOT PILL like Italian Cashmere does. The colors arrive slightly different than the picture but I was NOT disappointed. They fit me well and I would suggest that if you are between sizes that you go up vs. down. BUY ONE OR SOME TODAY YOU'LL BE VERY HAPPY YOU DID

Verified Buyer

Reviewed by Pekingese lover from Philadelphia on Wednesday, January 2, 2013

I gave this sweater to my boyfriend, and he loves it. The color is beautiful, and the cashmere is very warm, soft and high quality. I've hand washed it once so far, and it did not shrink or bleed any dye. He wears it all the time and loves it.

Verified Buyer

Reviewed by R from Oak Ridge, TN on Sunday, December 30, 2012

Very comfortable.

Verified Buyer

Reviewed by Christmas shopper from Cleveland OH on Tuesday, December 25, 2012

I gave this to my husband...he has another in blue, this one in red..Quality excellent, looks great on him, feels good and fits well. He is pleased!!

Verified Buyer

Reviewed by Torpedo Peet from New York City on Sunday, December 16, 2012

Absolutely love this sweater, wonderful quality, fit, extremely warm, so much better than equally priced/more expensive chinese alternatives. Mild amount of pilling on the inside sleeve where it rubs against the body, no more than expected.

Reviewed by al from new york, ny on Thursday, December 13, 2012

This sweater is an exceptional value, with quality of craftsmanship thats really only seen anymore in garments of twice to five times the price. There is a world of difference between scottish cashmere and its alternatives. It's extremely soft, though not as soft as some looser weaves of lesser quality, it is warmer, more durable, less likely to pill and better looking. Mine will be my primary sweater from now on.