Johnstons of Elgin

Style

Gender

Sleeves

Colors

Reviews

Events

Prices

Popular Johnstons of Elgin Products

Search Within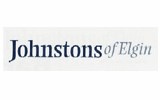 About

the

Johnstons of Elgin

Brand
The inherent luxury of pure Scottish cashmere is borne out in every garment that arrives from the legendary mills of Johnstons of Elgin - a centuries-old family firm doing business in the far North of Scotland since 1797. Using the finest cashmere and superfine wools in the world, Johnstons processes its fibers in a rare "vertical mill" system, where all of the dyeing, spinning, weaving and finishing are carefully controlled on site. Johnstons produces a range of cloth, knitwear and home furnishings at this historic plant - products that are probably best known for their irresistible softness to the touch. The secret, Johnstons believes, is in the finishing, a process still enhanced by the super soft, clear water from nearby River Lossie.
Verified Buyer

Reviewed by moleroja from Olympic Peninsula on Wednesday, January 18, 2017

I fretted about spending even this much on a blanket, but after looking at the Johnstons of Elgin website, I decided to try it because of its closeout price...way, way less than retail. The blanket is just scrumptious...it is draped over my lap right now as I type this on a rainy, cold Pacific Northwest day. The colors are beautiful, the cashmere is dense and soft. I love it

Verified Buyer

Reviewed by Danny from Select on Wednesday, January 11, 2017

Good knitting fits perfectly a little lighter than picture

Verified Buyer

Reviewed by Wendy from SF on Tuesday, January 3, 2017

This is the third Johnstons of Elgin sweater I've purchased--the first two were cloud-soft and wonderful. This feels like department store, mediocre stuff--nothing like the others I've bought.
Receive email updates for new Johnstons of Elgin items