Josef Seibel Reviews

Popular Josef Seibel Products

Popular Josef Seibel Searches
One of the leading shoe manufacturers in Germany, Josef Seibel is run by fourth generation artisans dedicated to premium quality materials, excellent workmanship, and every technological advance that can be translated into comfort for your feet. Built for all-day, any-occasion comfort for your feet, Josef Seibel footwear - in styles that work, shop and stroll - have rightfully earned their reputation as "The European Comfort Shoe."
About the Josef Seibel Brand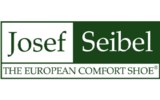 Verified Buyer

Reviewed by shopoholic from WA State on Tuesday, August 30, 2016

Beautifully made. Always the best from Joseph Seibel.

Verified Buyer

Reviewed by Suzanne M from Tennessee and Maine on Monday, August 29, 2016

Attractive and excellent for walking!

Reviewed by mtnmom from Boulder Creek, CA on Friday, August 26, 2016

These shoes were comfortable right out of the box. I put them on, and it was as though I'd put my feet in a container full of cotton. They are so so soft inside (I wore them w/out socks). I have had metatarsalgia in one foot, and a stress fracture in the other, so I have to be super careful with the shoes I wear, and make sure they have plenty of support. This is my first pair of Josef Seibel shoes, and I must say I'm super happy. I've been wearing these all day, and haven't felt any pain in my feet. Also, with many shoes, if I don't wear socks, the top of the heel rubs on the back bone and causes blisters and problems. Not these, they are super comfy. Did I mention they are extremely soft inside?! Runs true to size.

Reviewed by Pavelek from CT on Tuesday, August 23, 2016

This has been my favorite sandal for about 10 years and now when i would like to purchase couple more pairs they are sold out.......... I wish there would be a way that I can purchase another pair. This is my favorite shoe for driving also.

Reviewed by bonnie from California on Tuesday, August 23, 2016

I bought these sandals and didn't have a chance to break them in before taking them on a European vacation where I walked A LOT and these were the only shoes I brought. I wore them for 2 weeks straight and walked mile upon mile upon mile on cobblestones, trails and roads. I couldn't believe how comfortable they were/are. I'm still wearing them! They did rub a little bit on a top edge, but that stopped. I've never been so happy with a shoe!

Verified Buyer

Reviewed by Mary from Florida on Monday, August 22, 2016

I already had 2 other pair of these shoes. Therefore, I did not hesitate to order 2 more when I found the Sierra Trading Post had them at a fraction of the retail price! It was one of the best all time buys of my lifetime with the most incredible customer service! 5 Star all the way!! :)

Verified Buyer

Reviewed by nannew from OH on Monday, August 22, 2016

I was thrilled with my new Josef Siebel's . . . As an "older" woman, I still want to be fashionable, yet need to take great care of my feet . . . These shoes fit the bill. Comfort beyond belief . . . Great arch support which is my number 1 need.

Verified Buyer

Reviewed by Shoe nut from California on Saturday, August 20, 2016

The straps on these sandals are place so that my little toe got caught between the first and second straps. Not engineered correctly and most uncomfortable as a result.

Verified Buyer

Reviewed by caramia from Florida on Sunday, August 14, 2016

I have wide feet and the buckle adjustment is always a great option for me. These adjust to any width, have a significant arch support, and are very comfortable. Was the perfect walking sandal to go with just about anything. Seems well made and feels solid on my foot. Highly recommend for that casual, comfy sandal.

Verified Buyer

Reviewed by outdoors Barb from Cold Spring, MN on Monday, August 8, 2016

I loved these shoes when I removed them from the box. The red was especially beautiful. I have a bunion, not wide feet, but the shoes were too small all around for my foot. I ordered European size 40 which was supposed to correspond to my size 9.5. I will try the next size as I really love the shoe. They are sporty and well-made but more grown-up than Converse, etc.