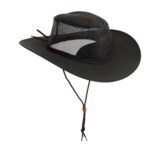 Closeouts. Thanks to a breathable mesh crown, the Townsville hat from Kakadu Australia is a great companion for warm-weather adventure.
Average Rating based on
138
reviews
4.108695
0
5
Verified Buyer

Reviewed by Pam from new mexico on Monday, April 6, 2015

I measured my head before choosing the size, but must have done it wrong. This great hat arrived but didn't fit. I was then so disappointed that there were no other sizes available. So I ended up paying a bunch of shipping costs with nothing to show for it.

Reviewed by gulfbreeze from FL on Friday, March 13, 2015

It's no surprise this hat has no sweat band when the pic shows through the ventilation it doesn't have one (or at least it would be impossible to have one of any consequence). But for the most part, I don't notice any difference (and I shave my head so no hair to buffer any perspiration). Perhaps that makes the lack of a sweatband on this Kakadu less noticeable (and perhaps better) for me since I simply get more air circulation to my scalp.

Also note that while the poly fabric may be UPF 50+, it is for certain the ventilating fabric on the sides of the crown is not even UPF 50 since the ventilating fabric covers approx. 50% of surface area at most. A UPF 50 rating translates to no more than 1/50 of UV rays penetrate the fabric (meaning ~98% of UV rays are being blocked, and ~2% of those rays are transmitted through the fabric). Kakadu's advertising of UPF 50+ means they claim less than 2% UV transmission. So since the ventilating fabric covers perhaps only 50% of surface area, effectively such fabric has a UPF rating of ~0.

Also note that this minimal UPF rating applies to ANY hat that has ventilating fabric with substantial holes.

Given this hat's limitations, I use it for specific applications and it works ok. Living in brutal FL sunshine it is definitely the last hat I would ever choose for wearing on mid-summer days. Unlike some other reviewers, mine came true to size in a Large.



Verified Buyer

Reviewed by JBS from TCm MI on Thursday, March 5, 2015

I bought my husband this hat last year or so, and he wore it a lot in hot weather. However, he lost it on a recent trip. He and I liked it so much I just bought him another. This is a ventilated hat with an attractive, sporty look. It keeps its shape and travels well - until you forget it in the overhead bin of the airplane. Of course, it might well be still traveling! Good hat.

Verified Buyer

Reviewed by Terry from Sunny California on Thursday, March 5, 2015

For years and years I have opted to wear visors rather than hats because even straw hats made my head too hot when worn continuously on warm days out in the sun. But when I saw this hat I noticed that it was made of super light material and the entire side band below the top/crown is perforated to allow for major ventilation. I tried it, bought it, love it. It shades better than a visor and keeps my head cool, too. Comes in multiple sizes and fits my head like a glove.

Verified Buyer

Reviewed by Nancy from Arizona on Monday, February 23, 2015

Great light weight hat. I got the small and it fits just right. I wear it while I'm working in the desert and it's perfect for blocking out the sun

Verified Buyer

Reviewed by terry from San Diego on Tuesday, November 11, 2014

I bought one of these hats last year and it works so well, I bought 2 more. I have recommended this hat to several of my hiking friends and the love it as much as i do.

Reviewed by ksfishgirl from Kansas on Monday, October 27, 2014

I love the shape of the hat, and the fact that it's lightweight. I think it'll be perfect for summer. The only drawback so far is that it's so lightweight and flimsy that it feels a little cheap. I'll still wear it, and it's an attractive hat otherwise.

Verified Buyer

Reviewed by mike from plum island on Thursday, September 25, 2014

This hat at a great price. Wanted a hat that would protect the top of my head with ever thinning hair but not trap heat. This hat works great. No sweating while wearing hat in full sun. Hat fits great and does not come off in wind.

Verified Buyer

Reviewed by NormanU from South Jersey on Tuesday, August 19, 2014

I searched around in area stores and online until I found the Kakadu. It has all the features I wanted - wide brim, e-tra large size, good price, light weight stylish. It is exceptionally comfortable. I have a big noggin and it is a great fit for me.

I noted in the reviews prior to buying that it didn't have a sweat band. To be more accurate, it has no hatband at all. Never had even a ball cap without a hatband but it isn't any less comfortable because of that. Remains to be seen how that may or may not effect sweat stains. It does have a half moon shaped flap in the inside front of the crown which I suppose helps with sweat. You can see that flap in the pics. Holds its shape nicely. Taking it on a golf vacation in the fall so we'll see how packable it is at that point.

Really a great hot weather / sun protection hat. Highly recommended.

Verified Buyer

Reviewed by Fractals rule! from Nevada on Friday, July 18, 2014

Looks aren't everything...but it helps to have a canvas hat that fits your head, breathes, has a wide brim and stays on in the wind...so lookin' good can't hurt!
Don't know how "packable" it is, but it is flexible enough to shape, so you can work some character into it.
It's an "outback" style hat--sort of like a cowboy hat but definitely not western.
If this style goes with your personality--then get it. The price for quality is very good and it's extremely functional here in the desert.