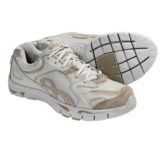 Closeouts. Reclaim your energy to enliven your walking routine in Kalso Earth's Exer-Walk shoes. The ultralight walking shoes provide excellent arch support and cushioning, and the outsole features deep flex grooves to promote forefoot flexion.
Average Rating based on
30
reviews
3.866666
0
5
Reviewed by frankie from Oklahoma on Tuesday, February 18, 2014

The shoes are a bit too short, I think, although I ordered the size I always wear. The problem with the "inverted" heel, for me at least, is that it makes the back of the shoe so deep that the top of the back rubs my heel, which slips as I walk. I thought the upper would be soft, but it's hard and unbendable. A doctor recommended I get "earth shoes" so I thought I'd give them a try. This pair didn't work. Maybe another style would. I don't know where to get them locally, but that's probably the best way to buy them.

Reviewed by TexGal from Texas on Friday, December 6, 2013

The soles are slippery on some surfaces. Had ti quit wearing.
They lack the nice cushion feel of kalso earth kinetic . A it narrow in the toe box too imho.

Reviewed by Pegge from Idaho on Saturday, November 16, 2013

I recently purchased my third pair of Kalso Earth Exer-Walk shoes for women. I walk over 1,000 miles per year, most of those miles in these shoes. A pair lasts about one year, which says a lot about their durability. I like the arch support and the lower heel. I think they improve my posture and feel good while walking.

Reviewed by B with Knee Problems from Canada on Wednesday, November 13, 2013

I love all my Earth sandals purchased over the years and wanted to try the shoes. I ordered my usual 5.5 size and found the shoes were too big. I am returning these and decided to stick with regular running/waling shoes.

Reviewed by Horsesandhounds from Central Montana on Tuesday, October 15, 2013

I love the fit and the way my legs feel after walking. I bought a 2nd pair so that I'd have one for indoors, one for outdoors. In normally wear size 6.5 to 7, and ordered size 7 in this shoe.

Reviewed by Matoms from Sanford, NC on Thursday, October 3, 2013

I work on my feet 12 hours and 3 times a week and this is a great pair that helps me be on my feet all day long without discomfort or foot pain. I can use it to walk, run or jog and it is very comfortable.

Reviewed by Evee NYC from New York on Monday, September 30, 2013

These are pretty comfortable to walk in, I have a "mystery" soreness in my left foot that needs a deep toe box. I loved the Earth ReLieve style, but they don't seem to make them anymore. I followed the advice of other reviewers and ordered a half size larger at first but they were too big - returned for my normal size and they fit perfectly! I deducted one star because these ARE a little stiff! Hope they soften up withwear.

Reviewed by Avid Gardener from Connecticut on Friday, September 20, 2013

Hadn't worn Earth Shoes since the 70's. Still comfortable, but with better looks and style.

Reviewed by NVH from Thousand Islands area of NNY on Wednesday, August 28, 2013

These shoes are comfortable. The negative heel is hardly noticable once they are worn for even a short period of time. They have a wider toe area than most shoes I own. I am generally a 7 1/2 B or medium width and find these a bit wide but don't have a problem with this as I like to wear socks when walking. I got a size 8 for this reason and they fit well with socks. They arrived promptly, packaged very well- box within a box. They look like they should last well.

Reviewed by HoosierDogWalker from Indina on Monday, August 26, 2013

Looking for a replacement for Earth's Aspire. Decided to risk it and these work well.
For people with plantar fasciitis, this shoe give good support and won't let you pronate in.
They're certainly not gorgeous or trendy but if you need a supportive walking show for working or walking, these should do it -- True to size and width. All Earth's ARE DIFFERENT - BC ONE WORKS WELL 4 U, DOESN'T MEAN THEY ALL WILL.