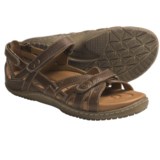 Closeouts. If it's unquestionable comfort and style you're after, look no further than Kalso Earth's Implicit sandals. These classically chic sandals let your feet reap the benefits of a leather-wrapped, BioFoam®-cushioned footbed, which places the foot at an incline to aid posture and promote a healthier gait.
Average Rating based on
37
reviews
4.270270
0
5
Reviewed by Gwen from Missouri on Friday, December 27, 2013

These sandals were comfortable & I had no need for more than one break-in period before wearing them all day. They provide great support, which is most important to me, & are true to size. Just what I wanted!

Reviewed by Karla from MN on Thursday, October 3, 2013

I love these sandals. I already had them in black and decided to order them in brown too. What I love most are the 3 adjustable straps so I can get a perfect fit. I only wear kalso earth shoes so I feel like now I NEED the negative heel. My only complaint with this particular pair is they make an awful squeak noise with every step. My black pair doesn't do this. I am so hoping the noise will go away over time, but for now it's really irritating and embarrassing if I'm in a quiet place. Still, the comfort of the shoe wins out and I will continue to wear them.

Reviewed by shoe lady from georgia on Tuesday, August 20, 2013

takes a few days for your feet to adjust to them, but worth the effort .

Reviewed by Jean from Michigan on Sunday, August 4, 2013

I am truly happy and totally satisfied with these shoes. I love Earth shoes to begin with. I have very bad knees and they really stabilize your knees when walking. These are true to size and have three straps with velcro so you can adjust to fit comfortably. I wear wide and have no problem with these shoes and they are very cushy. I would order them again in a heartbeat.

Reviewed by trekkergirl from Florida on Tuesday, July 30, 2013

I love these sandals. I walked for miles in them on my visit to Maine. No breaking in was necessary. The sizing was true to size. I have a wide foot and love the velcro strap.

Reviewed by Walking on Clouds from NY on Sunday, July 14, 2013

OMG!! These sandals are the most comfortable sandals that I have ever tried on. Once you slip your feet into these sandals you will never want to take them off. The footbed is generously cushioned making every step feel as if you are walking on air or on fluffy pillows. I wish they were in black as I would have bought a second pair. I highly recommend these sandals.

Reviewed by BTDT from Gainesville, FL on Tuesday, July 9, 2013

These just were not comfortable, putting too much pressure on my heels. I sent them back.

Reviewed by dben9 from Moreno Valley, California on Saturday, July 6, 2013

First of all, I love Kalso Earth shoes. I have many pair and I am always a true 7.5 in them and I appreciate the way they continue to manufacture true to size. These looked cut online, but the pictures don't do them justice! They are absolutely beautiful, wonderful craftsmanship in the leather and the stitching. The forefoot straps are nice and snug for someone with narrow feet like I have, but also plenty expandable for a wider foot. The heel is well seated and the strap around the ankle is adjustable for a good, secure fit. They feel absolutely great for walking and I actually wear mine for all my day to day activities. They are so comfortable, good support and I think they are just beautiful!

Reviewed by Bev from Florida on Friday, June 28, 2013

When I first received them, I couldn't stop looking at them- the craftsmanship was superb.

When I saw them on the Sierra Trading Post site, I liked that they would cover my heel. However, I was concerned that they might cause a blister on my bare heel. I have worn them quite a bit, and they're just fine. They have three different ways to adjust them.

Very comfortable; I couldn't be happier with them!

Reviewed by Mary from New York on Thursday, June 20, 2013

These Kalso Earth sandals (brown Implicit style) are soooo comfortable and with the straps can be worn with socks or without. They are great for long walks, shopping, or standing for long periods of time. Even though this is not my first purchase of Earth sandals, I keep being surprised how really good my feet feel in Earth sandals. Walking seems easier--maybe because this is a more natural way for feet to work. And they really do help posture--I feel taller when wearing them!