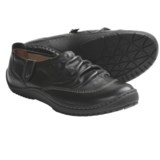 Closeouts. Believe it or not, but a non-stop day at work can actually feel great -- as long as you're wearing Kalso Earth's Invoke shoes. Kalso® Negative Heel Technology® reduces joint strain and BioFoam® cushioning provides sublime self-molding comfort. Plus, the slouchy leather upper looks amazing with all sorts of outfits!
Average Rating based on
51
reviews
3.941176
0
5
Verified Buyer

Reviewed by Teachermom from Alabama on Thursday, July 23, 2015

These are typical Earth shoes. The short zipper helps keep them snug. A buckle or lace system would probably be more secure, but they're more secure than most slip-ons. They're fun for jeans and casual wear but not a good choice for business. If you like the negative heel, they're funky and fun.

Reviewed by V-Girl from California on Sunday, June 7, 2015

I had bought the Brown color - 3 years ago. Used them for walking overseas, a lot of walking in the rain didn't hurt these shoes! I have a Bunion, it accomadats it. It stretches to form, as they're leather., wonderful shoes. I realize everyone has either a foot problem, or fusses about (any) shoe fitting. Be patient, read reviews, then consider buying. I know everyone's aware of that, but often reviews are fussy people & not about the fit (excellent) or wear (it's been 3 yrs n no sign of wear!) , nor about how comfy they are, & the fact to learn: they work fine as rain boots & dry perfectly !! Enjoy your Earth Shoe decisions, as I did! Overall rating, including comfort, fit, & leather product well made.. all 5 stars..

Verified Buyer

Reviewed by shopaholicinneedofhelp from ny on Saturday, May 16, 2015

I bought these shoes based on the reviews of comfort as well as comments on how nice the looked.
I had a good laugh when I pur them on. They were the ugliest pair of shoes I've ever seen.
Also feel like the shoe is more raised towards the front and falls lower at the heel. The exaxtly opposite of a show you want for plantar fascitis.
They are a perfect fit for those willing to try them . I bought a 7 and they fit just right.
Returned them

Verified Buyer

Reviewed by PW from NYC on Thursday, May 14, 2015

This is such a comfortable pair of shoes. I wear it without socks and just so soft. Very interesting looking as well.

Verified Buyer

Reviewed by Cass from Idaho on Saturday, September 27, 2014

I love earth shoes and that is what I buy if I can find them at a good price. And that would be at Sierra Trading Post! These shoes are casual, comfortable and good looking!

Verified Buyer

Reviewed by happy feet from ohio on Sunday, August 24, 2014

I thought these were awesomely ugly. liked the look of them...sadly I could not get them on my foot at all. I have a b/c width foot and there was no slipping these on ever.

Reviewed by Kabuz from Indianapolis on Friday, February 28, 2014

I love the fit, comfort and look of these shoes, but the side zipper is very short and won't stay zipped. They're ok for light walking but I can't go very far.

Reviewed by Sunshine from Missouri on Sunday, February 23, 2014

I was thrilled with these shoes. I was surprised that the leather was so soft. They are true to size and very comfortable. This is the first time I bought this brand, and will continue to do so.

Reviewed by Sierra Shopper from Illinois on Wednesday, January 29, 2014

Unfortunately had to return these shoes because they were too small. Cute but didn't fit.

Reviewed by South of the border from Colorado on Monday, January 20, 2014

These shoes are comfortable,,sized accurately, the delivery was speedy and the price was right. I could not have asked for more.

Reviewed by Catwoman from Texas on Thursday, December 5, 2013

Great looking and so comfortable!

Reviewed by neatfreak from New Mexico on Monday, December 2, 2013

The only shoes I am able to wear anymore are Kalso Earth and Orthaheel. These are the best supporting and yet lightest shoes I have ever owned!

Reviewed by Lori with finiky feet from Connecticut on Thursday, November 21, 2013

I have 3 pairs of Kalso Earth Shoes to help with my metatarsalgia (ball of foot pain) and these style shoes help as more pressure is on your heel. But besides that, the quality and workmanship of these quality leather shoes is superb. I am amazed that they are 50.00 or so. They have good arch support and an excellent orthotic footbed and the sole of the shoes are excellent quality too. They also have so much detail, with zippers and other aesthetic features that you would expect on much more expensive shoes. I love them and they are very comfortable.


Reviewed by Anonymous from Somerset on Saturday, November 2, 2013

These shoes are well constructed with a good arch support, but they are quite wide and too soft. They didn't offer enough overall support like on the sides of the shoe. My legs tired quickly after wearing them a short while. It was like walking on soft sand.

Reviewed by snookyslast from Colorado on Friday, November 1, 2013

great shoes; very comfortable, but the side zippers slide down on the right shoe, making it loose. I have to continue to zip it back up.

Reviewed by the wanderer from boulder, co on Thursday, October 17, 2013

I have recently purchased a few pairs of Earth shoes and have been overall satisfied. This particular style did not fit me quite right. Further, the slouch styling was a bit odd. On the upside, they seemed to be as well made as other Earth shoes from Kalso.

Reviewed by Kontiki from California on Saturday, October 12, 2013

This shoe is really well made and is on its way to being very comfortable. A little snug at first but with real leather it will relax into the perfect fit. I have 14 pairs of Earth and Earthies shoes and my ankles, knees, hips, and back thank me every day I wear them.

Reviewed by V from IN on Wednesday, October 9, 2013

Love Kalso Earth and these are no exception. True size. No break-in time.

Reviewed by bamajodi from Tennessee on Friday, September 13, 2013

They fit great and feel wonderful! Definitely makes the work day more enjoyable. They were true to size with plenty of toe room.

Reviewed by Fix-it-gal from Tennessee on Tuesday, August 27, 2013

I had Earth shoes back in the 70's when they were custom made to a drawing of your foot and I love still finding Earth Shoes at a great price and the great fit. I can wear these all day!

Reviewed by hoofstep from upper ohio valley on Friday, May 10, 2013

I like Earth Shoes because of the negative heel, but otherwise have never bought them for their styling. I lived the way these looked on the website and was excited to receive them. somehow they did not look as good on me as they did in the photo, but that is partly because of me. I have huge bunions, and the toe of these shoes has a seam - where the toe is sewn onto the upper. Unfortunately, because of where the seam is located with regard to my big toe, it makes my bunions stand out more. In general they are a little too busy on the styling. The riffled front PLUS the sewn on toe PLUS the silly little zipper (elastic would have been far more practical and less of a pain in the butt) are a bit much when you throw them all together IMHO. However, I'm keeping them because I like the negative heel. Don't know if that is what makes being on my feet a lot easier to bear, but I believe it is. I can stand ON them; and that is most important to me.

Reviewed by pennmar from Maryland on Thursday, April 18, 2013

These shoes are super comfortable. I can't zip the zipper all the way but that doesn't bother me.

Reviewed by reviewer from nm on Tuesday, April 9, 2013

i agree these might be seconds. tight in the toe (but can be stretched out) and slip in the heel. not the same fit as my other kalso shoes. i'm keeping them anyway, love the look, still better than other shoes, and don't wear them everyday.

Reviewed by Mary's arches need support from Minnesota on Sunday, March 31, 2013

The SOLE of this shoe is FLAT rather than as it appears in the pictures Kalso has given Sierra. They only put the good arch and negative heel in the INNERsole. Also, like others who reviewed this shoe, I found the fit to be a bit "off". The length was fine, but they were wider than a B width. Also, the color was lighter than they appeared in the illustration -- more of a mocha or creamed coffee color -- not what I think of as fawn which has a bit of red with it. They only fit me OK with heavy wool socks on. Most importantly, however, is the fact that the SOLE OF THE SHOE IS FLAT. I have Kalso sandals that have no inner sole at all, are built so sturdy, that they will never wear out, but I can't wear open-toed shoes outside even with heavy socks in winter nor have my toes uncovered when I'm working at a labor job 8 hours per day. I am so disappointed to lose my Kalso shoes. I'm thinking of trying the clog but if the technology is only in the inner sole, I know that will not hold up to my 8 hour onslaught over the long term. They would probably wear out in a MONTH!

Reviewed by Selene from Santa Cruz, CA on Thursday, March 28, 2013

I love these! Comfortable right away, very attractive looking, great fit. I only wear Kalso Earth shoes, so that part is nothing new, but the fit on this pair is exceptionally good for me, with my fairly narrow feet (some Earth shoes are way too wide for me).

Reviewed by piglet from Alaska on Monday, March 4, 2013

Very cute, but runs quite small.

Reviewed by ARK from Olympia, WA on Thursday, February 14, 2013

I usually wear a 7.5 in earth shoes, but these were much too tight and I had to return them. Kalso needs to do a better job to create uniform sizing across styles. I have a pair of ankle boots that are a 7 and a little loose, a pair of walking shoes that are a size 8 and a little tight unless the laces are pulled out as far as they will go.

When they fit, earth shoes are wonderful for eliminating my lower back pain from arthritis. But I have to order these on line because no one carries them in my area. More uniform sizing would make this MUCH easier

Verified Buyer

Reviewed by Bookish with style from North Lima, OH on Tuesday, February 12, 2013

I read the other reviews and ordered a size smaller and that worked out well for me.

Verified Buyer

Reviewed by Stacie Jo from Swannee Lake on Monday, February 4, 2013

Great looking shoe that is super comfy. Fits well over my high arch, side zipper is useful, well made.

Verified Buyer

Reviewed by Still Looking from Lod Angeles, CA on Monday, January 14, 2013

While I liked the overall quality of construction and the styling the shoes made my feet look weird and did not look good with anything I wore. The negative heel concept may be good in theory but does not look right in reality. I just think these are not for me.