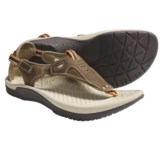 Closeouts. Great for walking or standing for long periods, Kalso Earth's Mahi sandals combine a soft heel cup with BioFoam® cushioning in the footbed to cradle and support. Their neoprene stretch panels work with an adjustable touch-fasten ankle strap to provide a soothing, custom fit.
Average Rating based on
34
reviews
3.735294
0
5
Reviewed by Barbara from Wisconsin on Tuesday, August 13, 2013

Always love Earth footwear...wish there were more available in my size. This pair was bought for my daughter who has become a fan of Earth brands.

Reviewed by Cali from Colorado on Monday, July 29, 2013

The tendonitis I had at the back of my ankle has gone away! My doctor told me to do stretches to relieve the tendonitis and the Earth shoe did the job!

Reviewed by Comfortseeker from Massachusetts on Wednesday, July 10, 2013

These are the most comfortable sandals I own, and I own a lot. I have bad knees, and these Mahi's are so comfortable, I now own a pair in each color. The heels do not slip, I usually wear an 8.5 or 9, the 8 fits perfectly and no slipping of the heel. They do run larger, like most of the Earth shoes.

Reviewed by Cathy from New York on Tuesday, July 2, 2013

these sandals look very nice, but the straps are not long enough. If your feet tend to swell in the summertime (as mine do), then the straps will not close. Otherwise, they are the usual high quality that I expect from Earth shoes.

Reviewed by MjS from Wisconsin on Monday, July 1, 2013

I love these sandals, only flaw was the Velcro strap was way to long.

Reviewed by Auntie Em from Depauville, NY on Tuesday, June 18, 2013

I agree with the others: the heel fit is sloppy. I was able to adjust the heel strap myself and the sandals fit perfectly now. The ergonomics of the soles work very well for me (65 years old, 3 prior foot surgeries, a little overweight): I can walk for miles in these things. Bought a second pair!

Reviewed by Carmie from Boulder Creek, California on Tuesday, June 11, 2013

I returned them for an exchange for a smaller size. Haven't received them yet, hoping the new size will work.

Reviewed by S. wells from Columbia, mo on Wednesday, May 22, 2013

These sandals are great! Comfy foot bed, love the negative heel, and the sandal is a good fit. (No rough spots that may cause blisters) like so many of the other reviews say the velcro strap in the back is too long, so they can't be adjusted tight enough to prevent from slipping off, ( I wear a size 10, and have a very narrow foot) but for the price on STP, I just took them to a cobbler in town and had the straps shortened. $10 later, the perfect sandal! Also, can't say enough about the negative heel. I had a herniated disc, and recently had back surgery, and these sandals are perfect for me as they seem to take all the pressure off my lower back because I don't lean forward like I would in regular shoes. Even my running shoes have a slight heel on them. (I would just love a collaboration by mizuno and kelso earth for the perfect running shoe!!! I'll cross my fingers :)
Cheers!

Reviewed by Alexandra from IL on Wednesday, May 22, 2013

They are very comfortable. I personally like the negative heel. I like the style and the feeling.
But as others have already said there is a real problem with the strap around the heel. It is to thin and is getting out all the time.
Reduce the strap length is helpful but even after that the strap is too low

Reviewed by black sandal from sunderlanmd on Thursday, May 2, 2013

like

Reviewed by Garden Lady from Arizona on Wednesday, May 1, 2013

I liked the look and feel until I walked about. Lots of heel slippage and the visions of blisters had me return them.

Reviewed by newsjunkie from Philadelphia on Saturday, April 20, 2013

I like the look of these sandals a lot, but on my the strap around the heel just does not stay on. It sits low on the heel and the shoe slaps my foot when I walk like a regular flip-flop, so every once in a while the strap slips off. What is worse, as I walk I have to constantly be thinking about my shoes, if you know what I mean; adjusting the way I am walking to keep them on. A sport sandal should enable you to run in them. It is too bad, they look great with skinny jeans and are exactly what I am looking for as a sneaker alternative on hot days when I'm keeping up with my kids. And it's true that they run very large; I am a 9-9.5, and the 8 fit me in this sandal (I do have a narrow foot and tend to size down 1/2 size in a sandal). Wish they would have worked for me. I tried the gray color and it's really perfect. Sandals are chunky but (I think) look cool.

Reviewed by NVH from Az and NY on Thursday, April 18, 2013

Returned them. I personally had difficulty with the negative heel and felt the style was not very flattering on my foot. I could not keep the ankle strap up on my heel either and I do not have an unsual heel. They fit size-wise otherwise.

Reviewed by BatCrazy from Austin on Wednesday, April 17, 2013

I love these sandals. The molded soles fit my feet perfectly and the sage color is nice, but is brown rather than the sage color I was expecting. My only complaint is the adjustable straps didn't adjust tight enough to keep the heel from slipping off my foot. They are comfortable enough that I took them to a shoe repair shop and had the straps made shorter; now they are perfect.

Reviewed by Rain Girl from Seattle on Wednesday, April 17, 2013

I usually wear a 5.5 or 6, so I figured getting a 5 would be the safest route. The back just kept slipping off. Sent them back and had to pay the "shipping label" fee.

Reviewed by Danna from Ojai CA on Wednesday, April 17, 2013

As several people have said, the back heel strap does not stay up. But because the footbed is very comfortable, I resorted to tightening up the strap with a few stitches. The heel strap stays up better but still its not great. I will keep the shoes anyway. I like the negative heel as I wear heeled shoes too often and these shoes help to relieve my aching calves.

Reviewed by Shaza Darling from California on Wednesday, April 17, 2013

I loved the way the shoes looked on my feet. They were "earthy-sexy" and would have been super versatile with most of my wardrobe. However I had to return them because the shape & style of the earth shoe sole sinks too far down in the heel. This "reverse-heel" is not right for my body and I could see how as one other reviewer said, it would be bad for my back, especially wearing them all day. What a bummer!

Reviewed by Nomad Writer from Texas on Wednesday, April 17, 2013

You cannot take one step in these things without the back strap sliding off your heel.

Reviewed by Why from N.S. Can. on Tuesday, April 16, 2013

Wide foot bed and I have a wide footbed.Also the letters that are stamped into the foot bed need smoothed down ,. sharp edges.

Reviewed by Earth Shoe Only Gal from Seattle on Tuesday, April 16, 2013

I ordered these in both colors and love them! They will be perfect for kick around this summer. I like the back strap for a change. They seem to have a bit more support then other flip flops. They are sporty looking, will be easy to pack. I am a size 8 with all my Earth shoes, and they fit just fine. Earth are the only shoes I wear. It took me several weeks to get used to them, and I saw my chiropractor during that time each week. Now (4 years later) if I try another type my back and hips start hurting. Since I started wearing Earth, I have not had any pain with my toes or feet. Which was the reason I went to Earth. They are not always the most stylish, but I am at an age that comfort is much more important....burned my feet out on the cute high heels in my 20's,30's &40's!!!

Reviewed by Kamanjah from Calaveras County, CA on Friday, April 12, 2013

I love Earth shoes! The foot bed of these fit my foot perfectly but I couldn't tighten the straps enough to keep the shoe on my foot. I wear a 9, bought a 9. An 8.5 would have been too small in the foot bed, so I had to return them. I have an average foot with high arches. This is the first time a pair of Earth sandals haven't been adjustable enough for me to wear. I have about 7 pair.

Reviewed by Karen from Mt. Pleasant, Tx on Wednesday, April 10, 2013

I have very different feet. One foot has a heel problem while the other has a problem with pain in general. Then throw in there an arthritic knee; and you have a mess on your "feet". This shoe can handle all of this. Great shoe.
Karen, Mt.Pleasant, Tx.

Reviewed by Susan from Wisconsin on Sunday, April 7, 2013

For the past 6 or 7 years, Kalso Earth shoes are all I wear. Give great support and relief from leg/knee pain. The sandals seem fine so far. Others have said size seemed large, but for me were true to size.

Reviewed by Golden Lover from Maine on Saturday, March 30, 2013

Love this Kalso Earth sandal as I love the entire line. There is no break in period and feel like old friends from the first time. I used to hate getting new shoes because I had have such a hard foot to fit.

Reviewed by Dakswee from Florida on Wednesday, March 27, 2013

I love these sandals!! However, because they have a soft heel cup and are the "Earth Shoe" design, when I wore them it really hurt my lower back. I would recommend them for people are used to wearing this type of heel. The quality is excellent and they are super comfortable!!

Reviewed by Chark from Mississippi on Tuesday, March 26, 2013

I was a little worried about ordering since I wasn't able to try them on because my foot is narrow and I have a low instep. Was very happy that they fit. I wear a size 6 and they feel true to size. Liked the side view of the shoe and could see that the instep looked lower than other shoes. Also love the adjustable strap.

Verified Buyer

Reviewed by barbara76028 from Burleson TX on Wednesday, February 13, 2013

I would wear these sandals everyday of the year, if my feet didn't get cold.

Verified Buyer

Reviewed by Shoe Shopper from Clarksville, TN on Tuesday, February 12, 2013

The ankle strap slips while walking around. I had to tighten the strap past the velcor. Other than that it is a comfy shoe to wear.

Reviewed by Eliemae from Greenbrier, Tn on Wednesday, January 9, 2013

Bought these sandles for a cruise, had to return first pair cause they were too big, but ordered smaller size and they are perfect.
now i want another pair in a different color.
would recommend them to a friend.
i do have the rebound shoes that i wear in a size 9
these sandles are a size 8.

Verified Buyer

Reviewed by Earth lover from Austin, Tx on Tuesday, December 4, 2012

I love Earth shoes and these fit the bill. They are confortable, true to size, fit a narrow foot but would do nicely for a wider one too.