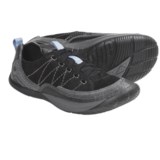 Closeouts. Keep up with busy days without skipping a beat in Kalso Earth's Pace lace-up shoes, featuring ultralight construction that won't weigh you down when you're on the go, and Kalso® Negative Heel Technology® that promotes a natural stride.
Average Rating based on
38
reviews
4.236842
0
5
Verified Buyer

Reviewed by Teachermom from Alabama on Monday, July 6, 2015

I grew up with solid, leather Earth shoes and have had to adapt a little to the new production. Having said that, I was really delighted to find a pair of lace-ups, which seem to have gotten scarce in the Earth line. These are lightweight but secure because of the laces, and if you're used to the negative heel, they will feel pretty good right out of the box.

Earth styles do vary a little from shoe to shoe in the sizing, and these are a little shorter in the toe box than some (but longer than others).

Verified Buyer

Reviewed by Woodswoman from New York State on Wednesday, May 27, 2015

I really like these and wear them a lot. However, I am a women's size 7, ordered size 7, and they are rather snug in the toe. If I were to order them again, I would get a half size larger. I can only wear the thinnest of socks in them, and they feel too tight in the toe even without socks. I have them laced rather loosely to make them fit better. On the other hand, I would say they are a bit wide in the heel area!

Verified Buyer

Reviewed by cliffdweller from NJ on Tuesday, May 12, 2015

Most of the time I'm happy if my shoes don't hurt. But, these make my feet feel wonderful. It's like my feel are craddled in pillows.

Reviewed by happy customer from arizona on Sunday, April 26, 2015

I have worn Kalso's for years. These are by far my most favorite, lightweight shoes. I ordered them in black and 2 weeks later ordered the brown pair after wearing the first pair almost daily. Highly recommend! Also, the service from Sierra Trading Post was great!

Verified Buyer

Reviewed by Walking Annie from North Carolina on Saturday, April 25, 2015

These shoes fit the bill, they do have a negative heel (what I was looking for) and are incredibly light. They are not the same quality Earth Shoes from the past however (I'm talking the 1970-1980s), the toe box is more narrow, the stitching is thick and obvious and the sole is rather thin. They seem sturdy enough but I doubt they will stand up to a lot of walking. The price is right and the fit/size seem true. I would purchase again at the price I paid.

Verified Buyer

Reviewed by Lisa, Mom and Yogi from Minnesota on Friday, March 13, 2015

I like these shoes, and I can walk hours in them without my usual ball of foot pain, because of the negative heel. I also (mostly) like the way they look. The style is similar to some other popular brand shoes and I like the dark color and the suede upper. I even kind of like the rainbow thread stitching on the back, and the light blue up front. I don't like the light blue tab on the tongue very much, as it sticks up over the hem of my jeans sometimes and looks funny. The lace eyelets also don't lie very flat on my feet, and that looks kind of low quality. Also, the thing I like the least is that after a few times wearing them, and walking on completely dry ground, the heel started squeaking when I walk. The sounds is as if the bottom of my shoes is wet and is squeaking when I walk, but it's when it's totally dry. I think it's a flaw in the design or manufacture or materials, and is a little disconcerting. I've read other reviews of Kalso Earth shoes that say the quality of them has gone down. This is my first pair of Kalso Earths, and I love the negative heel for my alignment and feet so much, but if the quality is not great, I'm not going to spend this much on their shoes again. It makes me hesitant to buy more. It's little things, really, and they won't make me stop wearing these shoes, but it's annoying nonetheless.

Verified Buyer

Reviewed by Kevin from new york on Wednesday, March 4, 2015

This shoe is excellent for travel. It is light weight and great for long walks. These shoes really take the pressure off the knees and I would suggest them for anyone with knee issues.

Verified Buyer

Reviewed by Gypsiwolf from Maine on Tuesday, February 17, 2015

Was extremely happy to find these were at the shoes on Sierra great product great service easy returns love love love sierra trading post! Best place to shop! These shoes were comfortable from the stat no break in time true to size excellent on my back which has several ruptured disc noticed an improvement within the first two days thank you Sierra

Verified Buyer

Reviewed by sooz from california on Thursday, December 18, 2014

too cute for words! very light and plenty of room for my toes . the negative heel kept the pressure off my knees and plantar fascitis.
would buy again...perhaps not at full price, but with the discounts ...perfect for a fun pair of shoes.

Verified Buyer

Reviewed by Sissyt from sacramento, ca on Thursday, November 13, 2014

these shoes appear to be very comfortable. They accommodate my leg brace/orthotic easily, yet also fit my other foot without feeling loose. Lastly, they look cute with my jeans.